>
Dive Trip Reports
>
Spoilsport
Diving on a Great Barrier Reef Tour
Don't be a Spoilsport
Click on an image to enlarge

Lesson 1: Before boarding an aircraft with no toilet, avail yourself fully of the airport convenience prior to take off. This was a harsh lesson I learnt while taking a spectacular flight over the Great Barrier Reef on my way to Lizard Island, where we would be met by representatives of Mike Ball's Australian liveaboard, the Spoilsport.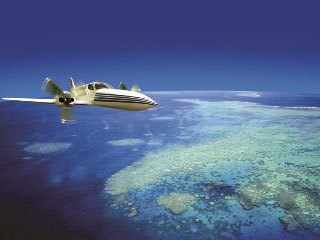 I bit my lip and tried not to swallow saliva for the hour long flight, while others cooed at the scenery and snapped lovely photographs. It was all I could do not to embarrass myself in front of my fellow guests to whom I had only said the briefest of "hello"s.
Lesson 2: Liveaboard diving trips on the Great Barrier Reef are really beyond 'great'. What was to follow on my 4 day / 3 night cruise along the Ribbon Reefs was one memorable dive site after another. Great visibility and sun-drenched reefs in rude health are enough to bring a smile to any diver's face. To experience highlights such as the Cod Hole and the legendary spot that is Steve's Bommie, in calm seas and great conditions, is a real privilege.
The Boat
Spoilsport is a big aluminium catamaran that carries a maximum of 29 divers on its tours of the Great Barrier Reef. As such is it a very wide vessel which means loads (or as they say in Australia, "heaps") of deck space. This means a spacious lounge/dining area on the main deck, an ample dive deck and an expansive sundeck.
• Watch our Spoilsport liveaboard video

If on-board space is your thing then you could do a lot worse than find yourself on a Spoilsport liveaboard trip. There is always somewhere to find a reasonably quiet spot even with a full boat. The lounge features 8 wicker and cushion sofas with a couple of coffee tables, 2 flat screen TVs, a computer station and a wide range of reading material. It is a very comfortable and sociable spot. The adjoining dining area has 3 long tables and this is where most people enjoy their meals. Alternatively you can choose to eat in the outdoor, shaded al fresco area. This is a good idea if you like to dine in peace and quiet since, if you are a slow eater, you may encounter some background noise from hoovering and plate-clearing.
Cabins are all on the middle deck and are quite nicely appointed with good-sized beds, storage space and sea-view windows. There is a range of standard from Premium to Club, with all cabins except for Club having their own en suite bathrooms. The sun deck is enormous and features sun loungers, chairs and some shaded areas. It is a great spot for gazing wistfully at the sunset, or for simply drinking in the glorious views of the Great Barrier Reef as you hop from one of the Ribbon Reefs to the next.
The Food
A light breakfast (fruit, cereal, yoghurt, juice and tea or coffee) is available prior to Dive 1 which is followed by a cooked breakfast. Eggs, bacon, sausage, muffins, toast and pancakes are enough to drive the hunger pangs away until lunch. Lunch follows Dive 2, again served buffet style, while dinner is either buffet or served. The menu varies each day but is consistent in featuring fresh vegetables, chicken, beef and fish. The standard of the food was met with unanimous approval and vegetarians are well catered for.
There is also fruit, biscuits, drinking water, tea and coffee available 24 hours a day for those rare times when you might feel a little peckish between meals. As seems the norm on Ribbon Reef and Coral Sea trips, the grand finale is an upper deck barbecue.
The Diving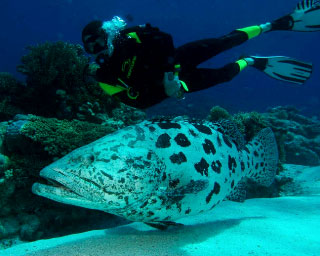 I was on was a Ribbon Reefs tour running from Lizard Island to Cairns. Day 1 saw us at the Cod Hole so we were rubbing shoulders with meaty potato cod seemingly minutes after settling into our cabins and getting to know our fellow guests. This operator does not part-take in the cod feeding that other Australia liveaboards do. However, it is rare to dive this site without coming face-to-face with at least a couple of these large fish, either being cleaned or lurking around the labyrinth of shallow reefs at this most interesting of dive sites.
Other highly enjoyable sites followed, each having a varied topography and featuring some of the healthiest hard corals you are likely to see. Fish life is plentiful too with a great mix between the large (sharks, groupers, turtles, barracuda, bumphead parrotfish) and the small (anemonefish, garden eels, butterflyfish, and a wide variety of nudibranchs, flatworms and shrimps). Diving conditions were good with visibility often exceeding 20m, water temperature at 28°C and calm seas.
Another highlight of a liveaboard diving trip to the Great Barrier Reef is the world-renowned Steve's Bommie, which in many ways showcases all that is good about the Ribbon Reefs. This is a pinnacle rising from around 30m to 5m and is a hotbed of activity. Grey reef sharks, tuna and barracuda are all commonly found in the blue. Closer to the pinnacle are vast schools of yellow snapper and blue-lined snapper, fusiliers, jacks and trevally, and swarms of smaller fish such as damsels, anthias and fairy basslets. The wall itself is home to a vast array of interesting creatures including pipefish, stonefish and electric clams. It is a truly beautiful spot and one that will not fail to impress.
The Diving Procedure
The dive deck works well with individual spaces and plastic baskets for your fins, booties, mask and other small items. Tanks remain in place and are filled in situ. The mode of entry is noteworthy. Being a catamaran there are access points at water level on the port and starboard side. These are where you exit the water climbing up a fin-friendly ladder to where a waiting crew member will remove your fins for you.
Normal entry is by giant stride from a platform in the centre of the stern meaning a little more of a drop to the water than is usual. Rather than being an inconvenience, most guests find this quite fun and none on our trip elected for the more sedate water level entry, possible at the laddered platforms.
2 dinghies are used as tenders and, when on longer crossings from one Ribbon Reef to the next, they are hoisted by cranes on to the main deck. Dives are unguided and mostly a matter of simply leaving and returning to the mothership. However, the tenders are on hand for diver tows or if the dive involves a drift or a drop on a less accessible spot than the mooring line.
Mike Ball's Staff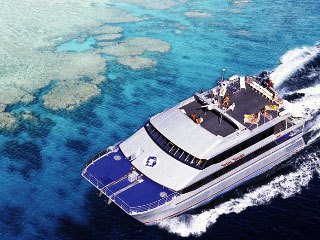 The staff are a cheerful bunch and are always on hand to help if you have a problem or a special request. This Great Barrier Reef tour operator employs a scheme where the regular staff line up is augmented by the addition of a few 'volunteers' who, in exchange for working on the boat get to enjoy a week or several on board. They dive where they can but also must fulfil certain crew tour duties.
It is unavoidable in such an arrangement that some will adopt a more professional and serious approach than others, so if you have a choice, you would be advised to approach regular crew members if you have an issue that needs to be addressed.
There are always plenty of bodies available to assist you on the dive deck and the kitchen crew are always on hand for a chat in the lounge/dining area.
Getting There and Away
I flew Singapore to Darwin to Cairns on Jetstar. Then after staying in a Cairns hotel I was picked up in the morning and taken to the airport for the short hop from Cairns to Lizard Island. After the trip, Spoilsport will drop you back to your hotel. You can find some choices for Cairns accommodation on hotelscombined.com

, which has a lowest price guarantee for bookings.
Lasting Impressions
As far as the scuba diving goes, I was pleasantly surprised by the Ribbon Reefs. I was expecting sites a step up from those near to Cairns, but what I found was in an entirely different league. Each dive had its own highlights and some were firmly in the 'excellent' category. It was heart-warming to see how robustly healthy the Great Barrier Reef appears in times when all one hears is doom and gloom about the state of the world's coral reefs.
Mike Ball is a trusted name in the world of Australia liveaboard diving tours. With his wealth of experience, you would expect anything that bears his name to deliver a quality experience, and Spoilsport does just that. It is such a spacious and comfortable boat and its itinerary means that there will be very little room for complaint. Space, comfort, great diving and plenty of good food – who could ask for more?
Written by Gavin Macaulay, March 2010


---
CUSTOMER TESTIMONIALS OF DIVE THE WORLD
... Yes, the website's smart and convenient design enable me to easily search for the special deals in last minute or look for available liveaboard according to the calendar month. Overall smooth and quick in response. The last minute special deals are unbeatable!!! Your website is overall more informative and more updated than others ... -- Alice Shum, Hong Kong. [More customer reviews]