>
Dive Trip Reports
>
Okeanos Aggressor I
Liveaboard Your Guide to Diving in Cocos
Okeanos Aggressor I Trip Report
Click on an image to enlarge

Cocos island, Costa Rica is a destination that had long been on my scuba diving wishlist. So I was very excited about the prospect of visiting there on on the Okeanos Aggressor I in August during the rainy season, which promised the richest underwater rewards...
Having dived in many places around the world where the occasional shark sighting or a single school of fish counts as success, I was hoping for much more from Cocos... and it certainly delivered. Here the seas teem with life and you may experience some of those rare dives that leave you wide-eyed with awe.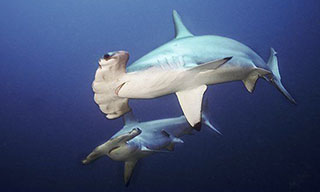 At Dirty Rock, for example, you move from one pinnacle to the next seeing countless hammerheads and other impressive sharks like Galapagos and silky sharks. Around you swirl schools of jacks, creolefish, and rainbow runners in dizzying numbers. Big tuna and hunting bluefin trevallies weave in an out of view. Innumerable whitetip reef sharks lie in sandy channels or swim around the rugged reef, as big marble rays glide beneath you. A huge baitball blocks out the light from above. On sites like these you emerge from the water feeling privileged to have witnessed such underwater majesty.
Not every dive at Cocos is like this, of course. However, each time you enter the water there exists the potential for wonderful, unforgettable encounters.
Cocos Island is the inspiration for, and features in, the movie Jurassic Park where dinosaurs rule. It does feel like a place that time forgot. Here the seas evoke the ocean of old before human impact: bubbling with life, massive schools swarming craggy pinnacles, and countless ancient and fearsome sharks hunting for prey. It has a remote, wild atmosphere all of its own.
Okeanos Aggressor I Boat Features
All Cocos boats have to be workhorses. Sexy stylish liveaboards that you may know from other destinations would not last long doing this route. The boats cannot tow their 'pangas' so these need to be craned onto the mothership. So the boats must have cranes and on-deck storage spaces for the pangas. That issue alone determines the layout of the boat to some extent. The question is: how comfortable can the tough workhorse be?
The answer is: pretty comfortable! On this trip guests mainly hung out in the air-conditioned saloon/dining area or on the upper deck shaded area. Indoors, the saloon/dining area is quite comfortable and boasts a large flat screen TV and music system. There is a sizeable 'peliculas' folder and plenty of digital versions of fish ID books on the saloon computer to help you wile away the time during the 2 long crossings. The ceilings are a little low for particularly tall people.
Since it was rainy season and Cocos is often shrouded in a moist moving mist, the sun deck was often too wet to relax in. So the shaded area with soft bench, table and chairs on the main deck was the main open-air chill out spot. In dry season the sun deck is, I am sure, the most popular outdoor space.
Most cabins (including quad, twin and deluxe) are on the lower deck (access from the saloon) with 3 deluxe cabins on the main deck with direct outdoor access.
Upon first boarding I noticed the crew were all wearing shoes or sandals. This continued throughout the trip and most guests did too. Underfoot the surfaces, especially the dive deck, might not always be the most comfortable, especially to water-softened skin. So if you are a 'wimpy' like me, bring sandals!
The Dining Experience
Meals are enjoyed in the main deck saloon / dining area. The kitchen and service members of the crew did a great job on our cruise and were roundly lauded by the guests on board. Costa Rica is not a country known for its varied and interesting cuisine so it was impressive that, over the 10 days, meals were interesting and unrepetitive. A variety of soup starters, main courses with different options and a mix of chef-prepared desserts and ice cream kept everyone happy.
The fact that the kitchen staff produced anything at all, let alone tasty 3 course meals, during the bumpy crossings is very impressive. Vegetarians can be easily catered to and the staff will often prepare special dishes so you don't miss out too much. A vegan diet requires a little more effort since cheese and eggs are staple foods in Costa Rica, but some faux meat dishes were prepared. The meals always have a salad option and a mixed vegetable option so even if you simply avoid the animal protein, you may be happy enough.
Wine and beer free-flowing helped with the esprit de corps. Some guests brought their own bottles of spirits which added further to the rosey-cheeked conversation.
The Cabins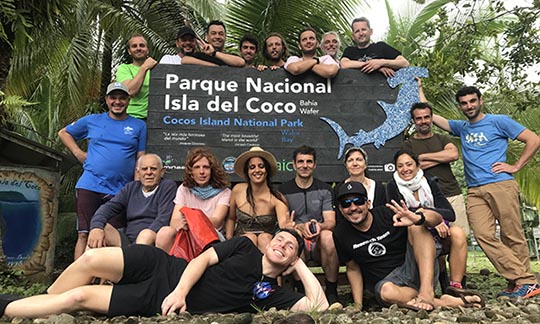 The cabins have everything you need, but you should not expect large spacious staerooms. On this boat, cabins (and their ensuite bathroom facilities) are relatively tight and the ceilings are quite low. In cabins with beds on top of each other the clearance space is limited. Don't have a nightmare and sit up suddenly in bed!
Lower deck cabins have portholes and are simple but adequate. Each cabin has a TV with USB and HDMI ports. So you can watch your own entertainment or take from the saloon computer and watch from the comfort of your own bed. You are provided with bathrobes, towels, toiletries and tissues.
I was in Cabin 9, a deluxe cabin on the main deck with double bed below and a single upper bunk. Mercifully I had the cabin to myself. Imagine the poor soul who would have had to share the cabin with me during the gut-churning crossing! More on that later….
The Diving Procedure
After your gear is first assembled, your name is written on the top of the tank and then it doesn't leave the panga. Tanks are filled in situ. The 2 pangas are accessed from both the port and starboard side of the dive deck. After dives most divers leave their fins and weightbelts. So you gear up, listen to the briefing, and then step into your panga with your mask, gloves and little else.
Photographers hand their cameras to the panga driver who places them in the front of the boat on a cushioned area. The pangas are not the most spacious, especially when full, but they do the job. Good strong ladders are how you exit the water after passing up your fins. If you need help getting back into the boat, the panga driver is ready to assist.
3 showers on the dive deck is good, as is the toilet for post-dive relief. The individual equipment stations are generous with large under-seat compartments for all your loose items. There is also plenty of hanging space for wetsuits, rash vests etc, sensibly arranged between the seats. The dive deck works very well even with a full boat. There are 2 rinse tanks for electronics and a reasonably-sized camera table. There were several photographers, mostly with small sized gear, so I wonder how well the deck would cope with many sets of unwieldy equipment. Also the saloon's charging station is very small.
Each diver is assigned a Nautilus lifeline which emits satellite data and is employed at the surface in the event of an emergency. Another interesting point I noted in the briefings is that they say buddy teams should surface back-to-back so a full view of the water and any approaching tiger sharks is maintained.
The Diving Experience at Cocos Island
There were many highlights to my Cocos Island trip. When I close my eyes I recall the sight of a huge school of hammerheads in the blue off Manuelita Island, a whale shark encounter on a safety stop, a tiger shark swimming slowly by over a sandy sea floor, dolphins entertaining us for the first few minutes of a dive at Alcyone.
Cocos is mostly about the sharks: white tip reef sharks, hammerhead sharks, Galapagos sharks, silky sharks, tiger sharks, whale sharks and silvertip sharks. It is easy to become quickly spoiled at Cocos with some divers disappointed by a dive with only 10 hammerheads and a few Galapagos sharks among the sightings. If I had 1 criticism of the diving here it would be that many of the dives are quite similar, and you will dive some of the sites on multiple occasions. Cocos does not offer huge variety from site to site. However, when most dives deliver so much, it seems crazy to be anything but thrilled.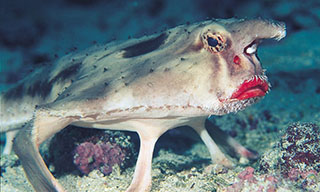 Some of the reef fish you can expect to see include: blue and gold snapper, pacific creolefish, a variety of surgeonfish include blue-palette and gold-rim, mexican goatfish, jacks, blue-fin trevally, black jacks, tuna, rainbow runners, black triggerfish, bi-color parrotfish, sunset wrasses, sailfin grouper and king angelfish.
I also enjoyed some of the smaller things that often don't get a mention when reading about Cocos. You can spot moray eels, lobsters, garden eels, gobies, moorish idols, Panamanian jawfish, Chinese trumpetfish (both yellow and mottled brown versions), Commerson's frogfish, guineafowl pufferfish and porcupinefish. Pajara island is also the site where you can see the comical red-lipped batfish (aka Cocos batfish). We had one Australian photographer (a native of Norn Iron) who would have been happy to dive Pajara every day for the chance of that perfect pouting portrait.
For safety reasons, there is no night diving conducted at Cocos, since that is when the tiger sharks are in hunting mode. You should have a chance or two to go ashore and walk around a little of the island. You can see rocks where travellers from the past, including notorious pirates carved their names. Note: treasure hunting on the island is strictly forbidden!
Given its location, I expected Cocos to be mostly for North American divers. Our boat was overwhelmingly European (French, German, Spanish), although this must be unusual. We had an 80 year old veteran diver from France who had been diving as long as SCUBA has been around. He was accompanied by his 24 year old daughter whose wardrobe was almost as extensive as his diving career. We also had a vater-son combo and 2 'Iron divers' from Germany, and beaucoup de Frenchies including several from St Martin in the Caribbean. Our only US representative was a bomb-maker for Uncle Sam!
Getting There
Pick up is at 2 Holiday Inn hotels in either Escazu or Santa Ana, 2 of the more salubrious suburbs of San Jose. You won't see much of 'the real' Costa Rica here. The bus transfer takes about 1.5 hours if the roads are clear and is accompanied by an entertaining and informative monologue from the cheerful driver.
I knew the crossing was a long 36 hours (each way), but having tried and trusted sea legs, the prospect of seasickness was not something that troubled me in the slightest. That I spent the whole crossing either violently vomiting all over my bathroom, or lying flat on my bed in an effort to untwist my tortured innards, came as a most unwelcome surprise.
I strongly recommend taking the seasickness pills the boat provides, even if you think you won't need them. Perhaps you might also consider a lower deck cabin, centrally situated so as to minimise movement. In heavy seas I was throwing up in my cabin's bathroom and stumbling all over the place. The bathroom door closed on my moving heel causing a nasty cut where my fin straps would press for the next 10 days. After vomiting my throat was constricted and I was struggling to breathe. Melodramatically, I stumbled out of my cabin, struggling for breath and looking for help before realizing I could breathe through my stuffed nose! The seas were rocking. Those who took the pills were in the saloon playing cards and eating potato chips. Take the pills.
Conclusions
If you ever get to dive Cocos you will be giving yourself plenty of moments when you stare in wonder at the sheer amount of marine life. There is just so much biomass sharing the same small patch of water. For lovers of the big stuff, specifically meaty pelagic sharks, and dense schools of fish in current swept reefs, Cocos must be right up there with the best places in the world.
Don't expect delicate, multi-coloured reefscapes basking in the sunlight. The diving here is not for beginners. Handling the swell and the current is part of many dives. Don't come without gloves. At times on the panga rides over rough grey seas and in the rain-spray, you might question your sanity. However, once you get down a few metres that all changes as the underwater show begins. One has to wonder for how much longer will there be places like this where the sea is bursting with life. Around this small island there is a stunning number of marine lives from thousands of humble garden eels to a handful of large, seasonal whale sharks and much in between. It is an amazing place.
The Okeanos Aggressors are 2 of only 4 boats that visit here year round. So the number of boats is limited and the number of lucky divers that come here is limited too. If you want to see some adrenaline pumping action, where meaty sharks rule the ocean and the seas are alive with schools of fish, maybe it is time to treat yourself to a journey to Cocos Island.
Written by Gavin Macaulay, August 2019


---
CUSTOMER TESTIMONIALS OF DIVE THE WORLD
... The service I received form Dive The World was exceptional. Making a reservation was easy and painless. All my communication with representative was via email, but my inquiries were answered quickly, normally less than one day. ... -- Timothy Chae, USA. [More customer reviews]