>
Dive Trip Reports
>
Similan Explorer
Liveaboard Your Guide to Diving in Thailand Trip Report
Exploring the Similan and Surin Islands Once Again
Click on an image to enlarge

It has been years since I did a dive in the Similan National Park. Being a former dive guide based in Phuket, tho sites were once well known to me. Excitement and fear mixed together when a friend asked me to join for a liveaboard diving safari on board of the M/V Similan Explorer..
I was glad for the opportunity to dive this area again, but also afraid to discover whether or not there have been negative changes to the underwater conditions, in particular to the health of coral and amount (and type!) of marine life we were about to encounter during the trip. These thoughts still lingered with me while I was sitting in a minivan on my way to Tap Lamu pier, from where the boat departs every week.
I need not have worried. The Similans delivered like they always have. The sites we visited were all in pretty good condition with a lot of healthy corals and sponges. There was plenty of life: eagle rays, barracuda, big potato groupers, Napoleon wrasse and as always an impressive diversity of fish species.
An Extra Day of Diving - 18 Fun Dives
Unlike most of the other Thai liveaboard boats, the Similan Explorer offers 5 night trips instead of the usual 4 nights, allowing an extra full day of scuba diving which indeed turned out to be very useful. Unusually poor weather meant we were first forced to start our trip from Koh Bon and cruise up north until we reached the Surin National Park. When the weather improved, we cruised back and went to the Similan National Park.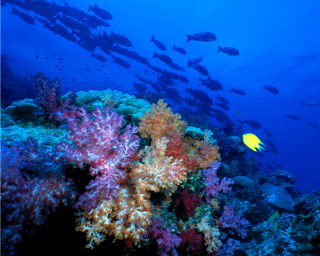 At Koh Bon we had schools of barracudas, batfish (which are very curious of the divers), giant trevallies, and also some great macro life on the south side of the island. We then dived the Koh Tachai pinnacle, where we found eagle rays which we all experienced up close and personal - one the highlights of the trip! We also made a dive closer to the island itself, a chance that doesn't come too often, an area still unknown to most of the divers. Napoleon wrasse, big potato groupers and a lot of sting rays buried in the sand were all captured by us in our underwater photos.
We then moved to explore the Surin area where we had some good dives in the channel area between the 2 main islands. A different topography than the Similans, it usually offers great visibility and reef shark encounters, especially in the early hours of the day.
Once the weather improved, we worked our way back and finally reached the Similan Islands. Christmas Point, Elephant Head, Anita's Reef were all well known names to my memory, and the dives there were still fun and easy, just as I remembered. West of Eden was instead a new place for me, since we used to dive East of Eden which has since been closed.
The 2 final dives of the trip were done at the Bunsoong Wreck, near Khao Lak which would have been our last stop for disembarkation. The wreck will never stop surprising me: the incredible amount of snappers and glassfish that swim around it, the countless scorpionfish and lionfish that lie on it, the morays, crabs and boxing shrimps that hide in it! It's just an incredible site that every scuba diver should experience at least once. Overall the liveaboard trip was very pleasant and everyone on board had a really good time.
Exploring the Similan Explorer
Although the MV Similan Explorer is not a luxury board, it is a good option for couples, groups and solo travellers that are keen on making new friends. There are 4 Standard twin bunk bed cabins and 2 Quad (4-share) bunk bed cabins on the main deck, and 2 Deluxe double bed cabins on the upper deck. Very often the cabins on the main deck are booked and shared by guests that are not travelling together.
Cabins are rather small and therefore the storage space in each cabin is a bit limited. Beds are of a good and comfortable size though. Aircon is provided in each cabin. 3 toilets (and showers) are shared by all the guests on board.
The top deck is ¾ shaded and ¼ open. Sunbeds are provided. When the sun is shining a lot of people like to spend time up there, working on their tans and listening to their MP3 players. The upper deck is also the main area where meals are served 4 times a day and also where the dive briefings are done. This is where most of the guests hung out chatting and exchanging stories.
The dive deck is at the back of the boat, on the lower deck. It's well organized, but it would be quite difficult for 20 divers (the max capacity of the boat) to gear up all at once. For this reason, dives are done in smaller groups, so it all works really well.
The Diving Service
It is possible to choose to dive on air or nitrox from Similan Explorer. Luca and Lisa were the tour leader and main dive guide on board, alternating roles after every cruise. Faucine is another dguide on board but also the onboard course instructor, offering mainly Advanced and Nitrox courses for the guests that want to improve their scuba knowledge and skills. Languages covered on board are English, Italian, Portuguese, Spanish and French. Other language speakers can also be provided when needed.
The dive entry is always from the back of the boat, although a dinghy is also available and mainly used for reaching the beaches that are visited during the trip. We went onshore at Surin Island, at Donald Duck Bay and at Princess Bay (2 famous places in the Similan area).
There was always a good atmosphere on board, since the crew is very friendly and doesn''t mind to spend time with the customers. Luca even played cards with us until late in the evening! The same crew is also professional and careful underwater, making dives easy for everyone even in less than perfect conditions as we had (rough sea).
Dining Is Just As Important As the Diving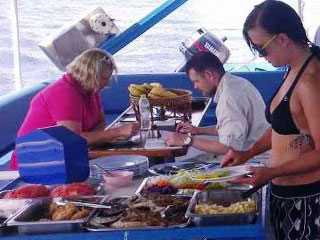 Great diving and a fun atmosphere need to be accompanied by good food. During my travels, I often hear other divers telling me how good the dives were, but also going into details when referring to the food served. On board of the Similan Explorer, the breakfast is almost a la carte: you can choose among a list of options which ones (and the quantity!) you would like to have the next day.
The 2 main meals of the day are instead served buffet style; mainly 4 options of Thai food to be eaten with steamed rice. It is possible to have vegetarian options as well but they need to be pre-booked before the tour. Oi, the Thai chief on board, did a very good job on preparing Thai dishes that were not too spicy but still enjoyable by everyone. The guests were glad to try some of the typical dishes of the Thai cuisine, such as Tom Yam Plaa (a spicy soup with fish, tomatoes and mushrooms), Massaman chicken curry and even some tasty and dessert such as mango with sticky rice and sweet coconut milk.
Conclusions
Despite the unseasonal weather, I, along with the other guests had a very good time on board, getting to know the crew and my fellow divers. I've been on better boats, but I knew what to expect from Similan Explorer in terms of comfort and I was fine with it. My biggest concern was the shared bathrooms but I must admit I never had to stay in a queue in order to have a shower. That was my main fear.
The dive sites have seen some changes in the years. There seems to be more coral, which was indeed a surprise to me. I've got the feeling that there are fewer fish around, but as we know memories are not always reliable.
The true test is whether I am keen to return again to the Similan Islands soon, and the answer to that is 'YES!' I already look forward to the next trip there!
Written by Enrico, December 2014


---
CUSTOMER TESTIMONIALS OF DIVE THE WORLD
... I had the best 30 days for as long as I can remember, thanks to you. Phi Phi was great, the Similans were amazing, none of which would not have been possible without you all. So keep me on your mailing list and informed of what Dive The World are planning ... -- Clive Tomlinson, UK. [More customer reviews]