>
Dive Trip Reports
>
Nomads Resort
Your Guide to Diving in the Lembeh Strait Trip Report
Live Sex Show at Nomad Adventure Divers Resort
The gang gathered together in the early evening at Nomads Resort for a night out and the promise of a live sex show!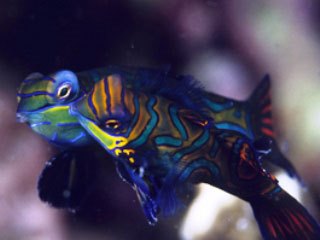 And we were not to be disappointed ... though this was not exactly a stag night out in Pattaya or Amsterdam, this was a sunset dive in the Lembeh Strait in Sulawesi and we were off to watch the mating antics of mandarinfish. These amazingly colourful creatures are only found in the eastern part of South East Asia and are very reclusive, coming out of their coral rubble homes only at dusk.
When the sun finally sets, the mandarinfish don't waste any time in getting to know the members of the opposite sex. After a few colourful fin flutters, a dominant male and his chosen female bond together, swimming vertically upwards a few centimetres into midwater in a flamboyant act of copulation.
If you've never been on a mandarinfish dive before, it's well worth it. And this is just one of many astonishing underwater experiences you are likely to have on a diving trip in the Lembeh Strait ...
The Diving
On one dive at TK 3 we swam down the black sand slope and within only a few seconds our guide had located our first frogfish - this one was a yellow hairy frogfish, looking rather like a worn out tennis ball. We saw more - an orange striated frogfish and a huge orange painted frogfish, a perfect camouflage for the sponges in which it hid.
At Rojos we followed a mimic octopus for about 15 minutes whilst it went through its mimicking repertoire. Soon after we saw a flamboyant cuttlefish waddling across the sand. On the same 45 minute dive we found a smooth seahorse, dwarf pipefish, a flying gurnard, a juvenile white sole, an osculated flounder, countless species of nudibranchs and shrimps. This is no exaggeration. This is the beauty of the Lembeh Strait - a non-stop muck diving adventure with rare sea creatures.
Dive conditions during my trip in September were fair. The visibility was quite low at 5-10m, water temperature was 25-28°C. However, the weather was sunny for the most part and air temperatures were around 30°C. Surface conditions were very calm.
• Watch our Lembeh Strait diving video
I was diving with Nomad Adventure Divers (or Nomads or NADs, as they also known). Their standard day is to make 2 scuba dives each morning, an afternoon and a night dive, and 'mandarin' dive if requested. Nitrox can be provided by the resort and, to take advantage of this, each dive can be up to 75 minutes long. Indeed, nitrox might be a wise choice since emergency oxygen is not always available on the dive boats. Unguided 'House Reef' diving is free of charge also for those hard core divers who feel that 4 or 5 dives per day is not enough!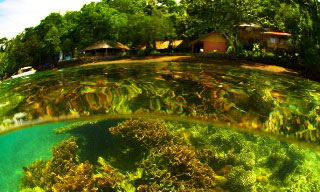 All guided dives are made from their 5 boats - 12m standard Sulawesi wooden hull boats and single engine speedboats. This number of boats means that they can easily handle divers of different skill levels. However, it is clear that the resort handles mainly experienced divers since dive briefings are little more than "3, 2, 1 - Lets go!"; no 'hand-holding' here.
One strong point of Nomads is that they dive in very small groups. Our group of 5 were allocated 3 guides! This is great for finding the critters since sharp and expert eyes are required. Even when you see a creature, its presence might well evade you, such is the perfect camouflaging of many of the creatures in Lembeh. The guides will also wash and carry your scuba gear during your stay. Please note though that the guides can be over-zealous in their creature search. We do not encourage or condone anyone, including guides, disturbing or handling marine creatures.
Another bonus of this resort is that it is managed by underwater photographers and they have made strong endeavours to make this a photographer-friendly resort. There are 2 camera rooms, a wet room from drying equipment and a dry room for charging, caring and downloading. 2 computers are provided here for guest use.
The NADs Resort
The Nomad Adventure Divers Resort is a small and simple resort located in the middle of the Lembeh Strait on the Lembeh Island side of the strait, 50 km from Manado. There are only 12 rooms so there will never be big crowds of scuba divers here.
Social life is set around the open-air resort clubhouse, which has several sofas and tables. There is a fair collection of fish ID books and a projector and DVD player for playing movies and Lembeh underwater videos. The resort also has a complimentary wi-fi internet connection, though this can be very slow.
One guest-friendly feature of Nomads is that they provide a free laundry service - ideal if you struggled to restrict your luggage to 20 kg, due to bringing your own dive gear, and jettisoned some of your clothes in the process.
The Food
The dining area at Nomad Adventure Divers Resort is set in the clubhouse, close to the waters edge. Guests dine together buffet-style at the long table, with breakfast, lunch, dinner, tea/coffee and water included in the resort packages. Soft drinks, beer and a few snacks are available for purchase.
Breakfast at 7:30 am is a simple affair - eggs, fried noodles, cereals, pancakes, fruit, toast, orange drink, tea and coffee. Lunch is served at 1:15 pm and dinner at 7:15 pm. These meals usually consist of 4 or 5 dishes of Asian staples such as fried pork, curried/fried chicken, fried fish, sweet n sour squid, fried tofu, sautéed water spinach or Chinese cabbage, and rice. Variety is not a strong point here and meals quickly become repetitive. Fruit and homemade doughnut type treats are served as dessert.
NADs can cater for vegetarians and vegans though choices are very limited.
Nomads' Rooms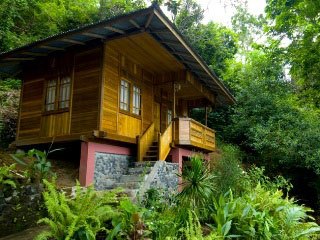 The dive resort has 10 standard rooms, set in a curving terrace, facing out over the Lembeh Strait. There are both double bed and twin bed rooms, and each room has air-conditioning, fans and hot water. The large sliding glass doors and minimalist furnishings mean the rooms are always bright, as well as clean.
The rooms are conveniently located close to the clubhouse/lounge, and the rooms closest can pick up the wi-fi signal. The resort plans to install a second booster so that all rooms and bungalows can pick up the internet.
The additional 2 Deluxe Bungalows have balconies with comfy chairs were you can enjoy the elevated views over the strait. Both bungalows have double beds and are similarly equipped to the standard rooms, with the addition of reading lights and a dressing table.
Getting To Lembeh
Once you arrive at Manado Airport, Nomads will collect you and transfer you down to Lembeh. The trip takes around 1½ hours in a minibus. Indonesians tend to drive like maniacs so if you are not feeling comfortable with the driver's high speed, don't be shy - just ask him to slow down a little.
Flights to Manado are operated by Silk Air from Singapore and by a few Indonesian airlines from Jakarta or Bali. You can now book and pay for domestic flights online. It's a good idea to carry some US dollars or local Indonesian currency to pay for the airport departure taxes.
The Final Verdict
Nomad Adventure Divers Resort is priced at the lower end of the market for resort diving in the Lembeh Strait. We think that this is fair, considering and weighing up the pros and cons.
Nomads will best appeal to experienced divers and underwater photographers that want an affordable base in the heart of the strait from which to dive frequently. I would not recommend the resort for beginners.
A fantastic dive travel plan is to combine a stay at Lembeh with a stay at nearby Manado/Bunaken. The two destinations complement each other very well, one being focused on muck diving and the other being superb coral walls and fish life.
Written by Sheldon Hey, September 2010


---
CUSTOMER TESTIMONIALS OF DIVE THE WORLD
... The Dive The World website was easy to use. You guys are great! The best things are the fast service and good discounts ... -- Robert Geist, USA. [More customer reviews]