>
Dive Trip Reports
>
White Manta
Thailand Liveaboard Trip Report
Hop on board the White Manta
Click on an image to enlarge

It had been 4 years since I last visited the Similan Islands so when our managers here at Dive The World asked me if I fancied joining one of White Manta's Thailand liveaboard trips, it wasn't a difficult call to make. A 5 day/4 night cruise on this comfortable looking vessel sounded like an ideal way to reacquaint myself with some of the best dive sites the Andaman Sea has to offer.
What I realised, from this trip, was that the Similans are still a unique and beautiful destination. From the gorgeous topside scenery to the awesome visibility, from the vast range of vibrant marine life to the bizarre underwater topography. The Similans are still great! When I close my eyes I see a school of barracuda cruise past, or a pair of cuttlefish laying eggs. I recall a friendly batfish hanging out with me for ages, or identifying a little pineconefish. Delightful memories...
Diving in the Similans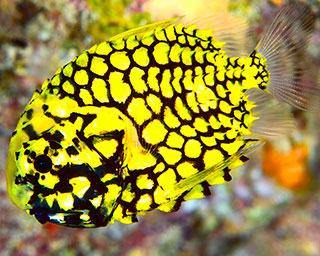 We started at the Similan Islands themselves and I was curious to see how the corals have been recovering since the bleaching event of 2010. The seeds of recovery are there but it has to be said they still have a long way to go to regain their full former glory. Still they have much to offer.
The sites offer myriad sea-life spectacles in clear waters and great visibility. Schools of jacks, snappers and fusiliers swirled around the rocks while great groupers and giant moray eels cruised the depths and all manner of curious smaller species floated around the corals. The divemasters also promised to find us a few less common species and they didn't let us down. A well-camouflaged frogfish and some delightful little dartfish were pointed out. The Similans may not be at their best, but a Thailand liveaboard trip is still a great experience.
We headed on to Koh Bon and Koh Tachai, full of anticipation. The talk of mantas was incessant. It seemed we must see them. We dived down to the known cleaning stations and clung to the rocks and waited. We waited, and waited... but no mantas came. Not to worry, there are loads of other creatures at these dive sites. We saw octopus, lionfish, triggerfish, barracuda, pufferfish and so much more. Who needs mantas?
Then it was on to the Surin Islands for a bit of night diving and muck diving. I must admit neither is particularly my cup of tea. I much prefer seeing the big picture, but for those who like delving in and searching for the smaller critters, this was their chance, and they loved it!
Then to Richelieu Rock which probably has an even better reputation than the Similans at the moment, such have been the amazing encounters reported by several Thailand liveaboards. In fact visibility was only 10 to 15m but there was still plenty to see. A giant stingray, a school of barracuda, a pair of cuttlefish laying eggs, scorpionfish, and a beautiful glittering gold little pineconefish. My favourite was a big, bold batfish which seemed to take a shine to me and spent 10 minutes joining me on my dive and gliding around my path. My divemaster said it was after food but I think it just liked me. So we had 3 fine dives at Richelieu.
The final day was 2 dives at Bunsoong Wreck near Khao Lak. It was a tin dredger that sank more than 50 years ago. It is a convenient dive as it is on the way back to port, but that is not to say that it is not a worthwhile dive. With more than 50 years to develop, it has become a varied site with all kinds of sea-life. It is especially known for its large number of scorpionfish and lionfish. What a nice way to finish a very enjoyable trip!
• Watch our Similans diving video

The Diving Service
The White Manta is a purpose-built Thailand liveaboard and it really shows in the convenience of the scuba diving. There is plenty of space on the dive deck and entry is either a big step off the back of the boat, or a roll back from one of the dinghies. The crew were very attentive and divers always received all the assistance they needed in preparing and donning their gear.
The team of divemasters were top class. They were friendly, attentive and their knowledge of the dive sites, fauna and flora were outstanding. Each diving group was 4 divers to 1 divemaster.
White Manta have established themselves as one of the best liveaboard operators in the Southeast Asia region, with a reputation for efficiency and good service. I had heard good things about the boat so I was looking forward to the trip. And besides that, every divemaster in Phuket has been talking about the many manta rays they have seen on every liveaboard trip this season. Just my luck to not see one.
The Boat
This 36m yacht has 4 levels. On top is a vast sun deck where you can chill out either in the sun or shade. The next level down has the lounge and briefing area plus a couple of en-suite cabins at the front with large windows. The next level down is the diving deck and more cabins and then there are more cabins down below.
The diving deck is spacious. They take a maximum of 24 passengers on their Andaman trips so the boat does truly feel spacious and could certainly carry more. But in fact they still split the diving groups into 2 waves so there are only ever 12 divers plus their guides getting ready at a time. What a pleasure it is to get into your dive gear without clanking and bumping into your neighbours!
The Itinerary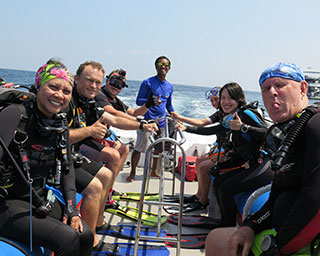 The White Manta sails overnight to the Similans for the first day's diving. They keep the trip schedule flexible to a certain extent to allow them to search for the best diving in the prevailing conditions.
Each full day has 3 daytime dives and then either a sunset or night dive. The final day has 2 dives before getting back to the pier around early afternoon. So that would be 14 dives in total.
Day 1: You wake up, hopefully well rested, at the stunning Similan Islands. We did 3 dives at the Similans before heading to Koh Bon for a sunset dive. Did I mention the mantas? Koh Bon and Koh Tachai are where most of the sightings have been taking place so everybody was keen to spend plenty of time there.
Day 2: A morning dive at Koh Bon and then on south to Koh Tachai for another couple of dives. Then on to Koh Surin for a night dive.
Day 3: An early morning muck dive at the Surin Islands and then to Richelieu Rock for 3 dives including a sunset dive.
Day 4: 2 dives on Bunsoong Wreck before heading back to the pier.
The Pick Up
The White Manta liveaboard trip itinerary includes a free pick up from Phuket. I was picked up late afternoon and with a few more pick-ups along the way, we reached the boat at Tab Lamu pier in a couple of hours. We boarded the boat and it was immediately clear that it was spacious. Introductions were made, cabins assigned and dinner was soon on its way.
It was clear to me that we had a good bunch of people on the boat. It was a cosmopolitan group but already the beers were out and everyone was chatting and getting to know each other. It was a very promising start for a good trip.
The Food
A very important part of any liveaboard trip is the quality of the food and White Manta did not let us down on this front. Every meal was a fabulous spread and yet different food was served every day.
Breakfast always included crispy bacon and proper sausages, plus a selection of other dishes. The main meals were mostly Thai dishes but with the spiciness toned down a little for western palates. There were also a few western dishes, fries and salads for anybody who really didn't fancy Thai fare.
Certainly nobody on our trip went hungry. And there were always fruit, snacks and hot drinks available. Soft drinks and beer are available at a cost. We were quite pleased with ourselves that our group actually managed to drink them completely out of beer. Apparently that doesn't normally happen.
The Cabins
There are 14 cabins. They range from 4 deluxe cabins with en-suite bathrooms and king-size beds to 6 standard cabins below deck with shared bathrooms and portholes. I was in one of the standard cabins but I must say it was perfectly adequate. There were 2 bunk beds in our cabin but they only put 2 people in each cabin so we were not cramped. The beds were comfortable and you don't spend that much time in your cabins anyway.
All in all ...
I thoroughly enjoyed my diving trip on the White Manta. Needless to say the diving was very good. However, just as important, the boat was comfortable, the trip was well organised and I met a great bunch of people. If you are looking for a mid-range Thailand liveaboard trip around the Andaman Sea then I thoroughly recommend you to consider the White Manta.
Written by Jim Spellman, April 2016


---
CUSTOMER TESTIMONIALS OF DIVE THE WORLD
... The web site is very efficient, especially the search engine for liveaboard... I bookes at the very last minute and I did appreciate the reactivity and efficiency of the sales staff (Pip). I can't think about something to improve at the moment. The best things are: the comprehensive list of options (liveaboard) easily filtered by date and country, the kindness, efficiency and reactivity of sales staff, and your prices and discounts. ... -- Ali Mallem, France. [More customer reviews]