>
Dive Trip Reports
>
Eco Divers Resort
Lembeh Strait Scuba Diving Trip Report
Hard-Core Diving at Lembeh Cottages
Click on an image to enlarge

After hearing about Lembeh Cottages (now called Eco Divers Resort) in Bitung, I was most intrigued. Unlike a conventional resort, they were said to be similar to a skiing holiday with all the comforts of a catered, rented chalet and the excitement of fun-filled day trips. Apparently they are built around the concept of catering to hard-core divers who just can't get their fill of scuba diving in the macro heaven of Lembeh Strait.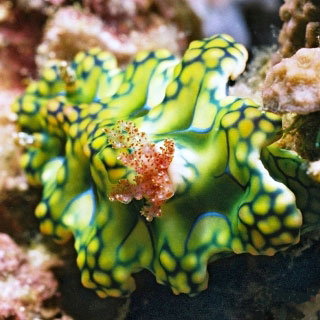 I had often heard that the Lembeh Strait has some of the richest marine life in the world. Nudibranchs in every colour and shape decorate the patches of coral. Frogfish disguise themselves against the background in yellow, pink, blue and red. The silty seabed is a muck diver's dream, yielding stargazers and Pegasus sea moths. It didn't take me long to appreciate there will never be a trip long enough to see all the many rare and bizarre critters to be found in Lembeh.
So Lembeh Cottages sounded like they were right up my alley as they would allow me to focus primarily on diving, while also getting a restful night's sleep on land. I set off in top spirits with high hopes of having a great scuba diving vacation.
The Diving in the Lembeh Strait
On initially descending into the waters, I must admit I thought I'd made a mistake to travel all that way, just to find a bottom of black sand with a few scattered patches of coral. I soon discovered that the nutrient-rich sandy floor is alive with more marine animals than I could ever imagine! In fact, there is just too much to take in without returning to each dive site again and again, to take more of the photos that are just begging to be captured.
A Lembeh Strait dive is like being part of an underwater treasure hunt, with prizes awarded for the number of weird critters you can find. If you are like me, you can spend hours watching flamboyant cuttlefish and mimic octopuses transforming themselves at a whim. You will find yourself gazing at gorgonian fans discerning pygmy seahorses that you have almost wished into existence. If this sounds like you, Lembeh could be your kind of place and the underwater memories you make, will stay with you forever.
• Watch our Lembeh diving video
'Day Liveaboard' MV Nautica
The diving operations are very professionally run by Eco Divers. We were collected from the cottages at 08:00 hrs each morning for a 15 minute air-conditioned transfer to the pier. A mere 5 minute speed boat trip gets you onto the MV Nautica boat moored in the middle of the strait, which serves as your base for the day.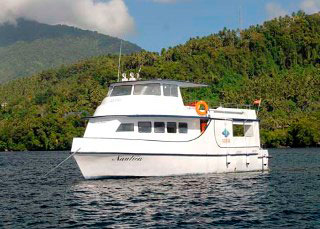 The diving takes place from 2 speed boats which wait above the site for you to finish each dive. Our guides were Iwan and Detmon, who have more than 20 years of combined scuba experience in these waters. When you get a moment I strongly recommend taking a look at their critter log. These guides keep it scrupulously updated with daily creature encounters.
When not in the water or on one of the speedboats, it feels wonderfully luxurious to be able to relax on the MV Nautica. The boat has all the benefits of a genuine liveaboard cruise. Having a hot shower and drying off with clean dry towels between dives is outstanding! Another advantage of this setup is you get to leave all your diving gear on board overnight.
Even diving all day allows for plenty of time to simply relax in the shaded saloon or suntan on the large sundeck. Photographers could use the time editing and downloading their images using Nautica's onboard photographic facilities.
You will not be fighting over sandwiches on this trip. We were treated to tasty snacks with coffee and tea after our 1st dive. Lunch was a completely delicious Indonesian buffet, so enjoyable I almost didn't need weights for the next dive. The hot chocolate and snacks were very welcome after the 3rd dive.
At around 16:30 hrs we headed back to shore. For night dive addicts, an extra sunset dive is fitted in at 17:15 hrs where you can watch the fascinating antics of mandarinfish mating. Their captivating colours and unique way of moving along the sandy floor will trump your sunset cocktail into a distant second place.
Nocturnal Cottage Comfort
If you arrive expecting a typical dive resort, then you will be surprised. For starters, you cannot merely stroll down onto the beach for a dive. This took some getting used to at first, but we only made the boat journey at the start and end of each day, and it didn't take long to see the benefits. For example the views of the strait are stunning from the hilltop cottages.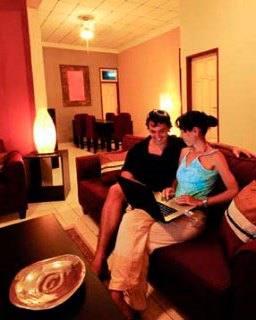 Each cottage has 3 twin rooms, thus sleeping 6 people in total. You can book a whole cottage with 5 of your buddies, making it a really sociable occasion or, if travelling on your own, join other guests. This is quite convenient as each room has its own private en-suite bathroom. The cottages are air-conditioned and modernly furnished with a common area where you can watch a wide, flat screen satellite TV, DVDs, read a book or get a chance to recap your dive adventures with the other guests sharing the cottage with you.
There is something so much more companionable about this arrangement. Some resorts are so large and impersonal that it can be difficult to start a conversation with fellow guests. At Lembeh cottages, interaction is easy and there is never any reason to feel alone as you will always find yourself in the company of like-minded divers. Yet, unlike a liveaboard charter, you can also escape for the occasional much-needed timeout.
For the avid underwater photographer, there is a dedicated camera room in each cottage with charging points. In addition, there is an Apple computer with complimentary WiFi; I found the signal strength to be very good.
Taste Sensations
The food and service is absolutely amazing. It is no exaggeration when I say you can expect the same food presentation and service that you will find at any fine city restaurant. Each cottage has a kitchen complete with its own personal chef, staff and waitress, all speaking good English and taking great care of your unique meal requirements.
Breakfast is a la carte, with a good selection of eggs made to order, pancakes and a couple of local Indonesian choices to tempt your palate. I was initially surprised when the waitress asked for my dinner order while having breakfast, only to realise that the fresh ingredients purchased daily from the local market are entirely dependent on what you order for dinner! I was also happy to hear that they only offer sustainable fish on the menu.
We all truly looked forward to dinnertime with soups and appetisers, delicious main courses, and a good selection of sublime desserts made an already near-perfect dive day at Lembeh even better.
Vegetarians will be satiated with at least 7 different vegetarian main courses that appear on their menu. This is even before considering that you can order anything you want and the chef will willingly oblige. It was fantastic to arrive back at the cottages after a full day of diving to find fresh fruit juice, popcorn and even pizza laid out for our pre-dinner snack. The pizza of course was my suggestion! :)
Fond Memories ...
I truly had a great time and couldn't have asked for anything more from my vacation experience at Lembeh Cottages. The concept makes sense in a place like Lembeh where there is not much else to do besides scuba … and the diving itself surpassed my expectations. My days were stress-free transitions from one treat to the next.
It certainly makes a refreshing change from liveaboard safaris for the hard-core diver. I would strongly recommend Lembeh Cottages for singles or groups who are looking for something a little different from the normal resort experience. The combination of the floating base making the dive day effortless, with the ease and freedom of being in a cottage at night, proved to be a real winner.
Written by Ricardo Rossi, July 2010


---
CUSTOMER TESTIMONIALS OF DIVE THE WORLD
... The website is very easy to use. I have always found Pip very easy to work with. Your customer service is outstanding ... -- William Morris, USA. [More customer reviews]