>
Dive Trip Reports
>
Sachika
Maldives Liveaboards Trip Report
Diving With the MY Sachika
Click on an image to enlarge

Fumbling to find small enough change to buy my Maldives ferry ticket from the airport to the town of Male, I let the bearded little Maldivian guy behind me in the queue go ahead. In a second he turned round and gave me a ticket he had just bought for me. It costed US$ 1 and he didn't want to be paid. He just said "No problem" and shuffled away on to the boat, losing himself in the crowd. This simple act of kindness was the perfect welcome to the idyllic island chain of the Maldives and its cheerful and accommodating people.
The Maldivian waters would prove just as generous during my week-long liveaboard trip on the MY Sachika. They yielded an intense, all shark-action night dive, memories of a school of 13 eagle rays passing overhead, gliding manta rays, fusiliers being hunted by jacks, being hunted by grey reef sharks, and an incredible and personal encounter with a beautiful whale shark.
From the local guy buying my ticket to the homeward plane taking off, the week was one of laughter, intrigue and drama ...
Diving in the Maldives
Our itinerary included a little bit of North Male then South Male, Felidhoo and Ari Atoll. I had only scuba dived the northern atolls before so I was keen to see what these popular central atolls had to offer. It was really a trip of 2 halves with the first half including more of the channel diving that is so much a feature of diving in the Maldives, to then enjoying the splendidly colourful sites of Ari Atoll, considered a favourite by so many.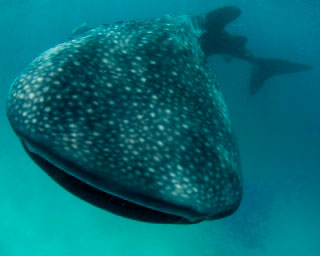 A typical channel dive was Bodu Miyaru Kandu on Felidhoo Atoll where we strode in from the dhoni (dive boat), sinking down to a plateau at about 28m which dropped off quite steeply into the abyss. We were head-on into the current until we reached our resting place and took hold with fingers or reef hooks. Before us were a swirling mass of blue-dash fusiliers, with the occasional dog-toothed tuna and Napolean wrasse coming into view. We watched as a few whitetip reef sharks entered the scene, soon joined by some meaty and impressive grey reef sharks.
Then the fusiliers suddenly moved en masse as the hungry jacks sought a quick snack. A few minutes later the hunter turned hunted, as some of the sharks singled out a jack and dashed after it. We all stayed motionless breathing in the scene, just as a black spotted stingray stirred behind us and eased it way past a metre or 2 from our fins. It was also at this site, though on another dive, that a squadron of some 13 eagle rays, lucky for us, cruised into view from our left. They gradually eased their way to being directly above us and then slowly slipped inexorably into the blue. Cool.
We made the one night dive that is included in the Sachika liveaboard package near the Alimathaa Jetty. It would be easy to dismiss this experience as a bit of a scuba circus if not for the unbelievable action that happened here. Yes there were far too many divers in the water. Yes the myriad of lights was like the spaceship from E.T., and yes there clearly was some food placed there for the sharks. However what we saw still left us all breathless.
Picture several huge nurse sharks all with their noses buried in a small group of rocks. Their smooth, muscular bodies almost vertical in the water column and they are urgently thrusting and writhing, pushing the big rocks aside to dislodge the food, as big stingrays and trevally dart this way and that into and out of view, all the while surrounded by a bunch of stunned homosapiens.
If that was impressive but a little on the fake and crowded side, there was nothing fake about the whale shark that found us at Maamigili Beru, South Ari. I say it found us because we had joined the throng of boats the day before and on that day, motoring up and down this long stretch of reef hoping that someone would spot a whale shark, but to no avail. We narrowly missed one apparently and decided that enough was enough, we would not seek to join dozens of other flapping snorkelers at the surface. We would go for a dive.
For many their whale shark experience, while a great sight, also looks like something from the start of a triathlon with a throng of bodies desperately trying to keep up, elbowing each other in the face and stopping to gasp for air. Fortunately for us we were in the middle of a relaxed drift dive along the reef when from nowhere the whale shark appeared slowly weaving its way over our group from the back to the front.
Being at the front, I had time to see the unmistakable silhouette appear still some metres away and started to try to build up some speed. As it passed overhead I was already motoring and moved up alongside this 5 metre beauty, while keeping a respectful distance. Frog-kicking strongly while trying to control my breathing, I managed to keep pace and drink in the image of its full grey, spotted body for a minute or 2 before letting it leave in peace. What made it so special for me was that it was not an experience at the surface or one shared with many others but it felt very intimate; as it was just me and this big fish. What's more is that every single guest on our boat saw it up close and had their own intimate moment with it. Fantastic.
• Watch our Maldives diving video

The Boat Features and Facilities
MY Sachika is very popular with Dive The World customers and the reviews are generally excellent. I can see why. The cabins are huge. The beds are big (if a bit on the hard side), the bathrooms and shower spaces are generous, and there is a lot of communal space to hang out. There is an enormous sundeck with a Jacuzzi, a stylish bar area on the upper deck, a nice couple of hang-out tables at the stern on the main deck, and some comfortable bench seating space on the bow of the main deck. If there is someone on the boat you want to avoid, you can really do it!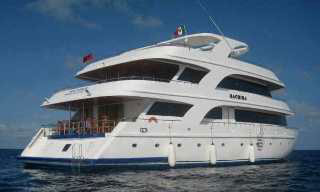 The liveaboard saloon is more laid out as a dining space than an indoor chill-out space, dominated by tables and chairs and with a relatively small sofa-bench seating area. However for relaxation and socialising, there are so many other open air options that this is of no consequence. The sundeck is particularly big and suitable for sun-lovers and shade-seekers alike and there is a 5 seat whirlpool hot tub to add to the fun. All the cruise guests would hang their swimming costumes on the sundeck and they would dry seemingly in minutes.
The bow of the boat on the main deck is another sofa-benched area where the cooling breezes make for a pleasant place to hang out. Smoking is allowed everywhere outside and if the crew and several guests are smoking it can be an annoyance to those who aren't. It might be an idea to restrict smoking to this bow area since this place is easily avoided if you do not want to experience second hand smoke.
The bar area at the stern on the upper deck is also a lovely spot. With a dhoni-style bar and comfortable seating, it is a great place for a sundowner. It is next to the massage room where one of the male staff acts as masseur to rub away your troubles according to a treatment of your choice.
On our trip we saw many other Maldives liveaboards, some known to be higher in price than Sachika but apart from the deluxe boats, none of these appeared superior. This gave all the guests the impression (correctly in my view) that Sachika is excellent value for money.
We had a very diverse group of nationalities on board, most of whom lived up to their national stereotypes. We had an enthusiastic American who told us a lot about "back home in the States". There was a fastidious South African who would not rest until he had tamed every last aspect of his new whizzbang computer. Our number included a Korean family with a new set of baseball caps for each day, plus fun novelty cartoon-style hoodies to add to their top-of-the-range equipment. To balance all that excitement we had a big, hard-to-please Pole who was far from magnetic. A monotone "I am satisfied" was his one expression of enthusiasm after our glorious encounter with the whaleshark. So although Sachika is an Italian operation, it is very rare that there are more than a handful of Italian speakers on board. Most trips represent something of a league of nations.
The Cabins
One of the most striking features of this liveaboard boat reveals itself when you first swing open your cabin door. So much space! Even the standard cabins have plenty of room for 2 people to move around in and the beds are very far apart. There is storage space beneath each bed, on the bedside tables and in the wardrobe above the minifridge. There is also a dressing table although I had to grab a chair from the saloon so I could use my laptop in the cabin.
The ensuite bathrooms are also quite big with a large shower cubicle so you never feel cramped in your living quarters. Each guest is given a shower towel and a beach towel; the shower towel is replaced half way through the trip. The shower has liquid soap and there is always plenty of hot water to rinse of the salt. The toilets are always well stocked with toilet paper or there is a bum-gun if your sense of hygiene is good, on the whole.
The upper deck cabins are all suites so they have a telephone, TV and DVD player. They are also big and flooded with natural light, plus of course they enjoy the lovely sea views.
Food
The dining area is in the centre of the boat and is, in many ways, the heart of the diving trip. Being Italian-operated, food is considered very important on these liveaboard cruises and I heard it mentioned on multiple occasions that the Italian connection was a real plus point when it came to dining.
Pre-breakfast at 6:30 am was tea or coffee with dry biscuits. Breakfast was a spread that included fresh fruits, cereals, long-life yoghurts, eggs, sausages, toast, beans and some different types of cooked vegetables. Juice, tea and coffee, plus jams and nut spreads, were also available.
Lunch and dinner often included a variety of different fresh salad options, rice, pasta, Sri Lankan curry, fresh fish, chicken in breadcrumbs, cooked vegetables such as broccoli, cauliflower, green beans and fresh fruit together with homemade desserts like rice pudding or crème caramel. A sailfish that was caught by the crew during one of the crossings, to the absolute delight of many of the guests, was also added to the menu.
As is common we spent one night on board a private island having a BBQ. Here, after a large feast, we were entertained by the singing and drum-beating of the crew. Many of the guests joined in dancing and laughing under the full moon. Happy memories! The food on board Sachika received plenty of praise from the guests and the chef was warmly applauded.
The Diving Procedure
The use of a dhoni is almost universal on Maldives liveaboard trips and what a difference it makes. The mothership is quiet and uncluttered and has a lot of useable space. The dhoni is where all the scuba equipment stays and the compressors can do their noisy job when the boats are far apart.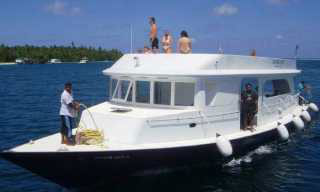 The dhoni is big and works well. It has an exposed sundeck upstairs which is a great place to escape the action-packed kit-up area. When ready, guests shuffle out to a platform that extends about 80 cm out from the doors and runs around the whole boat. This way the whole group can (although they usually don't) all enter the water by striding off at the same time.
Sachikas's dhoni is impressive and as good as any dhoni we saw on our trip. Entry and egress are easy with large open doorways leading out to the walkways that run the whole way down both the port and starboard side. Egress is up a ladder which has an extra broad base. This is a simple but very helpful feature as it allows you to easily locate and get steady on the bottom rung. You hand up your fins and then climb the ladder returning to your station to remove your gear.
Each diver has a plastic basket beneath their station for smaller stuff, and it contains your fins before you even make it back there. Tank filling is done in situ between dives. Note that Sachika currently only provide air, not nitrox. However the 13.5 litre tanks and air fills, usually in excess of 210 bar, mean bottom times can be quite long. There are 3 dives on each full day, including 1 night dive. Another night dive is possible later in the trip although this is at extra cost, which varies depending on the number of participants.
There is a toilet on the boat which also has a dribbling shower. Most guests rinsed off on the 2 fresh water power hose showers at the stern of the dhoni. Once, at 5m having finished my safety stop, I saw many bits of toilet paper come swirling into the sea on the other side of the dhoni's hull. I exited quickly.
Sachika is used to accommodating scuba divers of all levels and although the Maldives sites can be challenging and is more suited to experienced divers, many beginners come here. The crew and dive staff of Sachika did a very good job with these inexperienced divers, lending a hand with buoyancy control, octopus borrowing and physical hand-holding. Sachika do not insist on a minimum qualification or experience level so this is all part of the service.
Dive briefings were adequate if not impressive. The dives were impressive. There were 3 guides in the water (2 Italian and 1 Maldivian) each with their own group. There were no serious photographers in our group but I think they would lament the lack of camera table and hoses etc on the dhoni.
The staff encouraged the widespread use of safety sausages which is always reassuring. In a place with currents and a lot of boats around there are plenty of reasons why you will want to deploy your SMB on your safety stop. It is also hilarious to watch your dive buddy tie himself up in knots, struggling with entangling strings and an oversized SMB weight getting snagged in the rocks, while trying to deal with a camera and a leaking mask.
Very few of our group had their own reef hooks. The use of them is widespread in the Maldives because of the diving conditions. Some other boats distribute reef hooks to all their guests for the duration of the liveaboard trip. So you should bring your own. I think perhaps our group was unusual because I hear that on most dive trips every guest brings their own reef hook.
Other guests commented on how they found the scuba diving here a little different from their previous experience since the buddy system was not really emphasised. It was more a case of diving as a group and following the guide. If you have a buddy already that was fine, but there was no real allocation of buddies or insistence on buddy proximity.
In Summary
Sachika is one of those rare examples of a liveaboard that has many luxurious elements to it, seems to leave all of its customers very happy and yet remains affordable. There are a lot of liveaboard dive boats in the Maldives and the choice can be overwhelming. It is beyond doubt that there are many options where you would spend more and receive less than you do on Sachika.
Aside from the hard mattresses (which some people like and others get used to), I heard almost no complaints and only high praise for the boat, the dhoni, the staff and the food. I had an excellent diving trip in the Maldives and I know the satisfaction level among the guests was high. Even the big Pole was secretly delighted. With a great crew, ably managed by Antonio the cruise director, Sachika delivered.
Written by Gavin Macaulay, April 2013

---
CUSTOMER TESTIMONIALS OF DIVE THE WORLD
... Your response to my queries and so on was very timely, I never had to wait more than 24 hours for a response. Thank you ... -- Miranda Cooke, Australia. [More customer reviews]