>
Dive Trip Reports
>
Garden Island Resort
Fiji Scuba Diving Trip Report
All the Colours of the Rainbow at Garden Island Resort
Click on an image to enlarge

The Great White Wall is probably the most famous dive site in Fiji and I was lucky enough to explore this amazing site on a recent visit.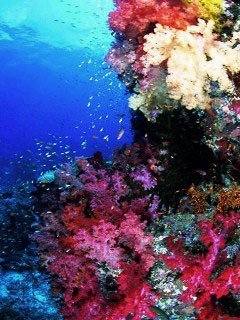 On top of this incredible experience, I had the privilege of staying at the gorgeous Garden Island Resort, a PADI Gold Palm Dive Centre located on Taveuni Island and just a few minutes boat ride from the world-renowned Rainbow Reef and its dive sites in the Somosomo Strait.
After just 15 minutes in the boat from the resort, we arrived at the Great White Wall, the first dive of the day. This is a deep site, entering into a wide cave mouth at 15m and continuing down to the exit at 25m.
Once through the entrance, we enjoyed an awesome drift dive along a wall covered in the densest white soft coral you have ever seen! From an angle the wall looks like it is completely covered in a glowing bluish white! A little current served to enhance the display of the white coral blooms even further - it really was an amazing sight.
The wall appears to be endless, dropping down to an impossible depth for recreational divers. This is definitely a dive that should only be done on certain tides as the currents allow the white coral to expand to its full volume, giving stunning wide angle photo opportunities. Aside from this fantastic wall, there are plenty of other great dive sites in Taveuni, all offering the avid diver a world class scuba experience.
The Diving at Garden Island Resort
At the time of my visit, Mark, the resort manager and owner, is waiting for permission from the Fijian government to build a pier so that guests can simply walk to the dive boats. For now, it is a 5 minute dinghy ride to the 2 boats. All you have to do here is show up at the dive shop between 8 and 8.30 am, everything else is taken care of by the staff who carry your gear and rinse it at the end of the each day.
The dive sites are only a stone's throw from the resort so after each 2-tank trip we arrived back at the resort around 1 pm, in time for lunch. A third afternoon dive is also possible at an extra cost and this often includes a picnic lunch on a nearby island beach.
Access to certain sites depends on the tides so Annie and Paulo, the Fijian divemasters at Garden Island Resort, choose the best and most appropriate locations each day. Currents can be challenging at times but dive sites like the Great White Wall or Yellow Tunnel are at their best in these conditions.
Follow your divemasters and they will make sure that you dive safely and you don't get too tired while still enjoying the underwater spectacle. Annie and Paulo are also excellent at finding and pointing out fish and critters that most scuba divers wouldn't even notice.
Annie's Bommies, Rainbow's End and the Fish Factory are some of the best known sites in this region of the Koro Sea. The latter one really lives up to its name with an incredible amount of fish on display.
Whitetip reef sharks can be seen often cruising past or resting on the sea bed. You are also likely to spot a turtle or two; both green and hawksbill can be encountered here, usually as they make their way to the surface for a breath of air. Despite being listed as an endangered species, you are also likely to see Napoleon wrasse in the Somosomo Strait. Altogether there are more than 1,200 species of reef fish to be photographed in these Teveuni waters.
The Resort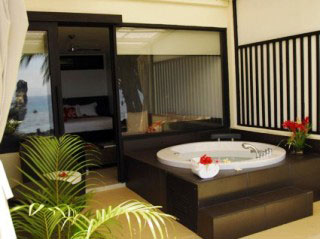 The Garden Island Resort not only offers great diving and warm Fijian hospitality, but also luxurious accommodation in 30 oceanfront rooms. I was very impressed with the excellent interior décor and all rooms have a king sized bed, air conditioning, ceiling fans, and a flat screen TV and DVD player.
Mark and his family took over ownership of the resort in 2008 and since then there has been a lot of renovations done so all the rooms and facilities are pretty much brand new. There are plenty of DVDs in reception that you can borrow any time.
The resort has a swimming pool right by the restaurant and bar, and there is a spa located in a private bure, surrounded by nature and next to a waterfall. There is also a beauty salon offering pedicures, manicures and relaxing facials.
Garden Island is also a great place for non divers, as Fiji's exotic flora and fauna can be discovered just a short walk away. There is a waterfall at the top of the hill behind the resort where you can slide down the rocks when the water level is right.
You can also visit the location of the 180th meridian which is the meridian that is 180 degrees east or west of the prime meridian in Greenwich, UK, and runs from the North Pole to the South Pole, passing through Taveuni.
In the evenings we were entertained by Paulo and his band singing famous international hits as well as traditional Fijian songs. The Tagimoucia Bar serves soft drinks and local beers, and a good selection of red and white wines, mostly from New Zealand and Australia.
From time to time, Paulo will call out "kava time" when guests are invited to drink kava from a polished half coconut. Kava is a drink made from a local root that is ground up, mixed with water and left to ferment inside a 'tanoa', which is a wooden bowl that reminds me of the shape of a turtle. The liquid is not alcoholic but a sedative and gives a good relaxed feeling.
The Food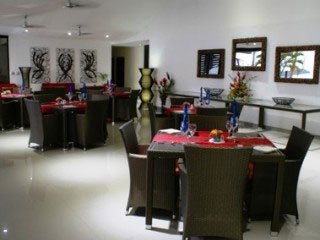 For breakfast there is always a good selection of fresh fruit and fruit juices along with oatmeal and other cereals, but it is also possible to order a hot breakfast such as eggs and bacon to prepare you for your morning dives.
Lunch and dinner are a la carte, but you only choose the main course as the starter and the dessert are set. There is a choice of 3 main courses and the food is a mix of local and international dishes. I dared to try the papaya soup thinking that it is impossible to get a delicious soup out of a fruit, but I was astonished by how good it was.
Don't be afraid to try some local dishes such as 'kokoda'; Fijian spicy fish marinated overnight in lemon juice. When the resort hosts dive groups or it is close to full occupancy, a 'lovo' feast is prepared beside the swimming pool. This is a traditional way to cook food by burying it in the ground with hot coals, and a good excuse for a party as the cooking and music starts around 2 pm!
Getting to Taveuni
To reach and dive in Taveuni Island you need to take an hour long flight from Nadi. At the time of writing Pacific Sun is the only airline operating this route, but soon there will be another company offering flights too. In recent years domestic flight cancellations and delays to Taveuni have been an issue but competition between 2 airlines can only mean a better service and perhaps lower tickets rates for passengers too.
The Garden Island Resort will collect you from the airport when you arrive and transfer you to the resort just 20 minutes away.
To Sum Up
The high standard of the resort and the fine restaurant are already very good reasons for choosing Garden Island Resort for your next Fiji dive vacation. But probably the best feature of the resort is its proximity to the amazing Taveuni dive sites that Rainbow Reef has to offer and the relaxed and easy scuba experience. Every day here is a great day diving!
Written by Ricardo Rossi, September 2011


---
CUSTOMER TESTIMONIALS OF DIVE THE WORLD
... The service was fast and very good. A bit nervously to pay all in advance though. I had a personal contact with Vic through the whole process, which I liked very much ... -- Helen Axelsson, Sweden. [More customer reviews]