>
Dive Destinations
>
Fijian Islands
>
Taveuni Island
Diving in Taveuni
Dive Rainbow Reef and the Somosomo Strait
...Highlights: great macro life/marine diversity, schooling fish/big pelagics...
...Taveuni's diving environment: healthy reefs, wall dives, drift diving, beginner & advanced divers...
The Somosomo Strait which runs between Taveuni Island and Vanua Levu is one of Fiji's best known dive destinations and it is served by dive resorts. The strait almost single-handedly earns Fiji its title as the "Soft Coral Capital of the World".
Many divers come to Taveuni just to witness the excellent soft coral blooms that occur when the current is running just right. Normally the currents are little more than a gentle helping hand along the way, guiding you past some of the most wonderful proliferations of soft corals on the planet. Show more
Dive Site Descriptions for Taveuni
Annie's Bommies - Sadly this is not a site named after a local Fijian woman with an hourglass figure. Rather the term refers to the several large conical protrusions from the sea bed that characterise this Taveuni Island site. In many ways Annie's Bommies is typical of the diving to be found in the Somosomo Strait and is essentially a continuation of the wonderland known as the Rainbow Reef. Show more

How to Dive Taveuni
For more information on your diving options, and all the other travel information you might need to visit Taveuni Island and Fiji, view our Taveuni dive resort section.
The best way to dive here is by staying in one of the resorts on the island. This allows you quick and easy access to the Somosomo Strait and the other Taveuni diving sites, and can also make it easier for you to explore some of Taveuni's topside attractions.
Currently there are no liveaboard dive boats operating in the area.

Taveuni Island Diving Season
Although you can visit Taveuni all the year round, the main diving season is April to October. This coincides roughly with the period which sees the best visibility: Fiji's winter months of July to September. At this time the wind can kick up a little in the Somosomo Strait making the surface a little choppy and potentially as cool as 22°C.
November to January tend to see the most rainfall with the rainy season officially extending into March. During these summer months water temperature can reach a pleasant bathtub 30°C.
Some creatures' presence in the Taveuni and the Rainbow Reef area is seasonal: Mantas from November to May, turtles from October to April, and (although unlikely) humpback whales from July to September.

Where is Taveuni Island and How Do I Get There?
Review our map below of the Fiji Islands, showing the location of Taveuni. Here, you will find information on how to get to Taveuni.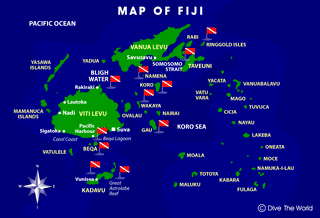 Reef Summary
Depth: 10 - >40m
Visibility: 15 - 40m
Currents: Gentle to very strong
Surface conditions: Mainly calm but can be choppy further from shore
Water temperature: normally 28 - 30°C
Experience level: Beginner - advanced
Number of dive sites: 20
Recommended length of stay: 7 - 10 days

Useful References