>
Dive Trip Reports
>
West Coast Explorer
Liveaboard Your Guide to Diving in the Similan Islands Trip Report
How to Dive and Keep your Trousers on in Thailand
Having spent several years in the country and experienced most of what it had to throw at you, I could think of only 3 possible ways not to lose your trousers when on vacation in Thailand:
Say "Mai mee ngern" (No have money) to all and sundry when meeting them for the first time;
Take your entire holiday in a camping tent at the top of Puu Graderng Mountain in Leui Province;
Go to the Philippines instead.
During my recent liveaboard trip on West Coast Explorer from Khao Lak to the Similans I was about to discover another way.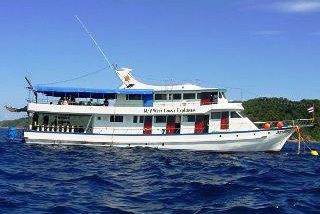 I was quite looking forward to my safari; A well-established Phuket dive operator's liveaboard boat with a good reputation that I had somehow managed never to see firsthand before. It was also a chance for me to dive the Similan Islands for the first time in a year.
West Coast Explorer takes 16 guests and is at the cheaper end of the Thailand liveaboard market scale, albeit quite a lot more expensive than in recent years due to the sharp rise in fuel prices worldwide (liveaboards' largest cost element on any trip is their fuel bill).
At ~US$ 165 per day (November 2006 prices), including all food, accommodation and 4 dives per day, the Thai liveaboard market is still one of the best value-for-money options in the world. Obviously at that kind of price you can't expect an executive suite with lobster and caviar every day, but it is always interesting to see where the limits do lie. With the West Coast Explorer, I was pleasantly surprised.
• Watch our West Coast Explorer liveaboard diving video

Good Practical Service and Facilities
The best feature of the trip is in the atmosphere engendered by the dive staff. Their professional yet friendly and easy-going nature makes for assured and relaxed customers, and the guests onboard soon responded in the best way possible - they all thoroughly enjoyed it, mixing freely with each other and making new diver friends along the way. Of course the cosmopolitan mixture of nationalities typical of West Coast's liveaboard cruises helps too. On this dive tour there were guests from Germany, United Kingdom, Brazil, Italy, Norway, South Africa, Denmark, Switzerland, Finland and Austria. The divemasters came from England, Australia and Thailand.
The owners of the boat are also dedicated to providing good service on their Similan diving safaris to the extent that they join each cruise. This ensures everything runs smoothly and there's always someone responsible on hand to solve any problems and make any decisions that may need taking. Besides this, the owner Milton has been tour leading on the boat for 7 years, so he knows the dive sites extremely well and is an avid underwater naturalist and photographer. He's available to help you identify any creatures that grabbed your attention, or to point out that your photos would look better if you removed your lens cap first.
Additionally, the dive deck and platform are well designed, using the available space thoughtfully. The whole flooring area is covered with a non-slip rubber material, and the diver stations are well spaced out from one another, instead of typically crammed in by extra tanks like most other low budget boats seem to do. Nearly all the scuba dives are done from the back of the boat, though this is not too much of a problem as the boat is not huge and is fairly manoeuvrable. There is 1 motorised 4m dinghy which is used where necessary, and divers enter the water in 2 groups of 8. The dinghy is also used to shuttle guests to the various beaches on the islands every afternoon, which is a welcome feature for most.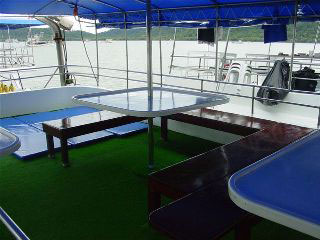 Dive briefings are held on the upper deck of the liveaboard and are colourful and detailed. West Coast have developed their own series of interesting dive site maps, and the briefings add value at each site. There are 3 divemasters taking care of the entire boat (maximum of 16 customers), and the DM service is guaranteed in English only, though generally the DMs come from various corners of the world. Once the briefing is over, the groups use the deck in rotational order giving more room on the platform and allowing each group the opportunity to enter the water first at some stage of the trip. The exit ladders are really good, having extra deep and non-slip padded rungs with firm railings, meaning even the most immobile divers should have no difficulties. Once back on board there are 2 large rinse tanks used exclusively for computers and cameras, and 2 fresh water showers on the platform.
Authentic Thai Food - Spiced to your own Taste
Special mention of the catering must also be made. Thailand is renowned for its spicy cuisine to such an extent that it is the deciding factor for many tourists when considering where to go on vacation. Why then do most Khao Lak liveaboard operators insist on insipid flavouring to suit what they think are western tastes? However, on West Coast they operate a different system that suits all.
The menu on the 4 day cruise is fixed, but each course on every day is unique. Breakfasts are a mixture of international and Asian style. Lunches are Thai and vary from green curry and chicken stir-fry with snow peas, to Tom Yam soup and beef noodles. The dishes are lightly spiced but are always attended by a choice of fresh chillies in vinegar, soy sauce or fish sauce, meaning you can eat authentic Thai-style if you prefer!
Dinners are western (to restock those exhausted carbo-loads) and are dishes such as Spaghetti Bolognese, chicken cordon-bleu, meat and potato stew and chicken rissoles. Meals are served on the good-sized and carpeted upper deck, which serves as the main social area too. Each afternoon the chef prepares a fresh fruit drink such as orange slush, banana shakes or iced tea.
Great Veggies too!
Being a miserable vegetarian myself, I am always extremely cautious about praising food. I am quite tired of being treated like a social outcast for my eating and lifestyle choices, and expected to dine on the scraps or side dishes of animal murderers despite paying the same price for the liveaboard cruise. I was very pleasantly surprised on West Coast Explorer. Every meal was different and specially prepared to my taste. Pad Thai with soy meat, vegetable green curry, spicy pumpkin soup, penne arrabiata; a really broad range of interesting flavours.
Which Cabin Suits You Sir?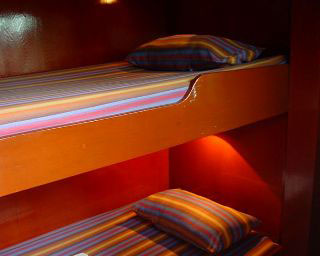 The cabins on the Explorer are a bit if a mixed bunch to be honest. All cabins have twin bunk beds and share 3 bathrooms. The 2 cabins to the front of the main deck are easily the best. They have the most space and are light brightly from the large windows at the front of the boat and at the side. The 4 identical cabins behind these on the main deck are also pretty reasonably sized with large windows. However, the 2 cabins on the lower deck are very small, have no standing space and little natural lighting, and are far from the bathrooms. But since it's possible to reserve cabins on each dive trip on a first-come-first-served' basis, I recommend you book early for the front main deck cabins. If these are full then book the main deck rear cabins. If these are full then consider changing dates or liveaboard boats!
The Niggles
The only other complaints about the boat are really quite small. The ladders leading up to the sun deck are aluminium but have no stepped rungs. This makes it quite awkward for climbing. Also, a couple of the entrance ways are a little low. It seems very conceivable that guests would frequently bang their heads on obstacles, and they could simply be padded to avoid injury.
The Itinerary
Regarding the diving itinerary of West Coast Explorer - dive day 1 is spent around the central Similan Islands 4, 5 and 6. Sites visited on our trip were East of Eden, Elephant Head Rock, Anita's Reef and Honeymoon Bay. Day 2 was spent at the northern Similan Islands 7, 8 and 9. Dive sites on this occasion were Beacon Reef, North Point and Batfish Bend. Overall this gives a good mix of boulder sites and fringing reef sites. Day 3 was spent at Richelieu Rock with a night dive at Koh Tachai. Day 4 was one dive at Koh Tachai Plateau and one dive at Koh Bon ridge.
• Watch our Similan Islands diving video

On days 1 and 4 the wake up call is at 07:00 hrs and on days 2 and 3 at 08:00 hrs. There are 3 night dives scheduled during the charter.
Pick up and return time for the cruise in Phuket is at around 17:00 hrs, and requires a 2:30 hrs minibus transfer to and from Khao Lak, where the West Coast Explorer departs from. Crossing time between the pier and the islands is roughly 4 hours.
Just When you Thought it was Safe ...
Finally, the liveaboard's indoor saloon area has a good range of marine identification books and also a small library of general books for guests to borrow. The selection was actually much better than the choices I am used to such as Danielle Steele, Tom Clancy and Stephen King. I spotted a couple of travel books - the Thailand Lonely Planet, and The Pol Pot Regime (good bedtime reading) - a Wilbur Smith book, Enduring Love by Ian McEwan, and an easy-reading Bill Bryson book which I helped myself to. I was reading this book whilst trying to change my shorts and hang up my towel on the bow of the boat, when suddenly I realised I needed at least 4 hands to carry out the manoeuvre. But too late did I realise, and off went my pants into the Andaman Sea.
The moral of the story is that just when you think you have the answers to keeping your pants on in Thailand, something or someone will always come along to expose you once more.
Written by Sheldon Hey, November 2006


---
CUSTOMER TESTIMONIALS OF DIVE THE WORLD
... Concise, quick replies and you were able to get me dives on the dates I wanted. ... -- George Bushell, UK. [More customer reviews]