>
Dive Trip Reports
>
Seahorse
Liveaboard Your Guide to Diving in the Banda Sea Trip Report
The Banda Islands and Raja Ampat on the MSY Seahorse
Click on an image to enlarge

Banda and more particularly Raja Ampat had been on my "To Do" dive bucket list for way too long. Opportunities had come and gone due to the simple fact that if you allow other things to get in the way of what you really want to do, they most surely will. Finally it was happening and as I stepped on to the MSY Seahorse I knew the days ahead would be ones to remember.
Ambon was the start of the liveaboard trip and was memorable for being home to some excellent muck diving very reminiscent of the Lembeh Strait. Dark sand and critters aplenty including stargazers, mandarinfish, devil stingers, flounders, fingered dragonets and many of the more bizarre marine creatures all came into view. It was the unique dive site of Laha, underneath fish processing boats, where the remains of the catch were strewn over the seafloor, that provided all these sights and more.
The Banda Islands with its rich history and riotously colourful walls and bommies would keep me occupied for the next few days. Dive sites like Batu Kapal will live long in the memory for their enormous barrel sponges, sea fans and rainbows of soft corals all peppering an ever-changing topography and filled with thousands of fish.
• Watch our Banda Islands diving video

The 3rd leg of the tour was the much-anticipated Raja Ampat which began with the ludicrously colourful and inspiring channel known as The Passage. Seeing over 8 pygmy seahorses on 1 fan is not a common occurrence and can only happen in places as wonderful as this. Other personal highlights included Hippocampus Denise, the epaulette shark and my personal favourite - sea fans filled with thousands of crazy ghost shrimp, walking around like creatures beyond the realms of science fiction.
• Watch our Raja Ampat diving video

Beautiful sites, an excellent boat and cruising around the lush uninhabited islands of Raja Ampat all combined to make a memorable Banda Sea liveaboard diving trip running from Ambon to Sorong in Indonesia's West Papua province.
The Seahorse Liveaboard
All in all, I found the Seahorse to be a very good dive safari boat - a fine schooner with good use of space, helpful staff and an excellent atmosphere. It can accommodate up to 16 guests.
The cabins are fine, albeit a little simple, and I liked that even the standard cabins with 2 single beds are not up and down bunks, but instead are side by side or only partially overlapping. Cabins on the lower deck have only a small porthole so there is not a great deal of natural light, but that is to be expected on a sailing vessel such as this. Bathrooms are compact. They are not the most soundproof cabins either but as long as you don't have honeymooners next door it should not be too much of a problem. Bigger double cabins are at the rear and have larger windows.
If you are a tall person with big feet you might find the stairways a little awkward. The stairs are steep and lack enough space to get a solid foot on them so seeing guests adopt sideways and even backward approaches was not uncommon. Also the ceiling of the hallway separating the standard cabins is a little low for tall people.
The lounge is quite roomy with 3 separate dining tables. There are a lot of wood finishings everywhere in the interior. Although not an old liveaboard boat by any means, the wooden panelling and beams appear well-maintained.
Sun lovers are catered to but mostly the decks are well shaded with waterproof fabric making it comfortable for all and easy to avoid the sun if you wish.
The diving service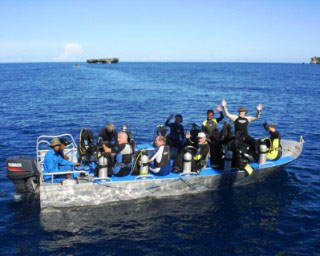 Dives are made from one of the 2 aluminium tenders accommodating 10 divers each in comfort. The tanks are taken in and out of the tender by the crew so there is little work for guests to do. You check and log your nitrox details, grab your mask and fins and stroll down the gently inclined side steps and into the tender. Everyone backrolls off at the same time. There is an easy to use ladder at the rear of the tender for egress. The dive crew are attentive and helpful at all times.
Food
The food on my liveaboard trip was almost entirely Western and seemed to go down well with everyone. A few more Indonesian dishes would have been nice. Meals were varied and nutritious with a lot of salad starters and fresh fruit desserts. Guests enjoyed steak, roast chicken, lasagne and beef bourgignon, to name a few. Every morning saw a pre-breakfast before dive 1, followed by a full breakfast. There were also snacks between lunch and dinner. The Seahorse is one of those boats where you never feel hungry and just as you think you might be about to, you are called to the table for the next meal.
A typical meal would be green salad or asparagus soup with freshly baked bread, chicken (or tempe) with mixed vegetables followed by fresh fruit or crème caramel.
My vegetarian requirements had been communicated to the chef and at the start of the cruise we had a quick chat and they assured me all would be well. The vegetarian meals were always varied and interesting which is very unusual on a trip of this nature.
Shore visit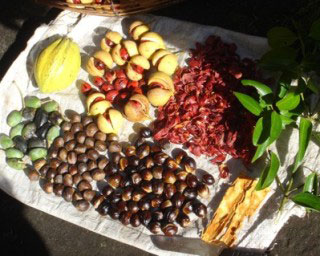 One morning we went ashore on Banda Neira, visiting a museum, an old Dutch fort and a plantation where we were treated to cinnamon tea and treats with delicious nutmeg fruit jam. It was fascinating to put the area into context and imagine what the place must have looked like in those days, crawling with Europeans desperate to make money from this distant land, and brutally repressing the locals who dared not be totally subjugated.
Later in the trip it was interesting to see physical differences in the local people. In Sorong the locals are Papuan. They appear to have more in common with Australian aborigines or South Pacific islanders than the Indo-Malay racial groupings of which the rest of Indonesia generally consists.
All things considered
In summary, if I was to run a liveaboard, it would not differ greatly from the way the Seahorse operates. The diving system is efficient without being military. The boat is comfortable, well-maintained and makes good use of space. The food is varied and plentiful.
Getting There and Away
I overnighted in Jakarta Airport Hotel which is actually in the airport and was perfectly adequate for an overnight stay. Next morning I flew to Ujung Pandang (Makassar) and transferred to Ambon (crossing 2 time lines in a few short hours) to meet up with the boat.
The second plane journey with Lion Air was exceptionally cold and I was thankful for the makeshift blanket that my newspaper, the Jakarta Post, provided.
A 45 minute drive from Ambon airport saw us board the liveaboard in Ambon Bay, where we moored for the first night. Ending my dive trip in Sorong, I flew back direct to Jakarta.
Written by Gavin Macaulay, November 2008

---
CUSTOMER TESTIMONIALS OF DIVE THE WORLD
... Great response from Dive The World. Very flexible payment methods with various currency options to pay in. The response rate was very efficient.Good response rate from staff. Would like to see better discounts as this is the main reason why I book with Dive The World rather than direct with the liveaboard themselves ... -- Cristin Lee, Malaysia. [More customer reviews]