>
Dive Trip Reports
>
Layang Layang Resort
A Distant Coral Island Atoll to Call Your Home...
Diving Layang Layang
Click on an image to enlarge

Imagine diving on a small, isolated coral atoll, 300 kilometres from the nearest mainland, surrounded by warm tropical ocean over 2,000 metres deep. Imagine coral reefs full of health and diversity, free from pollution, fishing and other harmful human impacts. Imagine diving with hammerhead sharks, manta rays, and other big fish species such as tunas and jacks.
Imagine no more. Dive the reality of Layang Layang in Malaysia's South China Sea.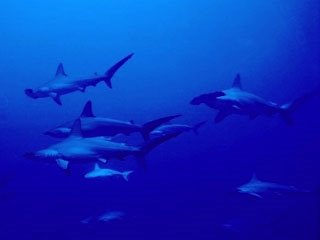 Most people that make the trip to Layang Layang, do so with the sole intention of diving with hammerhead sharks, here each year in large schools during the months of March until May.
I paid a visit to Layang Layang well outside of this peak season, to find out if the island had anything else to offer, other than the obvious and extraordinary attraction of the hammerheads. I am rather pleased to announce that it surely does.
The first feature to strike you will surely be the incredible reefs. These reefs are surely the healthiest in the whole region and possess diversity second to none outside of the Coral Triangle; the mix of hard and soft corals is truly a sight to behold. And the attendant fish life diversity is also simply amazing, and possesses a quite unique character.
During my 5 night stay at Layang Layang Island Resort, the only resort in the area, I didn't see 1 hammerhead shark. But that certainly didn't stop me having a memorable diving trip. Life doesn't have to revolve singularly around encounters with the admittedly spectacular creatures. I saw plenty of big stuff - schools of pickhandle barracuda, great barracuda, large dogtooth tuna and schooling jacks on most dives, and more giant trevally than I have ever seen before. There were juvenile manta rays at several of the atoll's cleaning stations, eagle rays, spinner dolphins, and huge unicornfish, especially the elegant whitemargin unicornfish, with their incredible horns.
But the highlight for me was just exploring the superb colourful coral gardens, checking out the amazing numbers of parrotfish species, butterflyfish . and the fish that will remain synonymous with my time at Layang Layang - the arc eye hawkfish - this cute little critter, which I admit to never seeing before, seems to be everywhere here. Once spotted it is readily identifiable by its beige body with splash stripes of white and purple running the length of its tail. You'll always find it perched on top of a hard coral branch, staring at you with its large inquisitive eyes highlighted by arched neon orange eye brow markings. Very cute.
Dive site highlights were Gorgonian Forest and Shark's Cave, but all the sites were pretty good and all had warm water, good visibility, and easy conditions with hardly any current at all. The weather was almost perfect for the entire trip too, which certainly helps!
When you're diving with Layang Layang Island Resort you'll be assigned 1 boat for the duration of your trip, so you can leave all your scuba gear on the boat the whole time. No need to load on and load off every time you go diving. The divemasters are Malaysian and English, and the dive station is well set out, functional, and has a good atmosphere about the place.
The catamaran-style boats are powerful, fast and spacious. All the dive sites are within easy range (between 5 and 25 minutes (average 10 minutes) boat ride). This means that the resort operates single tank boat trips - 1 in the morning, 1 at midday and 1 afternoon 45 minute dive. This means that you get to spend lots of leisure time back at the resort, and that you get to dive all of the sites around the island in prime sunlight conditions.
• Watch our Layang Layang diving video
The Resort of Layang Layang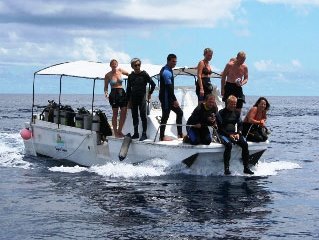 The resort is well laid out, with all the rooms being close to the restaurant, pool and dive station. There is a peaceful atmosphere about the place. Several guests thought that the staff service at the resort was its best feature, being very friendly and helpful, without being intrusive. During my stay the resort guests came from Australia, England, France, Hong Kong, New Zealand, Singapore and the USA.
The swimming pool I thought was especially nice, being almost 400 metres square. When the sun is shining, the aquamarine water is just too tempting to splash into. Or if you're tired from the afternoon dive, then pull up a sun lounger and catch some late afternoon sun. But beware the tiles! In the midday sun the tiles around the pool get very hot to the touch; indeed so hot that you have to run around to avoid burning your feet . of course, you could just wear sandals.
The rooms are large, with air-con and TV, but are a little past their best. And the room walls are not very well sound-proofed.
To be fair, there isn't a great deal to do here, other than diving. Besides the pool, there are sea canoes, and there is a small bird island. It would probably take around 30 minutes to walk around the entire island. In the bar area there is wi-fi, a pool table and a bar football table. For non-divers, I'd suggest to bring a good book and prepare your self for a chilled out and restful time.
• Watch our Layang Layang Resort video
The Food at Layang Layang
This was a surprisingly good aspect to my stay here. All guests were very happy with the variety and quality of the fare being served at the restaurant, especially when one considers the logistical hassles of the remote location. In all, there are 5 sittings - pre-breakfast, full breakfast, lunch, afternoon tea, and dinner. You can take a seat in the air-conditioned restaurant or eat poolside. The dining staff are very attentive.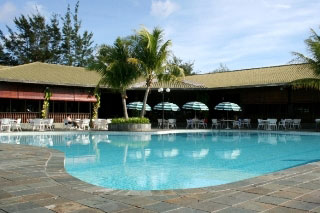 The 3 main meals of the day consisted of 4 or 5 buffet serving trays of food, with a great salad bar, soup, bread buns, fruit and a choice of 3 or 4 desserts - quite a banquet really. The cuisine is mainly Asian, but with 1 or 2 Western dishes per sitting.
Some examples of main meal dishes: Steamed fish, coconut prawns, squid in black bean sauce, Szechuan Chicken, pizza, bakchoy in oyster sauce, lamb curry, hamburgers.
Some examples of desserts: coconut tart, chocolate mousse, bread and butter pudding.
As for myself, I ordered a la carte vegetarian food - noodles with Chinese cabbage and peanut and chilli sauce, tom yum soup with tofu, spaghetti aglio e olio, sweet n sour tofu, pizza, mushroom and potato curry.
Getting to Layang Layang
You must take a flight on a twin propeller 19 seat aircraft from Terminal 1 at Kota Kinabalu Airport - the main city in Sabah, Malaysian Borneo. The flight takes 1 hour and 10 minutes.
Currently, the flight to Layang Layang is at 6:40 am so you'll require an overnight stay in Kota Kinabalu

. The return back to Kota Kinabalu departs Layang Layang at 8:00 am - good for making connections on to your next destination. Return tickets cost US$ 256 for the 2008 season.
Saying Goodbye is Hard to Swallow
On our final day, we had a quick tour of the bird island, which hosts thousands of ocean birds such as sooties, boobys and terns. Layang Layang actually gets its name from 'Swallow Reef'. Most of the birds had migrated already, which seemed quite poignant for our little party that was leaving the next day.
On the flight back to Kota Kinabalu, all the guests seemed genuinely very satisfied with their diving vacation at Layang Layang. I'd echo those sentiments, as I believe you can have a great time here provided that you don't arrive with a head cluttered with false expectations. Just take note that if you are only interested in seeing the hammerheads then make sure you come in the right months of the year.
Written by Sheldon Hey, July 2008


---
CUSTOMER TESTIMONIALS OF DIVE THE WORLD
... I just returned to KL from Borneo and I wanted to thank you for helping me arrange this great holiday. I enjoyed my stays immensely. Thanks and until next time ... -- Wojciech Kowalski, Malaysia. [More customer reviews]