>
Dive Trip Reports
>
Galapagos Aggressor II
Galapagos Cruise Tours Report
Aggressor II Liveaboard Diving
Sometimes an opportunity comes your way that is not only too good to be refused, but is one that you realise will mean making precious memories that last a lifetime. The Aggressor fleet has boats in some of the world's most exciting diving destinations, but the prospect of joining the Galapagos Aggressor II tour (identical to sister ship of Galapagos Aggressor III) was one that had me on the edge of my seat with anticipation.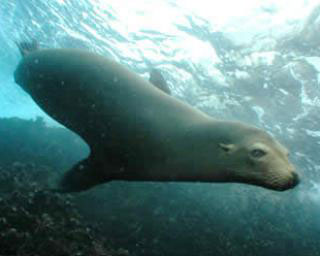 A week later, when reflecting on the trip experience, images of up close encounters with hammerheads, eagle rays, Galapagos sharks, manta rays and dolphins would play through my mind like highlights from a wildlife documentary. Yet I was not witnessing these things through a television, but right before my eyes.
There is possibly nowhere else on earth that can deliver such consistently incredible underwater experiences. If you even have half a mind to dive in Galapagos, I cannot recommend it highly enough. It surpassed all my expectations and gave me several thrilling, transcendent moments that I had suspected diving might no longer provide. Never before, and possibly never again, will I get so close to such a variety of creatures and look them right in the eye ...
The Scuba Diving in Galapagos
On the first day of the cruise we did our check-out dive at Isla Lobos, giving us all a chance to check our scuba equipment and get our weight right. 2 of our number came with full drysuits, obviously expecting much lower temperatures than the 21 to 26°C that we enjoyed on all days except one. It pays to be well-informed in advance, since conditions in the archipelago vary greatly at different times of the year. I had chosen January because of the warmer seas, warmer days and because I was in search of a variety of experiences rather than being on the hunt for whale sharks.
Then it was on to Punta Carrion and Cousin's Rock before the quality really picked up at Wolf, Darwin and Punta Vincente Roca and Cabo Marshal. Wolf delivered some exceptional experiences with innumerable Galapagos sharks and hammerhead sharks. 2 of my greatest memories of the tour occurred there. At Shark Bay we were approached by a V-shaped school of eagle rays that moved so slowly against the current that our full experience of them lasted for at least 5 full minutes. First, they appeared from a distance and our guide moved us onto the reef to secure our positions. Then, slowly but surely they grew closer to us until they were virtually on top of us, almost within touching distance. Wow.
Another great moment on our trip came on a dinghy ride back to the boat having just dived at Wolf Island. Several dolphins rode the dinghy's bow. I and a comely blond Texan gal lay over the bow to watch these big sleek beauties swimming fast right below our noses. They even turned and looked up at us, before jumping and spraying through their blowholes covering us in mist. We squealed with delight as this show unfolded. What fun!
There were innumerable breathless moments with sharks and sea lions as well as mantas. I was also delighted to see Galapagos seahorses and horn sharks at Punta Vincente Roca. There is scarcely a quiet minute when underwater at the islands.
• Watch our Galapagos diving video

The cruise also included a visit on the last day to the Tortoise Ranch and a tour around the Darwin Research Centre, both on Santa Cruz.
The Liveaboard Boat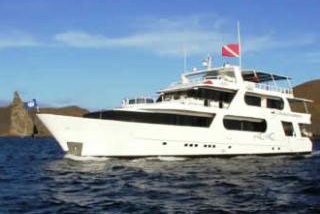 The MV Galapagos Aggressor II is a comfortable, robust vessel which works very well as a diving cruise liveaboard. It is more functional than charming, although the interior is very pleasant. All cabins have TV and DVD and are nicely appointed. I was happy to spend time in my cabin, even though it was on the lower deck, which is not always the case on tour boats.
The lounge and dining area are the main centres of activity and the marine and movie libraries seem to get a lot of use. The dive deck is wide and spacious, occupying the full width of the boat with only the wetsuit rails in the middle, so all divers sit around the perimeter. There are 2 camera tables plus special camera rinse tanks. As you would expect, Galapagos is popular with underwater photographers. There were not many on our dive trip so these areas were far from cluttered.
You are alerted to meal times, briefings or other gatherings by the sound of a bell. A crew member walks around the boat ringing a big brass bell. Briefings are given from the comfort of the relaxation area at the stern of the upper deck, a nice place to relax and take in the views, shaded from the elements.
The sun deck is huge with a number of sun loungers and a barbecue area. There is also a hot tub on the upper deck towards the bow which was out of order during our cruise. Given the paucity of pulchritude among our group that was no hardship.
Diving With Aggressor
After gearing up, scuba divers board one of the liveaboard's 2 dinghies through a door on the port side, carrying with them everything but camera equipment. All are given a 'diver alert' connected to the low pressure hose, a 'lost diver tracker', and a flag to alert the dinghy to your presence after surfacing. So safety is clearly important and taken seriously on these cruises.
Tanks are filled in their place and there are storage bins for each individual station where you can keep your boots, gloves, and other smaller items. So although it is a spacious dive deck, equipment doesn't get left lying around. As the Galapagos Aggressor boats are popular with divers from the U.S.A. you can expect a lot of excited whoopin' and a hollerin' during the gearing up phase.
Most guests choose to dive on nitrox at an additional US$ 100, which each diver must analyse and record before every use. You roll backwards off the tender to enter the water and have to hoist yourself up and over the inflatable side to exit, although one tender has a ladder at the stern. The dinghy driver will haul you over the side if you are struggling. It would be good if both dinghies had ladders on the side for ease of use. Guides are very attentive and pay special attention to those who need it.
After each dive, guests must rinse and hang their own wetsuits. Hot chocolate and snacks are laid out and you can grab a warm towel after having used one of the 2 hot showers and the 1 toilet on the dive deck.
Dining Arrangements
The cruise food is essentially western and there is little in the way of Ecuadorian influence except for maybe some ceviche (fishy soup). Breakfast is served before the first dive and is an expansive affair. Cereals, fruit and fresh juice are all available, plus you can order your own hot breakfast with the usual choices of eggs, bacon, cheese and toast, plus tea or coffee.
Dive 1 takes place shortly afterwards, although not everyone has the stomach for a dive straight after a big morning meal so not everyone ate a full breakfast, preferring a coffee and cereal bar on the sun deck. In a destination where there are only 3 dives a day, one wonders why the trip system is not a meal served after each dive.
Lunch begins when you are served a delicious soup with French bread. Then it becomes a buffet affair with a number of trays which appear frequently like salad, rice, pasta and vegetables including broccoli, green beans, carrots and artichokes. There are usually a few choices of meat or fish. Vegetarians can be catered for and the chef will make a good effort to replace meat dishes, usually with something involving mushroom and/or soya based faux meat.
The waiter/barman is on hand to top up your drinks during breakfast and lunch, and for the evening meal he serves each person their 3 courses. Soup or a starter followed by a main course and then a sugar-laden dessert, all of which goes down well with the clientele. Your glass will be topped up with red or white wine from Chile or Argentina. All of the guests on tour agreed that the food was of very high quality and the chef even received a couple of spontaneous rounds of applause.
24 hr snacks are on hand and consist chiefly of cereal bars and sweet candy, always available in the saloon.
The Land Visits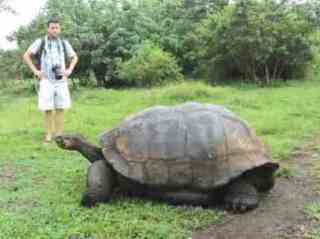 The first good look we had at land animals was when the boat was anchored near Punta Vincente Roca, and a dinghy ride gave us all a chance to get up close with creatures on the shoreline including sea lions, marine iguanas, penguins, pelicans, boobies and frigates.
On the last full day of this trip our group visited the giant tortoises on a ranch in Santa Cruz. Here we spent an hour or 2 walking around getting photographs with various tortoises as they either grazed on the lush grass or wallowed in a muddy water pool. There are also some old carapaces which make a good photo opportunity if you can manage to wriggle in backwards to see things from the tortoise-eye point of view. You will "exit through the gift shop" so there is no excuse for not leaving with every form of tortoise-themed merchandise imaginable.
After this we visited the Darwin Research Centre in Puerto Ayora. Here we learnt about the measures being taken to protect endemic species of flora and fauna, and also to prevent the introduction of alien and potentially harmful species.
There are programmes for the rearing on young tortoises of various sub-species, before they are introduced back to their island habitats. The star of the show, at the time of writing, is Lonesome George, believed to be the very last of the Pinta tortoises, and sterile. There is a lot of information here on the Galapagos National Park and Marine Reserve.
Conclusion
Any diving tour cruise to the Galapagos Islands will be special. Conditions may not always be optimal and not all of the animals may come out to play all of the time. However one thing is for sure, your first liveaboard trip to this destination will return a long lists of first-time experiences, plus a whole host of incredible underwater memories. Add to that the land tours and the historical importance of the Galapagos, and no other destination can possibly compete.
I wonder what it must be like to dive here during whale shark season. While encounters with this behemoth are indeed fabulous, personally I would rather go for the warmer temperatures, calmer seas and hammerheads and manta rays.
The Galapagos Aggressor II, identical to its sister ship the Aggressor III, lived up to expectations. Run by an all-Ecuadorian crew there is a warm and friendly atmosphere on board. Nelson and Jaime do a great job and one they clearly enjoy. Indeed there were many expressions heard from the guests in appreciation of the crew.
I strongly recommend to any lover of nature to find the time and money to visit the islands one day. To any semi-serious diver I would recommend it in the strongest possible terms. If someone was to tell me they had booked their diving cruise and were going on the Galapagos Aggressor II, I would assure them they would be in good hands for a week of great fun, good food and inspirational scuba diving.
Written by Gavin Macaulay, February 2012


---
CUSTOMER TESTIMONIALS OF DIVE THE WORLD
... It was very easy to use. My emails were responded to within 24 hours. All of my questions were answered and suggestions were made to me in how to improve chances by having flexible dates. The best part of Dive The World was Beef. He was so helpful and was able to get us on a dream trip that will last with us forever ... -- Josh Bickert, USA. [More customer reviews]