>
Dive Trip Reports
>
Cheng Ho
Raja Ampat Liveaboard Diving Trip
Life Onboard the Cheng Ho
Click on an image to enlarge

I had heard great things about Raja Ampat in Indonesia so I was very excited to be joining a trip on board the liveaboard, Cheng Ho. I knew the tour would be fun but I was not expected to experience such awesome scuba diving, beautiful topside scenery and wonderful hospitality on an excellent dive boat.
When guests actually cry at the end of the trip you know you have experienced something special and my Raja Ampat liveaboard experience was certainly that!
Raja Ampat's Dive Sites
Diving in Raja Ampat gives you plenty of things to remember as the sites are so pristine that it's almost unreal. You really have the feeling of diving where no-one else has ever gone before. The idea grows in your head as the trip goes by, supported by the fact that during the cruise you will seldom see other boats around.
There are dive sites like Cape Kri where you can easily spot wobbegongs resting underneath rocks or corals, Erborei Island where you will see manta rays circling above your head. Boo Island features plenty of grey reef sharks cruising around. However, it is probably a place where macro lovers will have the biggest satisfaction. The area is a paradise for whoever loves pygmy seahorses, found at almost every site but especially at Pygmy Rock. Nudibranchs and pipefishes also abound in Raja Ampat and there are so many other small critters that your eyesight will be sorely tested in search of them. Having said that, I am sure that my fondest memory will be for the corals. I was utterly astonished by the great variety of them and by how healthy and colourful they look!
There are dive sites like Waigeo Island where you will find walls entirely covered by countless gorgonians sea fans, or other sites with so many anemones and soft corals that you will struggle on finding a nude rock where nothing is growing on it. Not a single plastic bag was seen at any of the locations and rarely will you see broken corals. This is why this area is so special and unforgettable and hopefully the government and scuba divers will do their best to keep it as it is for a long time to come.
• Watch our Raja Ampat diving video

The Departure
My journey started at Kuala Lumpur where I took a flight to Jakarta. After spending a night at the Jakarta Airport Hotel I caught an early flight (05:00) to Sorong via Makassar. I was glad to find Peter waiting for me at Sorong Airport as few people speak English there.
Have you ever stood at a harbour, hoping that your boat is going to be the one that you are looking at? In my case my hope was true as the tender took us straight to the biggest and finest ship in view. My first impression from the jetty was that the liveaboard was way too big for carrying only 20 customers and I was already imagining how much space we would have on board, even with a full boat charter! The boat looks great, especially when under sail, and you will normally get a chance to take some beautiful photographs of Cheng Ho in all its glory.
Christine was waiting for us on board. She and boyfriend Peter are cruise leaders and also dive guides. They are both Americans and they have have been working on the Cheng Ho liveaboard since January 2008. I soon found out how cheerful and professional they are. To my pleasure we were also introduced to the crew. They are like a football squad: 20 members of the crew including engineers, cooks, dive deck assistants, waiters, ...!!
As we were only 11 guests on board, it was easy to see that we would have extra care for the entire trip. While introducing myself to the other customers I was pleased to hear that few of them have been on board before. Thinking about the amount of boats that sail around this area of Indonesia, finding repeaters usually guarantees that you are in for a great time.
The Dive Procedure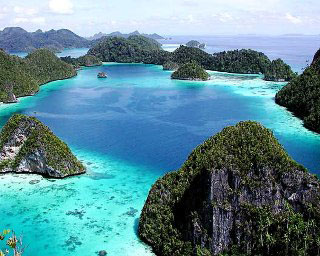 The dive deck is huge and makes life easy. Each station has a cabinet for all your bits and pieces. Briefings are done directly on the deck, using maps where you can find useful info about the dive sites, the current, water temperature and even a suggestion of which lens is more suitable for the type of dive.
Dives are done from 2-3 tenders (depending on the number of customers on board): there is a ladder that brings you down to the tenders that could be a problem for customers with special needs. Staff carefully handle all equipment unless you prefer to do so yourself.
The local guides, Bawa and Nyoman assist Pete and Christine during the dives. They have a great knowledge, not only of the area but also of the fish names, and they are always there ready to help you, in and out of water. Their English is good and you will learn a lot from their briefings and their capacity to spot critters! We made 4 dives per day on most days, with the first dive usually scheduled at 08:00, the second at 11:00, then 15:00, and the last one always being a night dive, around 18:30. Nitrox is available.
One evening we went ashore to watch the sunset from a stunning beach, with a beer in hand, while the crew lit a bonfire. Alternatively you could choose to do the night dive. A special treatment after the night dive: hot chocolate is served on the boat deck!
The Cabins
Spread over 3 different decks, there are 3 staterooms on the upper deck, 4 single cabins on the middle deck and 2 doubles, 2 twins and 2 singles on the lower deck. My cabin was a single cabin on the middle deck, equipped with private en-suite facilities and also, to my great pleasure, a big desk where I could lay my laptop and also all my camera and housing. There is a power socket that allows you to recharge your battery 24 hrs a day (220V), a bedside cabinet and obviously air conditioning and hot water that are always welcomed. The sink is built outside the toilet, just by the window: a clever idea that gives more space to the toilet/shower itself but also to the rest of the cabin. The single cabins and staterooms have huge windows while only portholes for the cabins on the lower deck. Towels and beddings are replaced every 3 days of the trip and toiletries are also provided.
The only thing a bit annoying is the fact that they use 2 electric generators: when they change from one to another, your air con goes off and you will have to switch it on again. You will soon get used to it but it's an issue if it happens while you are sleeping!
There is also a laundry service on board, for an extra fee. I think it's a really good idea as the customers can bring less luggage, keeping in mind that domestic flights will only allow you to carry 15 kg for each person.
The Food
Lunch and dinners are self service buffets, whilst the night before you can choose from a menu what you wish to have for breakfast the following morning. The various styles include Italian, Japanese, Mexican, Chinese, Thai, and of course Indonesian. A veggie soup usually starts your meal (a blessing after a dive) while a dessert always ends it.
There are different kind of meats and fish to choose from but also vegetables and salads. Soft drinks are included and a waiter makes sure that your glass is always full. The staff are so kind and smiling that you will shortly learn to like them very much. There is an extra charge for alcoholic drinks that can be taken from the fridge. If you like real coffee then you will surely appreciate the coffee espresso machine on board, but you can also have tea and hot chocolate as much as you like. There are snacks in between dive 3 and 4, cakes and sometimes even popcorn!
Customers were all very satisfied by the food. The only complaint was that it's too easy to be tempted and gain few kilos during a 12 day liveaboard trip ...
The Rest of Cheng Ho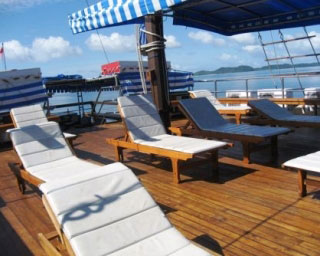 The lower deck also features a common area where you can choose a movie from a great selection of titles and watch it on a flat screen TV. There is also a good selection of books and a canteen with wine bottles for your dinners (at an extra charge).
The main deck is divided into 3 different areas: the dive deck located at the bow, cabins and engine room at the stern and in between there is an indoor air conditioned saloon where food is served. I've never seen a saloon so big before. Some nights Pete shows promo videos of the Indonesian locations visited by Cheng Ho or simply scuba diving videos. You can also show your pics of the day and there is a dedicated night (on the last day of diving) where everyone is invited to show 15-20 pictures taken during the course of the trip. A great moment for sharing pictures and for remembering the diving highlights of Raja Ampat!
There is also a wide open saloon at the stern of the liveaboard on the upper deck, with sofas and tables where you can relax during the day. A staircase brings you to the sundeck where elegant and sturdy sunbeds are provided. I soon learnt to wear a pair of shoes up there as around midday the wooden floor gets really hot. Ear plugs are also advisable as almost all the transfers between islands are done at night-early morning. If you stay in a cabin by the engine room it can be a bit noisy. Some nights you will also have the chance to dine in front of the steering room, over 2 big wooden tables. It is a great opportunity to gather all the guests on board and to enjoy unforgettable sunsets and skies with countless stars.
Conclusion
I usually say that after a trip the memories that are more likely to stay with you longer are memories of the dives that you have done but, speaking of Cheng Ho, I'm sure it will be hard to forget how beautiful and sleek the liveaboard vessel is. I will also not forget how much we have been pampered by a fantastic crew, all smiles but also very professional. I saw some of my fellow guests crying on the last night as the whole crew was saying goodbye to us by playing guitars and singing local tunes ... unforgettable emotions!!
Written by Enrico, May 2009


---
CUSTOMER TESTIMONIALS OF DIVE THE WORLD
... Booking thru Gavin was extremely smooth with timely responses to all concerns and professional suggestions to our itinerary. We felt confident booking our diving cruise with Dive The World ... -- Peter and Hana Palacek, USA. [More customer reviews]