>
Dive Trip Reports
>
Island Safari II
Liveaboard Scuba Your Guide to Diving in Maldives Trip Report
Island Safari Diving with the Big 3 of Ari Atoll
Not many destinations in the world can offer its divers better than an evens chance of seeing hammerhead sharks, whale sharks and manta rays in just 1 week, and that's what makes liveaboard scuba diving trips in the Maldives so special.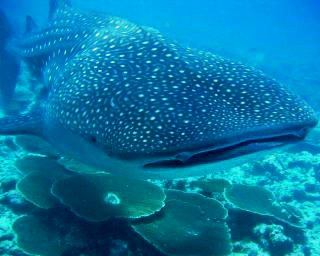 Day 1 was a check out dive and a couple more dives on standard reefs in transit that left me wondering "is this it?" on board my Island Safari 2 liveaboard diving cruise. But by Day 6 we were heading back to North Male with treasured memories of each of the Big 3.
We'd spent day 2 down at Maamigili along the outer edge of southern Ari Atoll, touring the seas in search of elusive black shadows, marking the presence of the biggest creatures. Whale sharks come to this area, especially between February and April, to feed on the plankton-rich soupy sea. We all splashed in with snorkelling gear half a dozen times or so, to witness these mighty beasts cruising by just several feet beneath us.
Day 4, we descended into the depths at Donkalo Thila to be mesmerised by the sight of 10 mantas playing in the shallows and waiting their turn for a quick spruce-up at the local cleaning station. I've seen plenty of manta rays before but rarely in such numbers.
Day 5 was equally no more forgetful. Here we rubbed the sleep out of our eyes and headed out to Madivaru Corner, to dive into the deep blue with a dozen or more hammerhead sharks, attracted into the shallows each early morning. Add in encounters with groups of grey reef sharks at Reethi Thila, a couple of guitar sharks, a sailfish, some large schools of reef fish, and you've got the makings for what several guests called perfect scuba diving.
And with this atoll nation being easily accessible to visitors from both Europe and Japan, it's little wonder that scuba diving in Maldives ranks as first choice in the log books of so many divers.
My Maldives Dive Itinerary
The Island Safari recognises in its weekly itinerary what the majority of its customers want from their Maldives scuba diving trip; that is to focus on opportunities to dive with the big marine life. So the liveaboard safari spends little time at the more photogenic coral sites of North and South Male, and instead cruises the dive sites of Ari Atoll in search of Mantas, whale sharks and hammerhead sharks.
After a quick check out dive near the departure port of Hulhumale (the main airport island near Male Town), Island Safari 2 heads down through South Male Atoll and across to Ari Atoll, where you'll typically spend most of your time on a 8 day / 7 night / 18 dive Maldives liveaboard safari.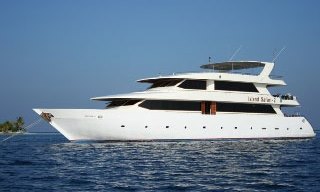 Visibility reached 25m at times, but usually averaged 10-15m on my March trip. Water temperature was a constant 29-30°C and the surface conditions were mostly very calm. I hear though that the seas are sometimes quite rough from May to October.
The cruise includes 3 day dives per day, which is standard on liveaboards in the Maldives, but it is possible to arrange extra day (USD 35) or night dives (USD 45) at an extra cost. Island Safari 2 also throws in a island beach BBQ evening and island atoll visits during every trip.
I had checked in overnight at the Holiday Inn in nearby Male Town before the cruise, a very good if expensive hotel option. The hotel provides free transfers to and from the airport and boat, which makes life easy if you need to spend a night or two in Maldives. There are beautiful views of the main island and nearby Hulhumale Island from roof top infinity pool. Hotels in Male Town are not great value for money; they tend to be expensive for what you get. There are some cheaper guesthouses and hotels knocking about the narrow streets of the town centre, and you can find some of these on hotelscombined.com

, which has a lowest price guarantee for customers.
Unfortunately, the boat made a bit of a mess with our transfer on day 1 of the safari. I was requested to check out of the hotel earlier than the usual 13:30 pick up time, only to find upon boarding the boat that the rest of the guests would not be arriving for another 12 hours, meaning a waste of a day of my time, which would have been better spent relaxing poolside in my hotel or sleeping in to recover from jetlag. However, no long term damage was done beyond feeling a bit aggrieved about the situation!
However, on a happier note - Arrivals: Maldives Immigration has a refreshing and admirable attitude towards foreign visitors. There are no requirements for any tourist to obtain a visa before arrival. This is really good news if you come from a country where tourist visas are a constant hassle and barrier to travel. The lack of security threats and safety issues whilst travelling in Maldives is also testament to the validity and effectiveness of such an open door policy. So don't let those totalitarian state officials in the West tell you that petty immigration rules and privacy intrusions are in your interest!
• Watch our Maldives diving video

Life Onboard the Island Safari 2
The boat accommodates 24 scuba divers in 10 air-conditioned cabins. All the cabins are a good size and modern with excellent showering facilities. The inter-cabin telephone system works very well for early morning wake up calls. The beds tend to be a little short but you can always dangle your feet off the end if you happen to be of guitar shark proportions. And it's a good idea to bring your own toiletries as the boat seems to have only limited provisions.
There are 3 cabin types - Standard and Junior Suite on the lower deck and Honeymoon Suite on the upper deck. The Standard cabins are a mixture of 2 and 3 berth, and the Junior and Honeymoon Suites are a little larger. The Honeymoon suites also have large windows for natural lighting, but other than that, there is little difference.
Meals are served buffet style in the indoor dining room - part of the saloon. I was impressed by the numerous options that flowed out of the kitchen at each sitting - up to 10 dishes for each main meal. Island Safari 2 is promoted strongly in the Japanese scuba travel market, so the food tends to be a mix of South Asian (Sri Lankan and Indian), Japanese and international fare, with fresh fish featuring strongly at meal times.
A typical breakfast includes chicken sausage, fried or scrambled eggs, fried mushrooms or baked beans, toasted sandwiches, pancakes, rice soup, fresh fruit, toast, coffee and tea. A typical meal consists of fish and meat dishes, curry, rice, pasta, salads, roast potatoes or French fries, boiled or stir-fried vegetables, Asian style soup, fresh fruit and cold dessert. Afternoon snacks include chocolate brownies, chocolate mousse, doughnuts and sweetened coconut.
Regular vegetarians are encouraged to notify the cruise in advance but could probably make do with the standard meal offerings since there are so many suitable choices. However, vegans would need to accept that afternoon snacks and desserts are just not going to happen. The safari organisers managed to lose my pre-booked meal dietary requirement which was a cause of some concern, but the crew soon made a plan and stopped by one of the island stores to stock up on soya meat and other necessary veggie provisions.
I found the Asian dishes and curries, more familiar to the chefs, to be especially good, but the Western dishes tended to be overcooked.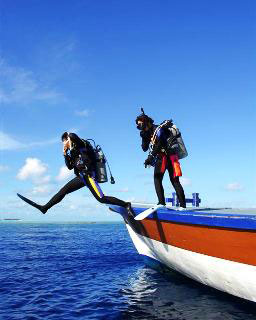 As with most Maldivian liveaboards, the Island Safari 2 has a dhoni support vessel which is used as the dive boat. Unfortunately the regular dhoni was in the boat yard for maintenance so we made use of a hired boat. I am told that the regular dhoni has a purpose-built dive platform, rare in the Maldives scuba diving industry, underwater camera racks, 2 fresh water showers, a toilet and sundeck, which will make it well-equipped for a high quality diving service.
There are 4 dive guides on each full boat trip, made up of Japanese divemasters and local Maldivians. Our dive guide could not speak good English but Mr. Good-Morning-and-Have-a-Nice-Day was attentive in the water and his language gaffs did become the source of much amusement during the trip.
As for the rest of the boat and crew: the saloon is comfortable and a very good size, but there is no air-con or fan. This is fine when the boat is moving but it can get very warm during the day time. The sun deck is also spacious and has plenty of sun beds, but take care on the external walkways as they are hard plastic and become a little slippery underfoot when wet.
The crew, though, are an excellent team and are polite, attentive and responsive to guest requests and convenience. They also seem to be happy in what they do which is a sound basis from which to build a successful liveaboard trip.
Homeward Bound
On the way back to the port at Hulhumale, I had the opportunity to reflect on all the experiences I had over the past week. The stunning glossy-holiday-magazine-like island scenery of the Maldives (of which there is quite a lot and at times it is really beautiful) had slipped by hardly noticed due to the excitement generated onboard from all the big marine life encounters.
It is quite exceptional these days to find a diving destination that offers good chances to see lots of sharks and rays these days. By comparison to many of the Maldive resort stays options, the liveaboard safaris stand out as being very good value for money (probably tucked in just behind the Red Sea and Thailand).
After a couple of early hiccups, the staff of the Island Safari 2 worked very well to deliver a very satisfactory Maldives scuba diving trip around the best of the central atolls.
Written by Sheldon Hey, April 2010


---
CUSTOMER TESTIMONIALS OF DIVE THE WORLD
... Website is great - we were limited by availability so your personal assistance was helpful. Responsive & knowledgeable - thanks! Your knowledge is the best part of your service. We have had a really good trip and will certainly seek your assistance in the future ... -- Alena Rossini, Singapore. [More customer reviews]