>
Dive Trip Reports
>
Bastianos Bunaken Resort
Bunaken Scuba Diving Trip
Affordable Diving With Bastianos Resort
Click on an image to enlarge

Within 5 minutes boat ride from Bastianos Bunaken Diving Resort is a dive site called Ron's Point. We dropped in here one sunny afternoon to be swept along over the big sponges of the reef. Several Napoleon wrasse made way for our approach as we moved closer to the sloping point at the extreme south west tip of Bunaken Island. As the current picked up, masses of unicornfish circled for food, trevallies and tuna patrolled the fringes, and 2 large blacktip reef sharks moved in closer to inspect their bubbling visitors.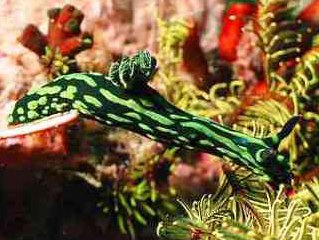 Another neighbouring site to the resort is Alung Banua, at the far end of Liang Beach Bay. This site makes a very worthy night dive. The sloping reef and wall is home to a wide range of crustaceans, including bulky bull crabs and the largest sponge crabs you're ever likely to see. Pipefish and octopus are pleasant distractions too. But perhaps the star of the show here is the 'Vampire Sea Slug' (Pleurobranchus forskali), one of the largest slugs in the sea. This 30 cm nocturnal creature come out at night to feed on the reef, and is replete in a 'shawl' of deep red and 2 rhinopore 'fangs'.
These are just 2 of the highlights from my recent short trip to this resort near Manado, in North Sulawesi. A diving trip to Bunaken can be a magical experience in itself, but it becomes a fabulous adventure when combined with a combination visit to the nearby Lembeh Strait …
The Diving at Bunaken
Bastianos has a dive centre that can accommodate 45 scuba divers on any single day. They do so by running 4 dive boats. This means they can visit locations to suit all levels of experience at any one time. Bastianos tends to focus on diving Bunaken Island itself, though they do visit the other islands in the Bunaken National Marine Park when requested. Nain and Montehage islands incur a small surcharge. There is a 2-tank morning trip after breakfast (08:30 hrs), and 1 further dive after lunch (15:00 hrs).
During my visit (September) we generally dived around the eastern walls of Bunaken Island, the southern walls of Lekuan, and Siladen Island. Visibility was good at 15-30 metres, water temps were 30°C - even at depth, and air temps were constantly in the low 30s (in the shade). Blue skies, calm seas - excellent diving conditions. This is quite common at Bunaken, with only the months of January to March seeing occasionally choppy seas and rains.
Expect to spend most of your time underwater following your dive guide, exploring deep vertical walls for many and abundant shrimps, crabs and nudibranchs. The colourful walls are in healthy condition and are home to many butterflyfish, hawkfish, soldierfish, damsels and tubelips. Bigger creatures that you'll see are lots of huge green turtles, Napoleon wrasse, blacktip and white tip reef sharks, octopus, snappers and trevallies. Night dives (also at an additional cost) are very good here.
• Watch our Bunaken diving video
The boats are simple local wooden boats, used commonly by many of the dive resorts in the area. The smallest boat accommodates just 6 divers and is used mainly for student training courses. The largest is a 13 metre 40 HP triple engine boat that accommodates 16 scuba divers. The boats come equipped with a tank racks, egress ladder, rinse tank, 2 boat crew, a first aid kit, drinking water and tea/coffee. Some have an onboard toilet. Oxygen is NOT kept on the boats, but there is a good supply back in the resort.
Dive guides are provided for every 4 divers. The local guides are expert creature finders and you'd be wise to stick close to them. They also do a great job of taking care of your scuba gear too - packing, carrying it to and from the boat, rinsing, and locking up. The last thing I, like most holiday divers, want to do after 3 long dives is wash my own gear!
The Resort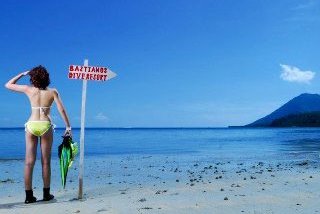 The Bastianos Bunaken Resort is a homely, locally owned and well-established diving operation. The resort is at the lower end of the pricing scale for resort stays in Bunaken, so one must temper one's expectations. However, I must say that after a day or two here, with its engaging staff and casual relaxed air, it does grow on you.
Chief among its strengths is its location - it is slap-bang in the middle of Liang Beach on Bunaken Island. No long boat trips necessary to any of the local Bunaken Island dive sites, and no noise or traffic pollution from the Manado City mainland.
Another of its great pluses is the resort's large common area. This is an elevated, open-air wooden roofed structure. From here you can keep an eye on what's happening in the whole resort. It has superb views over the sea, back to the mainland and to Manado Tua volcano. Here, there are sofas, TV and DVD player, diving and novel book libraries, pool table and free wi-fi internet connection.
Bastianos Bunaken Resort also features a spa. This facility is open daily and provides various massage services, reflexology, facials and scrubs. The Shiatsu and Spa proves to be very popular with non-diving partners and also on final "no-diving-before-flying" travel preparation days.
The Rooms
The resort has 30 terraced rooms, with a range of categories to suit budget, taste and requirements. Top of the range are the Beachfront Air-con Rooms with hot water. These are nothing flashy, but they are clean and have a peaceful exterior seating area right on the water's edge, wonderful for relaxing with a book. The air-con rooms are the only ones with hot water. Don't expect in-room TV or reading lights - this is a small island with a very limited power supply.
Next up are the Beachfront Fan Rooms, which are similar in size and location to the air-con rooms. The Hillside Rooms also have fans with great views over the sea. Finally, there are some small Standard Rooms with fans for the more budget conscious.
The main drawback to the accommoations is the slight pungent (to use a friendly term) aroma that comes from the water supply. The fresh water at all resorts on the island is sourced from a local well and suffers from the same problem. If this is a concern to you then you'd be advised to stay over on the mainland at one of the more upmarket resorts.
Many of the rooms have inter-connecting doors, making them ideal for scuba clubs, large groups and families.
The Food
Dining is an informal affair, with all meals being simple buffet spreads and taking place in the elevated restaurant area, where spectacular sunsets can complement dinner times.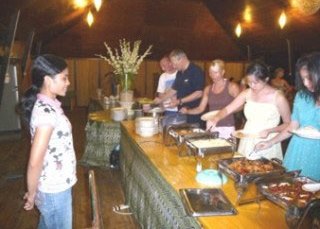 Since the resort is located a ver short travel time from the dive sites of Bunaken, breakfast is served at the relatively relaxed time of between 7:00-9:00 am. Lunch takes place after the second dive of the day at around 1 pm, and dinner is served at 7 pm.
Breakfast is eggs, pancakes or waffles, hot or cold cereals, toast, fruit, and of course tea & coffee. Lunch and dinner are similar to each other, with a soup or salad starter, a meat dish, fish dish, vegetables, one other dish (depending on guest requests and requirements), and rice, followed by fresh fruit with pastry at dinner. Most meals are Indonesian or Asian in origin. Highlights include Woku (chicken or fish curry) and Terong Santan (spicy eggplant with coconut milk).
Fruit, biscuits, drinking water, tea & coffee, and Milo are available throughout the day. Vegetarians and vegans can simply be catered for since the resort orders fresh produce daily from the Manado mainland (though choices are limited).
Getting to Manado and Away
In the last year, the Indonesian airlines have finally joined the 21st century (or some would say the 20th) and now offer online booking and reservations for domestic flights. So now you can book and pay online for your connecting flights to Manado from Jakarta or Bali. Carry some small US dollar notes or local Indonesian currency for the airport departure taxes. Alternatively, Silk Air also operates flights to Manado from Singapore.
Once in Manado, Bastianos will reliably take care of you, with a pick up from the airport and transfer you over the resort (about 1½ hours). Mostly, this is included in the package prices, however if you arrive in the evening then there may be a small surcharge for individual collection.
The Final Verdict
The Bastianos Bunaken Resort is not a luxury resort but it is clean, friendly, efficiently run and superbly located beachside on Bunaken Island. Its location and affordability are perhaps the 2 biggest drawcards of this resort, meaning that most people can now afford a Bunaken Island diving vacation in paradise. Bastianos also run a resort in the Lembeh Strait, just 50 km to the other side of Manado. They provide free and convenient transfers between the 2 resorts, making this option a truly worthy plan for a land-based dive trip in Sulawesi for a week or two.
Written by Sheldon Hey, September 2010


---
CUSTOMER TESTIMONIALS OF DIVE THE WORLD
... The Dive The World website was very informative and easy, follow-up emails helped to get updated on the procedure of booking. Everything was very customer friendly, no remarks. Immediate feedback from the staff was highly appreciated and made me decide for Dive The World without hesitation ... -- Natalie Hauser, Germany. [More customer reviews]