>
Dive Trip Reports
>
Blue Seas
Red Sea Liveaboard Diving Tour Report - Blue Seas
The Day That Little Brother Came of Age
Click on an image to enlarge

On my previous trips to the Red Sea I had enjoyed the wrecks of the north, and the tunnels and reefs of St. John's in the south. Sure, I had seen a few reef sharks and Napoleon wrasse on those safaris, but my hopes of seeing large sea creatures on my cruise to the Brother Islands and Daedalus Reef on board the Blue Seas liveaboard was not so great. This Red Sea tour soon put that under-expectation firmly to bed…
Our day at Little Brother, a small isolated outcrop, began with an early morning dive at the north plateau. We descended alone to 20 metres in the lee of a split point in the current. Soon a grey reef shark approached us, inspecting these bubble-blowing and noisy intruders in its world. The current began to pull us along the east wall of the islet. Here a hammerhead shark rose slowly but surely from the depths to almost within touching distance of our small group. It did not seem perturbed by us in the slightest.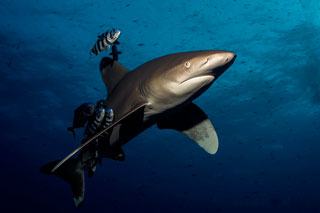 Within moments of the hammerhead losing interest and disappearing off into the blue, our guide began frantically banging on his tank to bring our attention to a rare thresher shark that had come to a cleaning station 20m below us. I was very pleased to see this unmistakable species as I had only seen it once before. But I was astonished by what happened next – a whale shark came from the south and swam right past us. This magnificent creature went by within metres of us too. The guide later told us that he had not seen one in 2 years. What a magnificently lucky first dive we had!
And the amazing events of this day did not end there. The next dive brought us an encounter with a manta ray, and then on the final dive of the day, an oceanic white tip shark visited us on our safety stop, which subsequently turned out to be almost as long as the dive proper! With large dollops of white painted on their fin tips, these sharks look rather comical. It seemed fascinated by our group and buzzed us half a dozen or so times. It reminded me somewhat of a dog chasing a bone, belying its rather fearsome predatorial reputation.
2 days later at Daedalus Reef, we were treated on 3 consecutive dives to a dozen or more hammerhead and silky sharks rising from the depths and circling us in formation for 20 minutes. These were memorable moments, not least because hammerheads are often skittish sharks that spurn human attention. But these sharks were accustomed to scuba divers and contributed to a fabulous week of diving with sharks in the Red Sea.
Tourist safety in Egypt
Probably most people are aware of the various political and religious struggles that are affecting Egypt at the moment. Western media will have us all believe that the country is not safe to travel. I try to keep an open mind on these things. I know that motor vehicle travel in most countries remains far more dangerous than flying to Egypt; I'm not sure why air transport receives so much more hysterical exposure. Besides, many countries are beset by equally, if not more, dangerous issues - bombs and shootings in city centres, random killing sprees in schools and malls; let's face it, even our own homes are not safe. So I decided to go and take a look at the Red Sea for myself.
I combined my diving tour with a 3 night stay in Cairo and a 4-night Nile River cruise. The package worked seamlessly and I was treated to many cultural and historic highlights such as Memphis, the Pyramids of Giza and the Valley of the Kings. These Egypt antiquity tours are run by a very professional and reliable tour company that provide guides fluent in several different languages. I was very impressed. Egypt remains a very affordable place to visit and security is very evident at all the tourist sights, as the country attempts to regain its place near the top of the travel industry.
The Brothers – Daedalus – Elphinstone tour route
After leaving the harbour we headed north for 1 hour to make a check-dive at Ras Torombi, a shallow coastal site. It might not be the most adventure-filled dive site in the Red Sea, but it is a suitable place to check that your scuba equipment is working and your buoyancy is up to scratch. It was also a good opportunity to get acquainted with some of the local marine life, much of which is endemic. We saw a turtle, an octopus, a Napoleon wrasse, a crocodilefish, stingrays, bigeye, Picasso triggerfish, lots of tangs, lionfish and scorpionfish, some very inquisitive batfish, six-striped soapfish, as well as the bizarre-looking broomtail wrasse.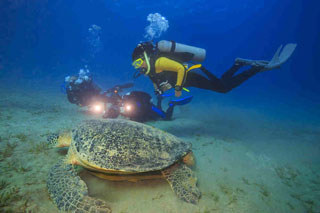 We made 2 dives here and a night dive at Marsa Shona before heading out to the Brothers overnight. The strong headwinds that we experienced meant that the crossing was not for the squeamish - if you do get seasick then make sure you take a motion sickness tablet before the journey.
Day 3 saw us awake at Big Brother Island for our first day of diving within the national marine parks of the Red Sea and we established our daily routine of 3 dives per day (no night dives allowed within the parks). Dives were at 6 am, 10 am and 2 pm. Due to the sometimes choppy seas, strong currents and deep sites, divers must have logged at least 50 dives to join these trips, and it is reassuring to know that your fellow guests will be able to display a reasonable level of competence in the water. Visibility was good at 20-30m throughout the tour and the water temperature varied from 26-29°C.
The Numidia wreck was clearly the highlight at Big Brother - a 130m long ship that sank here over 100 years ago. It lies on the steep slope at the northern end of the island. The bow rests at 10m and stern is somewhere way beyond recreational scuba diving limits at 90m deep.
Due to its age, the structure has a dense hard coral coverage and the small and medium sized fish life is fantastic. We saw a few Napoleon wrasse swimming around the area, and great barracuda hunt here. It's possible to enter the wreck through the hatches at 15m and swim down to exit at 35m. There is plenty of natural light, making it a safe wreck to penetrate.
Day 4 at Little Brother was the highlight of the whole trip, as described in the introduction. That night we cruised 11 hours on calmer seas down to Daedalus Reef. With 9 boats moored at this tiny spot, it is obvious that Daedalus is the star attraction of this popular Red Sea liveaboard itinerary. Days 5 and 6, we stayed here, where the main drawcard is the opportunity to dive with schooling hammerhead sharks (from May to October). Several of the guests had scheduled and booked their trip for this specific reason and they were not disappointed. We also saw turtles, more mantas, and the reef was alive with schooling fish feasting on the coral spawning.
In the evening we cruised back to the mainland and awoke at Elphinstone, near Marsa Alam, where we made 1 dive, followed by a final dive in the sea grass beds of Marsa Shona in a forlorn search for dugongs. I guess our good luck had to run out eventually.
• Watch our Red Sea diving video

The Blue Seas boat
At 37 metres long, the Blue Seas is one of the biggest liveaboards in the Red Sea. It is in great condition overall and is serviced annually without exception in the dry dock. The most striking feature of this modern boat is the amount of well-proportioned space it has. The sun deck, air-conditioned saloon, and dive deck are all extremely spacious. There is also an additional enclosed second saloon on the upper deck (great for winter safaris) and an area at the bow for those seeking quiet privacy. Although there were 17 guests on this trip, I got the sure feeling that there would be more than sufficient room even if the boat was full with 22 guests.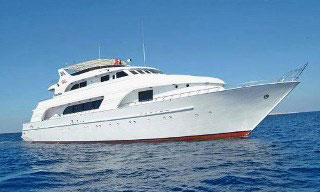 Blue Planet receives regular returning customers, and there were several on this tour. For me this demonstrates strong customer satisfaction. The crew are all good, they clearly enjoy their work, are dedicated and mostly long standing - again, a commendable feature for enjoying trips without any unnecessary dramas.
The sundeck is fitted with mattresses and seats, with a partially covered canopy so you can choose how much sun exposure you want. But it was a popular place to relax due to the refreshing breezes that blow across. Likewise, guests enjoyed to hang out in the upper deck social area for similar reasons. Here you will find padded seating, as well as beanbags.
Guests sleep in 11 modern, furnished cabins - 2 people per cabin. There are 8 standard twin bed cabins and a double bed honeymoon suite (in the bow) on the lower deck, all accessed from the main saloon. There are 2 more double bed suites on the upper deck. All cabins are air-conditioned and a decent size. The Honeymoon suite is the largest, but I would recommend the upper deck double cabins for couples as they have seaview windows and are cooled by natural sea breezes.
Guests receive 3 towels each for the trip and are tagged so everyone knows whose towel is whose. There were a couple of issues with the cabins during the trip but these were quickly fixed and handled well by the competent staff. My only criticism of the cabins is that they do not have any shelves in the bathroom, so you need to keep your toiletries on the bedside table or in your travel bag.
• Watch our Blue Seas liveaboard video

Dining Onboard
The cuisine served on the Blue Seas liveaboard cruises is predominantly Egyptian, with a few European influences. I found the Egyptian food a little oily for my taste, but I enjoyed the soups, beans, hummus and salads. Example dishes:
Breakfast - Cornflakes/muesli, pancakes, selection of cold meats and cheeses, eggs, toast with jam or honey, yoghurt, mashed 'ful medames'. They brought rice milk for me, which was a nice effort.
Lunch - Buffet with varied salads, hummus, artichokes, fried potato, lahma, aubergine, rice, shish kofta, kebab, grilled fish etc.
Dinner - Buffet of roast beef/chicken/grilled fish, chicken paneer or curry, pasta, moussaka, various soups of the day. Dessert is usually fresh fruit or a sugary Egyptian dessert of cream caramel.
Snacks - potato chips/crisps, biscuits, bread sticks. There is also "afternoon tea" of cake, doughnuts or pancakes.
Drinks - fizzy soft drinks, water, orange juice. Various herbal teas and coffee; I loved the iced hibiscus tea. Chargeable extras are wine and beer.
Diving with the Blue Seas liveaboard
Divers are divided into 2 groups - one group led by Wael the Egyptian dive guide, and the other by Nina, the Austrian tour leader. Groups take it in turns to use the dive deck first to avoid congestion. But the dive deck is large in any case and has a practical layout, with crates used under the benches for diver equipment, hanging rails for wetsuits, towels, a camera table, and toilet.
Most dives are made from the 2 dinghies, but also occasionally from the main liveaboard's dive platform, which has rinse tanks, shower heads, and 2 ladders for egress. Maximum dive time is 60-70 minutes. Nitrox is provided free of charge to divers certified in using the gas - a great perk when you're hanging out at depth, looking for hammerheads.
Arrivals
I arrived in Marsa Alam on a direct flight from Cairo in the morning of the first day of the safari. The boat only departs from the harbour after clearing legal formalities on the morning of the second day so guests need not be concerned about arriving late on the first day.
The tour ended in Port Ghalib (near Marsa Alam). The boat returns to harbour on the final evening of the cruise, so flights home can be scheduled with certainty at any time on the last day of the safari.
Summary
As we docked back at Port Ghalib for a final night and a little souvenir shopping and a drink or two at the water side cafes, everyone was in celebratory mood. Not only had Germany beaten Italy in the European soccer championship quarter finals (many of the guests were German), but many divers had made new friends, and would return home in the morning with lasting memories of the terrific shark action that the Southern Red Sea had provided and a fun and professional diving cruise on the Blue Seas liveaboard.
Written by Sheldon Hey, July 2016


---
CUSTOMER TESTIMONIALS OF DIVE THE WORLD
... Thank you so much for the speedy reply. I must compliment you on your efficiency and the comprehensive reply. Definitely makes my day at work more interesting and I look forward to November ... -- Elizabeth Ng, Hong Kong. [More customer reviews]