>
Dive Trip Reports
>
Peterpan
Thailand Liveaboard Diving Charter Report
A Fairytale Tour of the Similans With Peterpan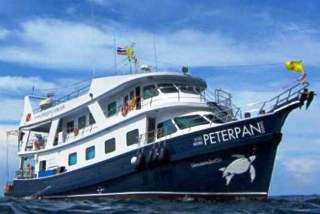 I had never dived in the Similan Islands before and this was my first trip to the south of Thailand. I was so excited and looking forward to see new things as I heard good things about the dive experiences here.
While waiting for the minivan to collect us and take us to the port at Tab Lamu, I was getting excited, especially about what the diving boat looks like and what I will see on this liveaboard charter. I love small and big stuff, I like watching sharks, mantas, Napoleon wrasse, barracudas, cuttlefish, octopus.
Will I have the chance to see some of them on this short 4 night Peterpan liveaboard cruise? Who knows ...
The Similan Islands Dive Sites
It's the first full day of the trip and the first dive is at Anita's Reef in the Similan Islands. I loved this dive site as it's very colourful. I saw commensal, squat and cleaner shrimps, beautiful nudibranchs, a juvenile scorpionfish, garden eels, and a sea snake (which I'm scared of but I love to watch them swimming away ;-) ). This was the first time I saw a juvenile rockmover wrasse too which is a very lovely and unusual looking fish.
Then we dived West of Eden and South of Eden. I saw a black ribbon eel, yellow frogfish, whitetip reef shark, a huge nudi, another sea snake, free-swimming moray eels and trevallies. We also had a special sighting of a dwarf devil scorpionfish which is extremely difficult to spot because of its small size and colour.
The next day we dived Koh Bon and Koh Tachai. We didn't get lucky with manta rays on this dive trip but there were some big schooling fish such as bluefin and giant trevally, chevron barracuda, as well as schools of fusiliers, snappers and batfish. We were also very fortunate to find a white leaffish, cuttlefish and a couple of octopus.
We dived 3 times at Richelieu Rock but it's worth it since, aside from lots of fish to see, the soft corals are very colourful and the macro life is good; I saw a yellow seahorse and tiger cowries. We also found lots of nudis, a mantis shrimp scurrying across the seabed, harlequin shrimp, an ornate ghostpipefish, and a zebra moray.
Our final dive was at Bunsoong Wreck on our way back to Khao Lak; as it turned out, we saved the best until last. I saw a minute juvenile lionfish (so small it was transparent pink and just a few millimetres across), loads of nudibranchs, many types of moray eel - zebra, giant, fimbriated, white-eyed, honeycomb, and some big jellyfish.
Even though I had my fingers crossed to see mantas and maybe a whale shark (14 dives later, we didn't see them), I still enjoyed the scuba diving as I saw some new things to add to my personal dive log.
• Watch our Similan Islands diving video

The Peterpan Boat, No Sea Devil
This liveaboard boat has a steel hull so it's stable in the water - not much rocking on the sea. I was also impressed to learn that diving insurance is included in the trip price, although I had mine already I'm sure it must come in very useful for other people.
There is a bright air-conditioned saloon which some of the guests made use of. But it was a little cramped with 22 guests. But the main space issue was at meal times as there aren't enough seating spaces for 22; some of the guests ate upstairs on the large sun deck.
Some of the guests were Thai, but there were also guests from the UK, the USA, Italy and Japan. I hear this is quite representative of what you can expect on most of their liveaboard charters.
Cabin Accommodation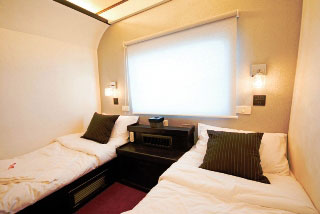 There are different types of cabin onboard Peterpan, all with their own individual controlled air-conditioner. Apart from the spacious en-suite VIP cabin at the bow, I think the best ones are the 'Deluxe' cabins on the main deck. These are slightly larger and have windows, reading lights and twin beds.
I stayed in a 'Standard' double bed cabin on the lower deck. The lower deck cabins have no windows, are a little basic and could do with having their cupboards aerated a more frequently as they smelled a little musty. The ladders leading downstairs would also be improved by non-slip covering. Be careful not to put any bags on top of the shelf at the head of the bed; I put my bag there and later discovered that a hidden reading light had burnt a whole through it!
Diving with Peterpan
It's quite an unusual bonus to have a boat of this modest price with a nitrox blender. So if you're nitrox certified and looking for reasonably priced diving in Thailand, then Peterpan is your liveaboard man.
Pick ups were also with the main boat although dinghy support was always there if needed. The 2 boat boys were excellent at helping customers with their equipment and getting into and out of the water.
Dive briefings are given on the big screen TV in the saloon - quite high-tech, I thought. Rut, the tour leader's sense of humour kept the briefings interesting. All the guests were assigned a divemaster; mine was Gemma who was very helpful throughout and did a good job of finding our group of 5 divers the interesting sightings. All diving is done from the back of the main boat and the Thai skipper did a great job of manoeuvring the liveaboard to collect divers after each dive.
The dive deck is covered in a rubberised coating which is great for reducing slippiness on the wet surface. We never converged on the deck all at once in order to make space for kitting up. There are 4 rinse tanks which means everyone had enough fresh water to rinse their camera equipment and dive computers.
My only criticism of the dive service is that we got started very late each day - ideal if you like to sleep in but no good if you'd like to make a sunset dive instead of a night dive.
Dining Onboard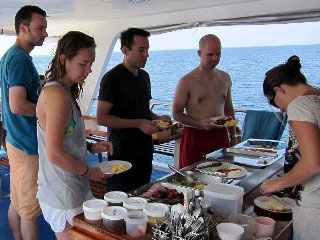 Dining takes place in the covered open-air area on the upper deck and consists of a light pre-breakfast, full cooked Asian breakfast, lunch, afternoon snacks and dinner. Soft drinks are available and all food and beverages are included in the charter price except for beer.
To be honest, although there was plenty of it, I didn't think the food was the strong point of the trip as it was a bit limited in choices at each sitting, quite plain, and too often stir-fried for my liking. I think they could spice it up a bit as Thai food is known throughout the world as being full of flavours.
They did cater for my vegetarian diet quite well though and I enjoyed to tom kha soup, raad nha and tofu dishes. Other guests appreciated the beef with ginger and coconut, breaded chicken, cashew nut chicken, shrimps and Thai fish cakes. The daily afternoon snacks were always eagerly anticipated, but I think they should also serve more desserts on the cruise.
Back to the Real World
Time to pack up and leave. I can see on everyone's face the excitement to go back to the land again but everybody seemed to enjoy the trip on Peterpan (average score 7.5 out of 10 from my quick sample), especially the new things we saw and meeting new friends. I liked all the liveaboard boat crew who were very attentive, and I always felt I was in safe hands, as if some fairy was watching over me ...
Written by Marjorie Marino, March 2012


---
CUSTOMER TESTIMONIALS OF DIVE THE WORLD
... The Dive The World website is amazing, extremely easy to use and informative. Booking, as usual, was superb. Beef and Enrico were a pleasure to work with - fast response, excellent knowledge, and customers can have complete comfort that their bookings are in good hands ... -- Rod van der Laan, South Africa. [More customer reviews]