>
Dive Trip Reports
>
Portofino Beach Resort
A Dive Belize Trip Report
Portofino Beach Resort, Ambergris Caye
Click on an image to enlarge

From the moment I arrived at San Pedro Airport on the Belizean island of Ambergris at the start of my vacation, I knew I was in caring hands. I was greeted and we quickly boarded the water taxi up the coast to Portofino. A welcome drink awaited me, as did the front office staff who never stopped being friendly and helpful throughout my whole stay.
I was staying at Portofino Beach Resort for the best part of a week on a diving and B&B accommodation package with Dive The World. Portofino is an upmarket resort located 6 miles north of the island's main and party-going town, San Pedro. Access is by boat only (a 20 minute ride), so don't expect lots of nightlife here.
Rather, this resort will appeal to families, small groups and couples that value a prime beachfront location and attentive service in a peaceful environment with many home comforts provided. The pelicans and cormorants perched on the branches in the shallows in front of the resort fit perfectly with the ambience of the place. It was great to wake up with the sun rising through the palm trees and twinkling over the ocean.
• Watch our Portofino Beach Resort video
The Ambergris Dive Sites
Not much very deep and no strong currents, the diving in Ambergris is pretty easy going. On most dives we saw nurse sharks, lobsters, conches, angelfish, groupers, trumpetfish, barracuda, triggerfish, lionfish and black beauties. Being a keen macro-diver, I always keep an eye out for the small stuff and managed to find many anemone shrimp and some colourful fan snails.
I think the highlight for most visitors will be their visit to Hol Chan Marine Reserve, where they can dive or snorkel with lots of nurse sharks, sting rays, turtles, schools of horse-eyed jacks, pelagic permits, snappers, grunts, and many other schooling fish species. For less experienced scuba divers, this aquarium-type environment is a real treat as the marine life is habituated to the presence of boats and snorkellers and there's lots of interaction going on!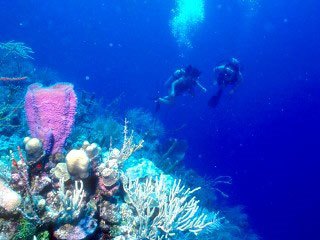 The dive at Mexico Canyons was also pretty interesting as it involves a 40m long tunnel (more like a deep gully) running between 2 reef spurs. A large eagle ray was circling around when we finally exited the tunnel.
Action Divers run the operations at Portofino and do a pretty professional job. The normal schedule is a dive at 09:30 am, followed by a second one from the resort at around noon. The dive sites are very close by and only a few short minutes ride from the resort; the Belize Barrier Reef runs along the coast past the resort. The boat returns to the resort for a short surface interval between dives.
The dive boat is a fibreglass hull 150 HP speedboat that takes a maximum of 8 divers. It is equipped with emergency oxygen, first aid, VHF radio and compass for safety. It has a tank rack, canvas canopy for shade, steel ladders for water exists, and divers have free drinking water. A boat skipper and divemaster are present on all trips.
We made 2 dives per day during my visit. There are approximately 50 dive sites along the eastern coast line of Ambergris Caye so there is no need to visit the same site more than once. Guests that book 1 week stays have a one day dive trip to either the Blue Hole or Turneffe Reef included, to add to the value and variety of the programme.
Sites are typically 15-25m deep and feature 'finger-roll' reefs - reef spurs running out from the main body of the barrier reef, in the form of rolls, getting deeper as you dive away from the main reef. The spurs form gullies with many ledges, channels, swim-throughs. The reef is predominantly made up of sea fans, small gorgonians, vase and tube sponges, some small hard coral formations and grasses. Manatees have been seen on occasion.
Visibility was reasonable (15m) during my visit but is better during dry season (20m). There was practically no current and the water temperature was 29C. It didn't rain during my entire stay (in rainy season) and it was pretty hot and sunny most of the time. There was a breeze which brought welcome relief from the heat but also made the sea a little choppy.
The Resort Facilities
The resort is centred around a circular 3-level swimming pool, which is popular with all guests, both to cool off in and to sun bathe. There is a diverse list of daily tours and activity programmes. These include local activities such as snorkelling trips, fishing, manatee tours and sailing. But day trips also include tours on the mainland to explore Belize's rich heritage, such as Mayan ruins, rainforest exploration, caving, tubing and river kayaking.
So a stay at Portofino can be a really great opportunity to see some of the best that Belize has to offer, both at sea and on land.
The Accommodation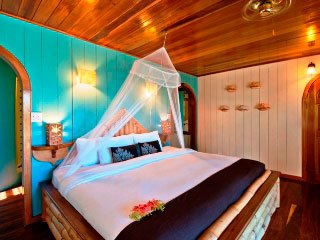 Portofino has a wide range of accommodation options for such a small beach resort. The Cabanas and Beachfront Rooms are the entry level options and very similar; I preferred the Beachfront Rooms as they are a little brighter and almost right on the beach. Both options are a good size, have king-size beds with mosquito net, air-con and ceiling fan, TV with 100+ channels and DVD player, fridge, and front deck with hammock and sea views.
There are 4 types of suite, including a Honeymoon Suite with whirlpool hot tub. The suites are double the size of the cabanas. There is also a Mansion that is suitable for families and small groups.
One nice touch with the rooms is that you get to choose your favourite scent of home made soap when you check-in. The soaps are made locally and the proceeds go towards a local charity focused on empowering local business.
Dining at Portofino
The resort's restaurant has outdoor tables on an elevated deck where you can watch the sun set. The menu is Euro-Caribbean inspired fusion cuisine; there are separate menus for breakfast, lunch and dinner, as well as vegetarians and wine. You can expect plenty of fresh seafood, imported meats and fresh home-made pasta and breads. The restaurant has earned a strong and favourable reputation on the island.
The Continental breakfast included in my package was tropical fruits, homemade bread with butter, cheese and marmalade, orange juice, coffee or tea.
Appetiser examples: Zucchini curry soup, Lobster bisque, Spinach citrus salad, Blue beef;
Dinner examples: Grouper con Mariscos, Rib-eye Béarnaise, Tagliatelle Alfredo, Stone Crab;
Vegetarian examples: Three cheese quesadilla, Mushroom & spinach ravioli, Taste of India.
Portofino also has a poolside bar and a complimentary coffee counter.
Getting There and Away
Although Belize might not be well connected to the rest of the world, it is well connected to the USA. The southern states of the US are just 2 hours direct flight away which makes Belize especially appealing for US-based scuba divers with little vacation time and interested in a nearby destination with tropical diving, year round sunshine, plenty of interesting activities and low security risk.
Belize City has direct flights from several US cities, El Salvador and Cancun. Once you arrive at Belize City, you can catch a short hop 20 minute flight from the same airport across to San Pedro on Ambergris Caye where the resort rep will meet you. Alternatively you can catch a cheap water taxi (~ 1 hour) from the city to San Pedro.
Summary
Ambergris Caye will appeal to divers with little to moderate experience, younger travellers, dive groups of mixed abilities, and couples and families that just want some easy warm-water dives where they can see a good range of the sea creatures of the Caribbean. More experienced divers will probably prefer to stay on Turneffe Atoll.
I found Portofino to be a very friendly beach resort. I would recommend it as a great vacation option for couples and families seeking a comfortable base from which to explore the sights of Belize via some interesting day trips, combined with some relaxed Caribbean diving.
Written by Sheldon Hey, August 2013


---
CUSTOMER TESTIMONIALS OF DIVE THE WORLD
... The website was easy to use, yes! You guys are doing a great job! The best part of the service is the quick replies and great service! ... -- Grace Kwon, USA. [More customer reviews]