>
Dive Destinations
>
Belize
>
Ambergris Caye
Your Guide to Diving in Ambergris Caye
Belize Dive Adventures
...Highlights: turtles, non diving activities...
...Ambergris Caye's diving environment: beginner divers...
The biggest of the offshore cays, Ambergris Caye is a great place for divers to stay if they wish to base themselves in a resort within easy reach of Belize's barrier reef - the second largest barrier reef in the world. The reef runs for 25 miles (40 km) almost parallel to the shore at an average distance of about half a mile (1 km) out to sea. The whole of the east coast of Ambergris features 'spur and groove' reefs - long reef fingers that jut out on the ocean side of the main barrier reef, perpendicular to the coastline. These finger rolls create a profusion of gullies, canyons, ledges, tunnels and caverns that offer refuge for marine creatures and for scuba divers to explore.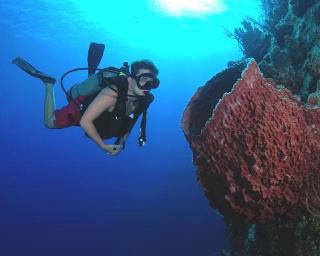 In the south of Ambergris there runs a line of small cayes and reefs inside of which you will find well-protected shallow water that offers some good diving. Shark Ray Alley is here and is rated one of the Caribbean's best animal dives and is, unsurprisingly, a great site for encounters with sharks and rays, as well as many other species. The animals come here to profit from fishing boats' scraps tossed overboard, so they are not shy, resulting in some excellent photo opportunities.
The many marine parks here mean that fishing restrictions are in place in several areas. Hol Chan Marine Reserve, aka 'The Cut', is one such small marine reserve popular among divers from Ambergris Caye. It promises an easy dive with pelagics such as barracuda in the depths and often large animals in the shallow seagrass beds like sharks and rays.
There are a number of different ecosytems to be found here so the species variety is wider than may be found elsewhere in Belize, although fish populations are not as large. You can expect mangrove cayes, coral reefs, seagrass beds and lagoons, all offering something different. Sponges and fans dominate the underwater landscape at many of the dive sites, swaying in the gentle surge. The reef itself is in good health, but there are few hard coral species since their delicate structure is unable to withstand the occasional hurricane that blows through here.
The diving at Ambergris Caye is simple and has enough interesting sites and marine life encounters to keep beginners enthralled. It will appeal to casual divers that want to make just a few dives while on vacation, enjoying the sights, sounds and tourist attractions of Belize and the fun of San Pedro. More experienced divers who want to sample the best diving that Belize has to offer should rather consider visiting Lighthouse Reef or Turneffe Atoll.
Dive Site Descriptions
Hol Chan (The Cut), Hol Chan Marine Reserve
This was the first area in Belize to be designated as a marine reserve. Since gaining this status in 1987, the once depleted fish stocks have returned in spectacular fashion. Located just 4 miles (6 km) southeast of San Pedro, this dive site, although very shallow, is not to be missed.
Show more
The marine reserve is 4 miles (6 km) south of San Pedro and encompasses an area of 5 miles² (16 km²) that includes the barrier reef, sea grass flats, mangrove areas and the center-piece cut in the barrier reef. An entry fee of BZ$ 5 helps cover maintenance and enforcement costs. Mooring buoys have been installed and rangers are always on hand to enforce the no-take policy resulting in a wonderful site for both scuba divers and snorkelers alike.

The cut itself is about 9m deep and the occasionally strong tidal currents of Ambergris Caye provide a constant stream of food for the waiting filter feeders like the gorgonian sea fans and sponges that adorn the walls of the reef, which rises to the surface on either side sheltering turtles, crabs, morays and hundreds of small reef fish. Out in the main flow, permits and tarpon can be found in mid-water. Schools of grunts, sailor's choice, dog snapper and cubera snapper, black groupers and large concentrations of schoolmasters aggregate along the channel walls.

As an advanced diver, you can venture out to the drop-off and sometimes be rewarded with sightings of eagle rays and schooling southern sennet. If the current is strong, you would be advised to use the irregular topography of the bottom and channel walls to hide from the main flow. Darting from slack to slack can be immense fun but weaker swimmers should make this dive at slack tide for a more relaxed experience.
Mexico Rocks
Marked on land by a former coconut plantation, this popular huddle of coral heads lies just 20 minutes from San Pedro, in the north of Ambergris, and directly in front of Portofino Dive Resort. Protected from the ocean by the barrier reef, this shallow dive site rarely has any current. If you haven't blown bubbles for a while, this is the perfect opportunity to brush up on your skills. Shallow and with good visibility, Mexico Rocks is a great spot for photographers to play around with their composition, and for snorkelers to watch the divers beneath.
Show more
Although not quite up to the standard of the barrier reef, the 10 to 13ft (3-4m) high colonies of boulder corals reach almost to the surface and give refuge to a variety of marine life. Stingrays and occasionally sleeping nurse sharks are found with their heads wedged into the coral. Flame scallops, azure vase sponges, sea fans, and black beauties, queen triggerfish and yellowheaded wrasse add color to the site. A slow careful sweep of the sand flats can bring its own rewards. Burrowing urchins, conch shells, hermit crabs, clams and minute mysid shrimp offer excellent opportunities for macro photography.

The outside of the reef is completely different with dramatic canyons and walls scything their way through the coral formations. Horse-eye jacks, barracuda and Nassau groupers patrol this area hoping to catch the smaller reef fish unawares. Lobster and spider crabs lay claim to the holes in the reef and at around 33ft (10m) there is cave, home to hundreds of baby snappers who stare nervously out at you as you cruise slowly past.

Close by the Mexico Rocks is Mexico Tunnel, a site that features a 130ft (40m) long 'tunnel' between 2 reef spurs in about 65ft (20m) of water. This site is great for divers that have not made penetration dives before since the tunnel is really more of a deep gully than an enclosed tunnel. There is lots of light penetration from above and several escape routes. Here you will find longspine squirrelfish, tiger grouper and hogfish in the groove recesses.

Once you exit the tunnel, you'll make your way back up the same spurs to the mooring line. Here you might spot blue tangs, foureye butterflyfish or the rather splendid queen angelfish amongst the soft corals and small gorgonian fans. Trumpetfish hunt furtively along the reef bed, or occasionally hang vertical and motionless, mimicking the sea fans in a bid to capture inattentive prey.
Punta Arenas (Small Cut)
The main attraction of this dive site is a narrow, snaking 82ft (25m) tunnel. Starting at the triangular entrance at the base of the coral reef, at first glance the entrance seems wide and accommodating, easily enough room for 2 divers, but as you penetrate further into the tunnel it narrows and only single file is possible. The bottom of the tunnel is composed of sand so, apart from a few small sections where the tunnel is dark, loss of visibility is not a great concern but be careful to avoid contact with the red algae growing on the walls; the tough exo-skeleton can leave abrasions on careless legs. If you're lucky you may find turtles, nurse sharks and giant jawfish resting in the dark recesses of the tunnel, but always you will find a school of curious looking glassy sweepers just before the tunnel exit at 100 ft (30m).
Show more
You won't have too much time to look around but as you slowly ascend to the shallower area of the reef the visibility can be excellent. Schools of horse eye jacks frequent this area of Ambergris Caye along with Nassau groupers, lobsters and some very large great barracuda. As always on these sites where the reef drops away, the eagle-eyed, and fortunate can spot manta and eagle rays swooping around in the blue.

Getting to Punta Arenas involves navigating a narrow passage through the barrier reef. If it's windy, the sea quite be quite rough here, making this dive site quite hazardous.
Shark Ray Alley
The name speaks for itself. If close up encounters with harmless nurse sharks tickle your fancy, then this snorkeling site is one for you. The location is normally visited as part of trip to Hol Chan. Snorkelers should not forget to bring their camera here for that once in a lifetime social networking profile shot!
Show more
For several years this part of Ambergris Caye was often used by fisherman to clean their catch. The discarded entrails and blood attracted nurse sharks and southern sting rays from the surrounding area. Eventually the phenomenon caught the ears of the dive operators in San Pedro, who immediately sent divers to investigate. What they discovered led to the then world's largest diving magazine feature billing the site in 2 issues and now selected as one of the Caribbean's 7 best animal dives. The sharks and rays are now so accustomed to being fed by the guides that they begin hungrily circling at the sound of the boat engines. As you look over the side the dark shapes are easily discernible against the white sand bottom.

As you drop in with your mask and snorkel, the rays with a wingspan of up to 5ft (1.5m) directly approach you, sometimes brushing your legs as they swim around you 'begging' for food while the sharks up to 7ft (2m) in length circle just out of arms reach. Even though these animals seem to tolerate or even enjoy the human interaction, the best policy is not to touch and leave that choice up to the wildlife.

These are not the only animals here though, dozens of fish such as horse-eye jacks, silver porgy and blue runners, dart around grabbing the sharks and rays' leftovers. If you take a close look just under the water's surface, you might find the Caribbean Ballyhoo - a slim bodied halfbeak with an orange tipped elongated lower jaw.

There is a small wreck in Ambergris nearby which harbors green morays and spotted morays, soapfish and coneys.
Tackle Box Canyons
The wonderful topography at this site allows for some great photo opportunities so make sure your camera is fully functional before entering the water here. Caverns, small tunnels and deep, vertically walled, narrow canyons contrast with the well lit, clear waters at the top of the coral ridges. Lobsters, glassy sweepers and small schools of French grunts all use the darker recesses of this site to hide away from predators.
Show more
In contrast to the sporadic coral and creatures among the deeper areas, the site explodes with color and life at the top of the coral ridges. Coral in various forms create the ridges including yellow pencil, elkhorn, boulder, brain and mustard hill. Interspersed with the coral are spectacular azure vase, basket and rope sponges. Benthic life is found on many of the dive sites of Ambergris Caye.

The visibility at the top of the reef is usually excellent, in excess of 65ft (20m), so finding the many species of groupers, jacks, snappers, parrotfish and angelfish is never a problem. When investigating the holes and cracks in the reef, you can find spider crabs and lobsters. This abundance of life attracts barracudas and different species of moray eels, the most common predators at Ambergris Caye. Nurse sharks dozing on the bottom are all also a common sight.
Tres Cocos
The 'Three Coconuts' lies 2 miles (3 km) north of San Pedro; it is one of the deepest sites at Ambergris, with the shallower reef section at 50ft (15m) and the spurs plowing furrows down to 115ft (35m). The spur walls are covered with red rope sponges and vase sponges. The wave action creates a rhythmic swaying of a forest of sea fans and sea whips for scuba divers to enjoy.
The deeper water is home to Atlantic spadefish, spotted eagle rays, horse-eye jacks and groupers. Great barracuda can often been seen hunting along the reef grooves. Spiny lobsters peer out from the wall crevices. On the main body of the reef you will find gray angelfish, blueheaded wrasse, spotlight parrotfish and porkfish. Check out the corkscrew anemones as often you'll find Pederson shrimps here.
How to Dive Ambergris
For information on your diving options, and all the other travel information you might need to visit, review our Ambergris Caye dive resort section.
Liveaboards do not visit this area and dive resorts on the atolls do not tend to travel inland to visit Ambergris Caye, so the best way of diving here is by staying in a nearby resort on Ambergris itself. You will visit both the barrier reef and other local sites around the island. It is also possible to dive further out to sea at the atolls of Lighthouse and Turneffe when staying on Ambergris Caye but it is a long day trip. Most who stay here tend to limit themselves to the local sites.
Note that it is also possible to book your own accommodation and join day trips to all of these locations.
The Ambergris Caye Diving Season
There is year round diving in Ambergris Caye, with the least chance of rain in February and March and the highest during August through October.
The dry season runs from December through May when the weather is mostly warm and sunny. Visibility is usually around 50 to 65ft (15-20m) and the sea's surface is likely calm with occasional chop.
June though November is the wet season which brings a stronger possibility of tropical storms and a remote possibility of a hurricane, especially in September/October. If a tropical storm does hit then diving will be cancelled for 2-3 days, but most often it's blue skies with light winds and occasional squalls and rain clouds. The rains do effect shallow water visibility but pretty soon the visibility will be back to 30 to 50 feet (10-15m). Storms do bring waves but mostly the sea will be calm or have a light chop.
Average water temperatures are fairly constant, ranging from a high of 84°F (29°C) in September to a low of 79°F (26°C) in February. There is very little current around Ambergris throughout the year.
Although each turtle season lasts for 3 months or so, May is the peak season for matings, August is the peak season for laying eggs, and October is the best time to see turtle hatchlings, after a 2 month incubation period, at Bacalar Chico in the north of the island.
October and November is the mating season for groupers. Divers can watch as the grouper move over the reef at the beginning of their short migration southwest to swarm in the thousands on the west coast of the caye.
Finally, May is the spawning time for thimble jellyfish. These jellies are irritating to scuba divers and snorkelers, and the best way to avoid getting stung is to wear a full length wetsuit (which you should rinse thoroughly after each use) and to use a waterproof and greasy cream on soft tissue parts of your exposed skin.

Where is Ambergris Caye and How Do I Get There?
Review our map below of Belize, showing the location of the atoll. Here, you will find information on how to get to Ambergris Caye.
Reef Summary
Depth: 16 - 115ft (5 - 35m)
Visibility: 33 - 82ft (10 - 25m)
Currents: None to gentle
Surface conditions: Mostly calm but can be choppy further from shore
Water temperature: 77 - 84°F (25 - 29°C)
Experience level: Beginner - intermediate
Number of dive sites: >30
Distance: 25 miles (40 km) north northeast of Belize City
Recommended length of stay: 1 week
Useful References


---
CUSTOMER TESTIMONIALS OF DIVE THE WORLD
... I want to thank you and everyone at Dive The World again for all your help with this situation. Despite a major fire, I had a lovely vacation in Belize and will definitely be going back. And your help with the refund has allowed me to keep the good memories and not worry about the bureaucracy. I will definitely be booking more travel with you in the future ... -- Samantha Seabrook, Canada. [More customer reviews]