>
Dive Destinations
>
Belize
>
Lighthouse Atoll
Your Guide to Lighthouse Reef
Belize Scuba Adventures
...Highlights: turtles, great macro life/ marine diversity,, schooling fish & big pelagics...
...Lighthouse Reef's diving environment: healthy reefs, wall dives, drift diving, beginner and advanced divers...
Lighthouse is the most distant of the Belize atolls from shore and is quite small with a length of approximately 50 miles (80 km). For many it offers the best diving Belize has to offer with both liveaboards and resort stays possible. Many experienced divers consider these dive sites to be consistently the best in the whole Caribbean.
Being more exposed than the other Belize dive locations, there can be times when the wind picks up and makes some of the sites inaccessible but there are normally some sheltered spots to dive in the lee of the islands. At all times of the year the diving remains fairly easy, due to a lack of strong currents and the availability at all the Lighthouse sites of glorious shallow reef gardens atop deep walls that are suitable for more experienced scuba divers.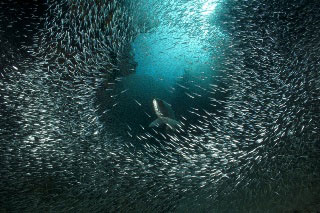 The middle of the reef is where the world famous Great Blue Hole is located, made famous by Jacques Cousteau (who seems to have made a superlative quote about everywhere he ever dove!). There is much more to the atoll than just the Blue Hole however, and for many divers Lighthouse Reef is the focal point of their underwater Belize adventure.
The reefs are the marine jewels of Belize's diving crown and can boast an extraordinary diversity of reef topography including sandy reef-flat areas, walls, grooves and channels, caves and caverns. The gardens are breathtaking in their riotously colorful plumage. Enormous purple sea fan fronds cover and sway over the reef tops, interspersed with yellow, orange and violet sponges in the shapes of long clustered tubes and vases, and massive hard coral boulder colonies.
The fish life is very good with most of the area being in protected marine zones. The Lighthouse Reef gardens are teeming with fish including French, gray and queen angelfish, indigo hamlets, trumpetfish, butterflyfish, parrotfish, chromis, gobies and fairy basslets. Schools of Creole wrasse and blue tangs trail over the reef crest. Common big fish include tarpon, horse-eye jacks, barracuda, groupers and pompano. Critter life is good too with lobsters - spiny, spotted and slipper varieties, crabs - swimmer, hermit, neck, arrow, decorator and massive channel clinging, shells, reef squid and octopus all await the keen-eyed diver's discovery.
Dive Site Descriptions
Much has been said about The Blue Hole and not all of it enthusiastic, mostly due to unrealistic expectations of likely marine life. A collapsed cave roof makes the hole shape which bottoms out at about 490ft (150m). You will go down to around 130ft (40m) to see the now submerged remnants of stalactites. There may be some sharks around. Even if there is not much in the way of marine life, diving The Great Blue Hole is a unique and interesting experience.
Half Moon Caye
This small picturesque island is also in the south of Lighthouse Reef, just to the east of Long Caye, and has been granted national park status as the Half Moon Caye Natural Monument. Half Moon Caye Wall, together with its neighboring site Chain Wall 1640ft (500m) to the west, is one of the best dive locations in the Caribbean and often included in daytrip and liveaboard schedules; if not then ask for it!
Show more
Start your dive to the south of the caye by descending onto the sand flats at about 15m depth. What appears at first glance to be sparse vegetation, transforms into a vast colony of garden eels, their willowy, graceful bodies protruding from their burrows delicately picking out morsels of food brought to them by the mild current.

A slow and cautious approach is required; these shy animals slink back into the protection of their holes seeming to match the speed of your approach. You should have better luck getting up close to examine some of the vast number of conches which litter the sandy flats. Sea hares, torpedo rays, blue parrotfish and fantail blennies are also plentiful in this area. Occasionally a spotted eagle ray might glide across the flats in search of a meal buried in the sand.

The sand flats continue out to the lip of the reef wall which is a vast growth of boulder and domed corals reaching back up to within 6m of the surface. Decide to either swim over the reef crest and down the wall or find one of the narrow grooves and follow them seaward being careful not to stir up the sedimentary sand of the seabed.

The most exciting option is finding one of the short, straight and easily navigable tunnels that bring you out to the ocean side of the reef wall, all the while looking out for snappers, yellowfin grouper and red banded coral shrimp. If you're familiar with the "prrrp, prrrp, prrrp" sound, you might recognize the call of one of the curious looking toadfish that are native to Belize.

You could easily spend your entire dive meandering your way through the spectacular channel formations. With so much to see here your bottom time may be up before you even reach the outer wall. Large predator fish frequently patrol the precipitous abysses of Lighthouse Reef. Green and hawksbill turtles are frequent visitors, while Caribbean reef sharks and large black groupers are not uncommon. Visibility is often very good here so it should be fairly easy to spot the bigger and deeper fish.

With plenty of marine action and several different directions and environments to explore, it would be possible to spend the entire daytrip moored up at this one spot.

Tarpon Caves is another of Half Moon's popular sites. It has a vertical tunnel that runs from its entrance at 40ft (12m) down a passage before depositing you into a deep crevice at almost 100ft (30m) deep. There is a second chute that runs up to the right which you can use as your ascent at the end of the dive.

Once you are on the wall, there are many cuts, swim-throughs and holes to explore. The walls here have fewer soft corals but a greater number of hard corals than neighboring Long Caye. Don't be alarmed to find yourself being followed by one of the great barracuda; they seem to be particularly inquisitive of divers here and may be your constant companion throughout the whole dive.

During your surface interval take the time to go ashore and view the red footed booby bird colony on Half Moon Caye. A great day out and comes highly recommended by Dive The World.
Long Caye
In the far south of the Lighthouse Reef system, west of Half Moon Caye but north of Hat Caye, is Long Caye - the largest of the islands out here. The scuba diving all along the west coast of Long Caye is spectacular and considered among the best in Belize.
Show more
The underwater landscape is characterized by incredible coral gardens (average depth of 33ft (10m) on the west coast and 50ft (15m) on the east) on top of a wall that drops to the sea floor several hundred meters below. The gardens are more like tropical jungles - the massive purple, pink and beige sea plumes stand tall like palm fronds swaying in a summer breeze. There are giant sea rods, massive brain corals and boulder star corals. Branching vase sponges, giant barrel sponges and yellow tube sponges complete the colorful picture. This is the domain of the trumpetfish which, with its sleek profile, cryptic markings and stalking, is perfectly adapted to this environment.

At Silver Caves, a dive site named after the dense schools of silversides that shelter in the channels here, you can see horse-eye jacks hunting for their prey. Creole wrasse flash past, hounded by great barracuda. Honeycomb cowfish, Spanish hogfish, midnight parrotfish and filefish make their way slowly around the reef.

There are many channels and gullies through the underwater forest for divers to explore and here you will find yellowtail snappers, Nassau grouper and schoolmasters clustering in small groups, and pairs of banded butterflyfish hiding from inquisitive eyes. Blue chromis and fairy basslets swarm around the coral heads in the bright shallows. Soapfish rest as if asleep on the ledges or at the base of sponges. Twinspotted drums and arrow crabs can sometimes be spotted in the coral recesses. On the sand floor, yellowheaded jawfish float nervously over their burrow holes.

Once you swim over the reef edge, you'll descend down the caye wall with its trappings of sea fans, elongate stove-pipe sponges, and overhanging sea sprays and sea whips. Longjaw and longspine squirrelfish use the nooks and crannies to hide out. Look among the bushy and feather black corals, you can find pike blenny with their tails cocked, ready to pounce on prey. Caribbean reef sharks and blacktip sharks are seen out here. Sennet cruise past and occasionally black groupers ascend from the depths to take a look at what's happening in their local vicinity. Oceanic triggerfish can be spotted in the blue close by.

Night dives can be just as spectacular at Long Caye. At sites such as Dos Cocos, large tarpon hunt aggressively in the dark, often assisted by divers' torch lights to zero in on the smaller reef fish. Sculptured slipper lobster, as well as the more common spiny lobster, can be found here, and hermit crabs are very common.

A careful examination of the fan branches can reveal such beautiful creatures as flamingo tongue ovulidae shells, decorator and neck crabs. Reef squid are attracted by the boat and diver lights and these fascinating creatures often moved in small schools across the reef flats.

Toadfish can also be found at Lighthouse Reef, especially the large-eyed and whitelined. These amazing creatures are nocturnal so look out for them on night dives, hidden under ledges on the sandy sea bed.

Surface intervals can often be spent in-water, interacting with Atlantic bottlenose dolphins which are sometimes curious of divers and snorkelers.
How to Dive Lighthouse Reef
For more information on your diving options, and all the other travel information you might need to visit Lighthouse Reef and the Blue Hole in Belize, view our Belize liveaboard or Turneffe Atoll dive resort sections.
The liveaboards of Belize spend most days around Lighthouse Atoll and the Great Blue Hole on each dive trip as it forms the majority of their itineraries.
The resorts on Turneffe Atoll arrange weekly daytrips out to Lighthouse Reef and the Blue Hole. The resorts on Ambergris Caye can also arrange these day trips on a request basis, although the journey time is quite long.
The Diving Season for Lighthouse Atoll
There is year round diving on Lighthouse Reef as for the most part the climate is sunny and warm, with July through September being the hottest months. The wet/dry season of the mainland doesn't really apply here this far offshore and rains are less frequent than elsewhere in Belize but sporadic throughout the year.
There are easterly trade winds all year round, making the leeward west coasts of the cayes the favored dive spots. These winds are usually at their strongest in March and April. From November through February, northerly winds sometimes blow in, bringing with them cooler temperatures. At this time of year boats tend to favor the south and eastern sides of the cayes.
Visibility is generally very good and in the range of 80-130ft (25-40m). The stronger winds in March and April can stir up sediment, and the warmer summer months bring plankton and algae blooms. Visibility is reduced to 70ft (20m) at these times. Water temperatures are usually at 29°C (85°F) but fall a little to 27°C (79°F) from November through February.
Mantas occasionally come to the reef to feed on the plankton blooms from August through October. Spawning time for groupers and snappers is April through May. Sea turtles nest at Half Moon Caye between June and November, then hatch from August through January. Silversides are plentiful in March/April and again in September/October. Whale sharks migrate to southern Belize and these popular behemoths of the sea pass by Lighthouse Atoll in April/May.

Where is Lighthouse Atoll and How Do I Get There?
Review our map below of Belize, showing the location of Lighthouse Reef. Here, you will find information on how to get to Belize.
Reef Summary
Depth: 16 - >130ft (5 - >40m)
Visibility: 65 - 130ft (20 - 40m)
Currents: None to gentle
Surface conditions: Mostly calm but can be choppy when windy
Water temperature: 77 - 84°F (25 - 29°C)
Experience level: Beginner - advanced
Number of dive sites: ~25
Distance: 50 miles (80 km) south east of Belize City
Recommended length of stay: 1 week
Useful References


---
CUSTOMER TESTIMONIALS OF DIVE THE WORLD
... Dive The World is "on the ball". They reply to my emails very fast and I get an answer to all my questions. This is the second trip we booked with them and I am impressed with their quality service. Good website ... -- Bart Fosselle, Belgium. [More customer reviews]