>
Dive Trip Reports
>
Carpe Vita
Maldives Liveaboard Diving Cruises
Carpe Vita Explorer Trip Report
Click on an image to enlarge

In recent years the Maldives have risen in reputation as one of the best diving places in the world to see some of the larger coral reef fish as well as for its healthy reef shark populations and encounters with mantas and whale sharks. And quite rightly too; as we cruised back to port at the end of a 1 week liveaboard trip on the Carpe Vita Explorer, I reflected on some of the memories of a quite wonderful week of diving in the Maldives.
We dived current swept channels and saw the quite inspiring sight of a school of 50+ grey reef sharks, many whitetip reef sharks, eagle rays, tunas, giant, bigeye and bluefin trevallies, mobula rays, and schools of fusiliers and black snapper. We often saw huge Napoleon wrasse, black-blotched stingrays, turtles, moray eels and the vibrant pinnacle reefs were awash with humpback and blue-striped snappers, Oriental sweetlips, yellow goatfish, unicornfish, parrotfish, bigeye bream and soldierfish. The kandus and thilas of the Maldives really are a joy to dive.
This is already enough to set the Maldives liveaboard diving vacation apart, certainly from other dive destinations in Asia, yet it does not highlight the main reasons why most scuba divers visit the Maldives: We spent 2 days of our cruise diving the manta cleaning stations, paying homage to the majestic grace and beauty of these enormous rays, and snorkeling with several remarkably patient whale sharks.
And if this were not sufficient, we made 2 memorable and novel night dives. The first was a drift in shallow water to meet the huge and playful resident tawny nurse sharks of Alimathaa. The second was a quite brilliant piece of theatre on the crown of Maaya Thila, where white tip reef sharks, bigeye jacks, marble stingrays and red snappers hunt the masses of fusiliers that frequent the pinnacle at night in search of food; there was hardly a dull moment for the whole 45 minutes of that dive.
The Diving Itinerary
The general itinerary on our Maldives cruise tour was Felidhoo Atoll (also known as Vaavu) - famed for its energy charged channel dives and encounters with schooling fish and reef sharks; Ari Atoll - which is seemingly peppered with manta cleaning stations and hosts whale sharks along its south coast; and South Male Atoll which offered us some convenient transit dives. To include Felidhoo in the itinerary is not common among Maldives liveaboard operators, Explorer Ventures however, having found their feet in the market, seem to be positioning themselves as pioneers in discovering and developing new and adventurous diving routes in the Maldives, for its growing band of new and repeat tour guests.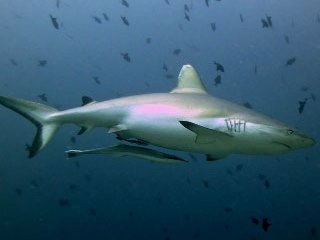 Carpe Vita Explorer makes 4 dives per day (23 dives in all) which is quite unusual in the Maldives liveaboard industry. This means that its cruises appeal to scuba divers interested in maximizing their bottom time on vacation. Usually, the 4th dives each day are at sunset, but there are some night dives on every trip.
Day 1 centered around guest arrival, with an introduction briefing from the operations manager, and then a check-out dive at Kurambaa Karu, a local site near the airport.
After a couple of dives in South Male, we arrived at Alimathaa, Felidhoo Atoll on Day 2, which became our home for the next 24 hours. At the jetty of the local beach resort, we made one of the most spectacular night dives imaginable. Rightly or wrongly, the resort has been feeding resident nurse sharks here. This has lead to their dependence on the area for food and now they prowl the area expectantly at sunset. Some of the sharks are truly enormous, easily measuring 3m, which some marine books state as their maximum size. Several large stingrays and groups of giant trevally also join the hunt. Sitting on the sandy bottom to watch the spectacle is real theatre, in more than one sense of the word.
Felidhoo is also home to some of the best channel dives in the Maldives, and Miyaru Kandu ('Shark Channel') is one such location and was a favourite with many of the guests. 50 grey reef sharks, several white tips, an eagle ray, tuna, giant trevally, all gathered near the channel entrance where we hooked on to the reef and absorbed the scene. To see so many reef sharks on one dive was a truly special moment and the mix of juveniles and adults is testament to the Maldives government's firm stance on shark conservation. Devana Kandu ('Second Channel') was also a spectacular site with more white tips, some huge Napoleon wrasse, black blotched stingrays, and lots of schools of fusiliers and black snappers. Often you can see 10-15 eagle rays in this channel.
On Day 4 we cruised over to Maamigili on Ari Atoll to snorkel with the local whale sharks. On this occasion we found 4 sharks varying in length from 4-7m; they can and do get much bigger here. The whale sharks were very patient and docile, especially considering the 60+ snorkelers that piled into the water at each sighting. Normally, they dive deep at such circus events but on this day they were seemingly far more inquisitive and gave us some protracted and special time in their company.
At one point a young bikini-clad Asian girl flung her arms around me. I thought it was my lucky day but I soon discovered that she was exhausted from chasing the whale sharks and the snorkeler melee, and needed an assist back to her boat .. so I did the gallant thing, escorted her back, bade her farewell, and made a chivalrous exit.
The next few days were an impressive variety of pinnacles, walls and sloping reef dives where we saw green and hawksbill turtles, Napoleons, bluespine unicornfish, orangefin emperors and shadowfin soldierfish; and manta dives at cleaning stations.
Moofushi was especially successful in our quest for manta encounters and we made 2 dives here. The mantas were present in healthy numbers and were interactive and not at all afraid of the scuba divers. Some passed us by incredibly close and several times I found myself eyeball to eyeball, in touching distance of these wonderful creatures. The dives here were among the best on the whole cruise as the whole crown of the reef is one big cleaning station for the larger reef fish and plays host to masses of schooling fish, including snappers, goatfish, sweetlips, yellow-banded fusiliers and parrotfish.
The closure of Day 6 saw us make our second and final night dive of this cruise, at Maaya Thila. Again, this was a successful affair with a tremendous amount of action taking place. Hundreds of fusiliers pull in at night to feed on the shallow crown of this pinnacle. This has caught the attention of many whitetip reef sharks which prowl the reef in search of inattentive fusiliers. Divers can get up close to these reef predators intent on filling their stomachs. Marble rays, bigeye trevally, morays and red snappers all join the hunt in a spectacular display of mortal combat. Elsewhere on the reef, you can finding turtles pushing under ledges for a good night's sleep, and batfish and unicornfish tracing the divers bubbles.
Day 7 saw us leave Ari Atoll in search of hammerheads at nearby Rasdhoo Atoll. Unfortunately our luck was out this time but I didn't feel too bad considering our good fortune elsewhere on the cruise. Then we made our way back to port in North Male, arriving mid-afternoon, before one final evening on board and departure early the next day on Day 8.
• Watch our Maldives diving video

Carpe Vita Explorer Liveaboard Boat
The boat itself is only 2 years old and was purpose-built, improving on the owner's previous personal experiences of liveaboard boats. It is 38 metres long, the ceilings are high, and with the accompanying full size dive boat (called 'dhoni' in Maldivian) that stores "all things diving", this frees up a vast amount of space to guests, both in the common areas and the cabins. Several guests commented that this was the most spacious, best equipped and laid out boat that they have ever experienced.
The crew was attentive to detail to ensure drinks and snacks were always hot and available during the cruise, fridges were full, and they dealt with any issues promptly and worked well in a discrete manner. English is spoken to a good standard throughout and certainly better than this writer's previous travel experiences in the Maldives.
The large sundeck was the main focal point for social gatherings on our cruise. There are many whicker sun beds with comfy mattresses for laying out in the sun or in the shade, some covered lounge seating, but the main attraction is the large Jacuzzi hot tub which guests enjoyed at every afforded opportunity.
The other social area is the main deck lounge. This is again large with plenty of seating area but was not used much except for dive briefings. It is situated at the bow with windows down either side, so it's nice to sit and watch the views as we sailed on by. It has a large selection of movies and games, all day fruit, snack and hot & cold drinks counter. Wifi internet is available at $15 for the whole trip. Apparently it's good enough to use for emails etc, but not for streaming.
Also on the main deck is an additional guest toilet, and an outdoor smoking area (the only one on the boat, thank goodness) and a camera table, conveniently located close to the dive boat ladders. So whatever your mood, you can always find a location on the boat to suit your requirements.
• Watch our Carpe Vita liveaboard video

Food
Dining takes place on the upper deck, with one long dining table at the stern and a drinks bar stocked with beer, wine and spirits. Meals are served buffet style during cruises, with the chef and barman on attendance to deal with drinks orders and special requests.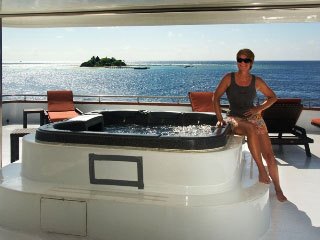 Pre-breakfast was at 6 am most days and included coffee/tea, biscuits, fruit, cereals with milk or soy milk, brown or white toast with jam/marmalade/chocolate spread/peanut butter.
After Dive 1, breakfast is served: cereals, omelets, toast/jam, a big fresh fruit spread, fruit juice, hot drinks, smoky beef 'bacon', chicken sausages, baked beans, oatmeal, rotis, salad, pancakes ... a large and entirely sufficient spread. The chef always created a new dish for each breakfast.
Lunch usually included 3 or 4 choices with inventive local-based salads, soups, and a selection of firey chilli sauces - fuseli pomodoro or pasta with Bolognaise sauce, grilled fish or beef, fried chicken, lentil curry & rice, tofu, beetroot or white radish curry, fruit salad. Food is a balanced mix of international and South Asian food and the selection of curried vegetable dishes was a firm favourite. The prominence of vegetable dishes and tofu on the menu means that vegetarians are easily catered for.
Dinner was similar but even larger than lunch. 2 free alcohol drinks per night are included in the cruise price, and the meal is rounded off with a dessert such as chocolate mousse, ice cream, sour cream fruit salad, pineapple fritters with custard or chocolate sauce. An Island BBQ is built in to the itinerary for one evening each trip.
Daily light snacks are served mid afternoon, e.g. tuna and coconut rotis, toasties. To reduce wastage, all guests are issued with a stylish plastic drinking bottle at the start of the cruise which they can keep as a memento from your vacation.
The Dhoni and Dive Process
The accompanying orderly dive boat is an impressive 18x5m in size and has plenty of space for 20 scuba divers. All diving is made from this boat and guests kit up and leave all their scuba gear on this boat for the duration of the tour. Being able to leave all your gear assembled with tanks filled in situ after each dive was positively observed by many guests. The boat holds all 3 compressors, 2 air and 1 nitrox.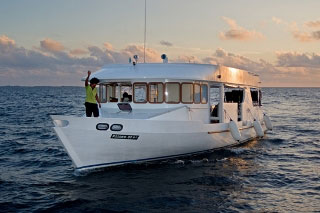 There are lots of rinse tanks assigned for specific purposes, wetsuit hang rails, and there is a bathroom and hot water shower on board. Emergency oxygen and first aid are stored on board. The Maldivian crew work efficiently and are obviously highly experienced.
Each diver is issued with a reef hook for the channel dives and SMBs for surfacing alone; I think this is a very thoughtful feature. The dive torches that are available for rent are strong and wrist mounted; I really appreciated the quality of these which is much better than on most other boats.
If I were to be critical, then the dhoni's platform could be improved by installing lights for night diving - both on the dive platform and under the hull. Also a hand rail down the centre of the boat would assist scuba divers waddle to the platform in their fins in choppy seas. I also noted an unpleasant odour at the rear of the boat at the beginning of the cruise. I'm not sure if it was fixed or if I just became accustomed to it.
Dive briefings were adequate to explain the critical matters such as currents and contingency planning. There are 3 professionally qualified Maldivian DM guides in the water on each trip.
The Cabins
I slept in one of the standard cabins on the lower deck, which I thought were large and perfectly adequate for such a vacation; many guests commented that the cabins were the best they had ever experienced. Each of these rooms has a double bed that can be used for couples, and a single bed (for occupancy by 2 non-intimates). The beds are firm and each has 2 pillows. All cabins have air-con units which you can set for your own comfort, and individual control TV and movie players. Each has a large bathroom with a built-in in glass shower cubicle, which is a welcome and quite unusual touch.
All guests are issued a face towel, bath towel and a diving towel. My only criticisms of my cabin are quite minor: I kept stubbing my toes on the needless wooden foot sill in the bathroom doorframe, and the small portholes don't afford much natural lighting. But then, one can upgrade to a better cabin ...
The Superior cabins on the main deck are large and are well lit with seaview windows. The Suites on the upper deck are very large with huge bathrooms that feature additional bathtubs.
In Summary
This was my second liveaboard diving trip to the Maldives. After my first visit, I vowed to be back some time as I enjoyed it so much; and I'd say that this time was even better. Some guests commented this was their best ever cruise - for boat features and cabin comfort, as well as for the quality of diving - and a quick survey showed the guest score for the trip was ~8 out of 10 overall for value for money.
Carpe Vita is a liveaboard for scuba divers - it does more dives per cruise than most boats in the Maldives and explores many of the regions in the country. With 3 standards of cabin, it is good value for money. It is a very spacious boat and a great option to explore the ever-widening range of exciting big marine life diving locations of the Maldives.
Written by Sheldon Hey, April 2013

---
CUSTOMER TESTIMONIALS OF DIVE THE WORLD
... The website is very easy. Pictures, information was very helpful and so my expectations were the same as the booking and experience. The booking and customer service made my experience very easy, even though my booking was very last minute (within 4 days of travel). My customer service assistant Pip was very helpful. ... -- Michael Galloway, Australia. [More customer reviews]