>
Dive Trip Reports
>
Koh Samui Daytrips
Trip Report: Daytrip Dives in Thailand
Diving in Koh Samui
I was sitting in our Dive The World centre in Phuket thinking to myself, "Oh it's August. What a shame to be sitting in the office when I could be enjoying the sunshine. I need a break".
My friend suggested Koh Samui over in the Gulf of Thailand which was in high season, meaning clear blue and calm seas and maybe a whale shark or two. Soon I was on my way and looking forward to doing some Samui diving daytrips when I got there.
I checked into my hotel in Chaweng and enjoyed an evening stroll along the beach before having an early night. I knew that my diving adventure would begin the next morning.
Pick up and the Dive Boat
At 07.15 I got picked up from my hotel and was taken to the dive centre of Coral Grand Divers, some 15 minutes minibus ride away. Our triple-engined speed boat was waiting for us on the private pier and as we boarded the boat master welcomed us all and gave us a quick safety briefing.
The boat was comfortable with a toilet, fresh water hose for rinsing after the dive, a well-organised equipment area and step ladder at the stern for egress. It is also a fast boat and gets you to the Gulf of Thailand dive sites in quick time. Even Koh Tao was only 1.5 hours away; it sometimes takes several long hours on other slower boats.
Every day the procedure was the same and it all worked well. The only difference each time was the sights and sounds of the underwater world, after we took our giant strides into the water.
Day 1: Diving in Koh Tao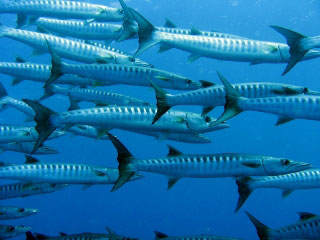 Hin Wong Pinnacle and Ao Luek were the 2 dive sites we visited on day 1, 2 of the dive sites on Koh Tao itself. Because of the fast speed of the boat we were there before some other boats from other nearby islands, so we didn't have to worry about the dive sites being overcrowded.
In perfect conditions and seconds before my stride off the stern of the boat, I looked down and could see the pinnacle of Hin Wong clearly below me in excellent visibility. Swarms of damselfish were everywhere as well as shrimpfish, white-eyed morays and some quite large groupers, plus schools of fusiliers.
Ao Luek featured schools of butterflyfish and even yellow-tailed barracuda which I was not expecting to see at Koh Tao. Both sites were good for an amateur photographer like myself and I took plenty of shots of colourful soft corals and Christmas tree worms.
Day 2: Chumporn Pinnacle and Green Rock
Again I was picked up at 07:15, this time in a very excited mood since I was visiting Chumphon Pinnacle, supposed to be one of the best places anywhere for spotting whale sharks. It was about 1 hour 45 mins away and again we arrived long before any other boats.
I enjoyed exploring the submerged pillar of rock and all the marine life around it including reef sharks, a huge grouper, carpets of anemones and a large school of batfish. Sadly no whale sharks this time. However I did hear stories from other divers about recent encounters which made me jealous. Green Rock, our second dive, was a lot of fun with its swim-throughs, overhangs, channels and other topographical features to play around. On both sites you might want to keep a look-out for nesting triggerfish, especially the yellow margin triggerfish, which can be a little aggressive.
Day 3: Sail Rock
The ride from Samui Island to Sail Rock was only around 45 min on our fast boat so that was very easy. My mind was on one creature today and shortly after entering the water I saw a large dark shape with other divers looking at it. I swam quickly and soon saw ... a big school of trevally. It was not a whale shark but still impressive since the school was enormous and I got dizzy being surrounded by so many flashes of silver!
Then I found the highlight of Sail Rock. It is the chimney which is a vertical swim through that starts around 18 metres and tops out at around 8 metres. It's a very cool place but you have to be a bit careful not to ascend too fast.
The 2nd dive delivered even more great sights: a big school of barracuda, a large grouper, hundreds of giant trevally and 2 moray eels together - one of them swimming out of the hole; maybe it was too small for 2 morays!
• Watch our Koh Samui diving video
The Food
Even though we were on a speed boat there was plenty of space for lunch and the food was delicious. It was mainly Thai food, not too spicy but very tasty, better than some restaurants!
Lunch was served between the dives. At Koh Tao we had lunch at Mango Bay, a very beautiful beach so you can dine in gorgeous surroundings. At Sail Rock you will have lunch after the second dive on the beach in Koh Pha Ngan. It is like a virgin beach with no buildings or resorts in the area, only the beach and coconut trees - perfect.
Where to Stay
I stayed at The Island Resort and Spa which is located in the Chaweng Beach area of Koh Samui. The hotel is directly on the beach and it's very easy to go out for night life. The great thing about this hotel is the unique bungalow in the middle of some big trees which you will find very peaceful. You'll hardly find anything like this in other places as most of the hotels around Chaweng are big buildings. So if you feel like going back to nature, this hotel is your choice. Visit hotelscombined.com for more Koh Samui accommodation choices

.
How to Get There and Away
I flew into Koh Samui from Phuket with Bangkok Airways. Samui Airport is a beautiful work of art and means you start enjoying yourself as soon as you step from the plane. I got a taxi to my hotel - nice and easy and the way out was similarly simple and hassle-free.
You can also fly direct from Bangkok to Samui, which is how most tourists arrive. You could also take the bus and boat, if you can handle the 10 to 12 hours journey!
Samui Suay
The diving was great since I was there at just the right time with good visibility and calm seas, making the boat rides very pleasant. The only thing missing from my trip was a whale shark but who cares? I saw lots of other stuff in and out of the water and had a great time.
The Coral Grand staff were great, especially Khun Kung, the manager, who organised all the Koh Samui dive daytrips and kept us informed about the entire schedule. The dive crew was friendly and fun to dive with and the boat crew - the captain and deck hand - were very good too.
Written by Noon Ruenthaiwan, July 2009


---
CUSTOMER TESTIMONIALS OF DIVE THE WORLD
... Dive the World is an amazing resource for diving. I wouldn't have been able to find our destination without their many pages of information. Also, their frequent and clear communication was absolutely essential and very much appreciated. ... -- Julia Waldsmith, USA. [More customer reviews]