>
Dive Destinations
>
Thailand
>
Koh Tao
Your Guide to Diving in Koh Tao
Thailand's Gulf Dive Sites
...Highlights: whale sharks, turtles, schooling fish/big pelagics...
...Koh Tao's diving environment: beginner divers, very popular...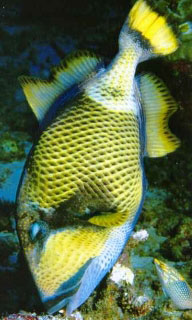 'Turtle Island' (as the name 'Koh Tao' means in English) has long been a magnet for backpackers and traveller types who want learn about scuba diving. The many shallow bays are used to certify more PADI student divers than anywhere else in the world outside of Australia.
The island is located to the north of Samui and Koh Phangan in the Gulf of Thailand. There are highly affordable day trips to the many easy dive sites dotted around Koh Tao's coastline.
There are also a couple of offshore pinnacles - Chumphon and South West Pinnacle - which offer more challenging dives and the opportunity to encounter bigger fish, as well as diving with whale sharks when in season. Chumphon Pinnacle in particular has gained a favourable reputation as being one of the best and most popular dive locations in the Gulf of Thailand.
In recent years the diving in Koh Tao has been enhanced by the deliberate sinking of 2 ships to form wreck dives for the visitors here. MY Trident was sunk in 2010 and lies at 36m to the south of Shark Island. It is suitable for advanced divers. HTMS Sattakut was sunk in 2011 in 30m near Hin Pee Wee off the east coast of Koh Tao. It is a bigger ship and suitable for intermediate divers. Both wrecks have already become crowded with crustaceans and fish that use the recesses of the vessels as a safe refuge from predators.
Dive Site Descriptions
Ao Leuk
This shallow bay's easy, relaxing diving is strongly recommend for beginners or for scuba divers that haven't got wet for a while. The Thai name means 'Deep Bay' which is something of a misnomer since it is one of the shallowest of Koh Tao's dive sites, with its sandy bottom allowing a maximum depth of only 12-14 metres. There are a surprising amount of reef fish for such a location, such as butterflyfish and angelfish, schools of juvenile yellowtail barracuda and turtles.
Chumphon Pinnacle
This is Koh Tao's best and most famous diving spot and it should definitely be part of your east coast Thailand diving itinerary. It's a granite pinnacle to the north west of the island and which starts 12 metres under the surface and goes down to a maximum depth of 35 metres. There is one main pinnacle which is surrounded by a dozen or so smaller rocks in the deeper areas.
Show more
The base of the main rock is completely covered in anemones which gently sway back and forth in the current. They are full of anemonefish of several varieties including the western clownfish, or 'Nemo's. This is a good site to see big fish including grouper, batfish, yellowtail barracuda and many others.

Huge schools of jacks can make it difficult to even see the pinnacle as they rush around divers. Whale sharks are a common visitor here, the best time being from February to April, and even whales have been spotted. Leopard sharks are often seen resting on the sandy bottom at the reef edge. Other species here include lionfish, fusiliers, rabbitfish and schooling bannerfish.

The depth and currents mean that this is not a site for complete beginners. It's a good idea to have some deep scuba diving training before you visit Koh Tao; at the least you should be PADI Advanced Open Water certified.
Hin Wong Pinnacle
This is certainly a unique dive at Koh Tao Island. The large granite pinnacle is at the northern end of Hin Wong Bay. The north side is beautiful with purple soft corals and many different kinds of sea fans, whip corals and black corals. Blue and black damsels swarm around you as if in greeting as you enter the water. Down on the bottom you might see small groups of shrimpfish driftby.
As you spiral up the rocks to the shallower section you'll find groves of Christmas tree worms embedded in the hard coral reef. There are white-eyed moray eels hiding in the crannies and some big groupers here too. Look up and you might see schools of fusiliers or turtles swimming past.
Koh Nang Yuan
The small islet of Nang Yuan is connected to Koh Tao by a thin strip of white sand and is surrounded by several charming dive sites. It's an area for relaxed and easy scuba diving and is also a very popular place for snorkelling as there are plenty of reef fish.
Show more
Green Rock is a big boulder formation located on the north west of Nang Yuan Island. The site starts at about 1 metre below the surface and goes down to a depth of 30 metres. Green Rock has an impressive number of swim-throughs and overhangs which are the highlight of the site where you can expect to see moray eels, blue-ring angelfish, blue damselfish, groupers, batfish and sea snakes. It is also infamous for rather aggressive yellowmargin triggerfish and titan triggerfish.

Located between Nang Yuan and Koh Tao, Nang Yuan Pinnacle is like a miniature version of Sail Rock. It is only a few fin kicks away from the eastern coastline of Koh Tao and starts at just 2 metres below the surface. There are many interesting boulders with nooks and crannies for divers to explore here, and several swim-throughs. Moorish Idols, angelfish and oriental sweetlips are some of the common inhabitants. Also keep an eye out for octopus hiding in the rocks and cuttlefish.

Twins is just south of Koh Nang Yuan. It is a similar dive to White Rock on Koh Tao and is actually 2 rock reef patches starting at 6 metres and going down to 18 metres. There are lots of anemones here with their resident families of clownfish.
Shark Island
This is a small rocky islet off the southeast coast of Koh Tao. It gets its name from its fin-like shape above the waterline. The eastern side is the more interesting with its boulder formations. Many types of tropical fish are found around here, and its one of the few places at Koh Tao where divers can see orangespined unicornfish. On the south side at 14 metres is a soft coral garden on a rocky bed. Sometimes you'll find leopard sharks and turtles here. On the east side there is a shallow area full of hard corals surrounded by boulders, which makes a perfect place to end your dive. Here you will be surrounded by hundreds of small and juvenile fish. Crocodile long-toms tend to roam the area in such of tasty snacks. Occasionally there can be strong currents at Shark Island from either the southeast or northwest.
Southwest Pinnacle
This site is approximately 13 km south west from Koh Tao and in many ways it is like a shallower version of Chumphon Pinnacle. It's best to dive here when the Gulf sea is calm as Southwest Pinnacle is out in the open and has no protection from waves, but it is well worth the effort as it is one of the best dive sites here.
Show more
The site consists of a limestone rock and boulder mount that's completely submerged and carpeted with pink and gold anemones and their host spinecheek anemonefish. Surrounding the rock formation are black corals and sea fans. Leopard sharks, blue-spotted sting rays and marble groupers are often spotted by divers here on the sand substrate bottom.

Whale sharks can sometimes be encountered here and it is also popular with juvenile pelagic fish such as yellowtail barracuda, schools of reef fish such as yellow snappers and rabbitfish, and bigreef squid.
White Rock
The site is located mid distance between Koh Tao's Mae Haad Pier and Koh Nang Yuan. The site consists of 2 large boulders which are only a few metres apart. These big stones are surrounded by smaller boulders and patches of coral. The site is a relatively easy one with the maximum depth around 20 metres. Trevor the Triggerfish is the star of the show at this dive site as he is the most aggressive triggerfish at Koh Tao.
How to Dive Koh Tao Island
All the famous dive sites of Koh Tao and the more distant Sail Rock can be visited on day trips from Koh Samui Island, and of course from Koh Tao itself, so you can combine your dive package with a stay on either of these islands.
However, if you plan on doing more than a few days of scuba diving here then we recommend you stay on Koh Tao as it will be more convenient and the boat journey times to the sites is much less. You can either book your own accommodation or we can arrange specially discounted diver accommodation rates for you.
For more information on these options, and all the other travel information you might need to visit Koa Tao and the Gulf of Thailand, read our Koh Tao day trips section.
The Koh Tao Diving Season
The dive sites around Koh Tao can be visited throughout the year. The water is an average temperature of 28-29°C. However, the best season for optimum conditions is from March to September, with the busiest months being July and August. The weather during this period is warm and usually sunny, offering the best conditions for diving, especially in terms of underwater visibility.
Monsoon winds reduce visibility from October to November, and sea swells can be present. However, these are rarely bad enough to interfere with the running of diving trips. November to February brings rain and winds to Koh Tao so it is not be the best place to dive at this time of year. For more information on the climate of Koh Tao, visit the Weather and Climate

website.
There is a chance to see big pelagics such as whale sharks, most often in September, but the possibility remains all year around. Titan triggerfish might become aggressive during their breeding season which usually runs from March to April, as they are extremely territorial. The male usually guards the nest against intruders, including scuba divers. They are only following their instincts and divers should avoid getting inside their 'protection zone' (above the nest, as the titans can see upwards).
A positive aspect of Koh Tao is that, being a small island, it is possible to travel around it by boat in less than an hour, visiting the best dive sites that each day has to offer, in terms of conditions and marine sightings. Additionally, Koh Tao's small landmass means that growing rain clouds most often unleash their rains over the larger neighboring islands of Samui, Phangan or the Thai mainland.

Where is Koh Tao and How Do I Get There?
Review our map below of Thailand, showing the location of Koh Tao. And here you will find information on how to get to Koh Samui, from where you could choose to dive at Koh Tao.
Reef Summary
Depth: 5 - 35m
Visibility: 5 - 20m
Currents: Usually gentle but can be strong at some sites
Surface conditions: Normally calm, but can be choppy offshore
Water temperature: 27 - 30°C
Experience level: Beginner - intermediate
Number of dive sites: ~15
Recommended length of stay: 5 days
Useful References


---
CUSTOMER TESTIMONIALS OF DIVE THE WORLD
... Fast turnaround on all my questions and concerns. Combined all my charges - equipment, dive trip, advanced class - into one Paypal bill with no service charge. That was a big plus ... -- Drew Reese, USA. [More customer reviews]