>
Dive Trip Reports
>
Dreams
Liveaboard Diving Safari in the Red Sea
The North & Wrecks Tour with MY Dreams
Click on an image to enlarge

The Red Sea is the most popular overseas destination for scuba divers from Europe and everyone has their personal favourites. Experienced divers tend to join liveaboard safaris to experience the better dive sites further offshore. There are lots of choices in itinerary, but the most popular routes are the 'Wrecks and Reefs' of the northern Red Sea.
This is because of the variety that these sites typically offer. Some world class wreck dives, at depths to suit all tastes, affording glimpses into the history of trade routes and recent wars, healthy coral gardens and plateaus, colourful pinnacles, steep current-swept drop offs, warm waters and generally excellent visibility.
I was to share in this experience on board the MY Dreams Red Sea liveaboard. Here is the story of my dive safari ...
North Red Sea Diving: The Wrecks & Reefs
The SS Thistlegorm was one of the wrecks included in my 7 night liveaboard trip. Many words have been written about this wreck and the ship deserves all the praise that it receives for it is truly a wonderful dive site. This famous warship was a victim of a German air raid during World War II and its famous cargo of BSA motorbikes, Bedford trucks, armoured vehicles and munitions boxes are a huge drawcard for all divers visiting the northern Red Sea. We dived this site 3 times and it is certainly worth it. However, the site pays a price for its own popularity as it is nearly always crowded with divers.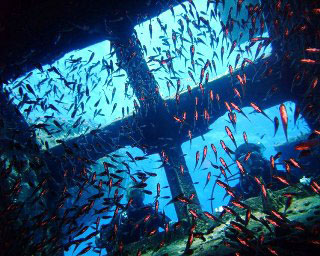 A less well known fact of the air raid that sank the Thistlegorm is that the explosions that light up the sky allowed the Germans to locate a second British ship nearby, the Rosalie Moller. This ship was bombed the next morning and sank in deeper water (lies in 50m with its main deck at 32m). Now this wreck is one of the main attractions for experienced divers since it is far less crowded and is a more demanding dive than the Thistlegorm. We made 2 dives at the Rosalie too and due to the short bottom time, one always exits the water wanting more.
Another of the Red Sea wreck diving highlights are the 4 famous wrecks of Abu Nuhas at Shadwan Island. Each of these wrecks is worthy of a dive or two, but we had an especially good time at the Giannis D. This was a cargo ship that sank in 24m of water in 1983. We spent a whole dive here exploring the many passageways, rooms, cabins, holds and engine room of the stern and bow. There are plenty of doorways and easy and intermediate penetration opportunities but looks can be a little deceiving since the whole ship is tilted at 45° in the water. I felt like some kind of mad mechanic from a children's cartoon.
• Watch our Red Sea wrecks diving video

The reefs included a visit to Ras Mohammed and to Carless Reef. The latter is a spectacular current swept plateau rising from the depths of the Red Sea. There are 2 large pinnacles covered in hard coral formations and the surrounding sloping gardens and drop-offs provide plenty of variety and opportunity for exploration. The pinnacles are clouded with swarms of orange anthias, and turtles are ever-present, but the real attraction here is the big fish action when the current picks up.
The favourite night dive of the trip occurred at Small Giftun Island. Here we spent the whole dive moving from one marine sighting to the next, as divers never stopped spotting things on the lively sea bed. Spanish Dancers, cuttlefish, squid, lobster, sole and shrimps were all found on this popular site.
Almost everyone likes to watch dolphins and our snorkelling encounters on 2 consecutive days at Shadwan Island proved to be a highlight for most guests. These bottlenose dolphins have made their home in the lagoon here so they are frequently seen and are ever curious of snorkellers. They will swim up very close to snorkelling groups, circling slowly before diving down to the sea bed and ascending again to repeat the process.
Other marine life encounters worth mentioning on this trip were the numerous Napoleon wrasse, schools of snappers, trevallies, tuna, turtles, blue-spotted sting rays, crocodilefish, scorpionfish and lionfish.
• Watch our diving in the Red Sea video

The MY Dreams
This Red Sea liveaboard is owned by Sea Serpent, one of the best known and most popular dive operators in the Red Sea. The Dreams is their smallest, accommodating just 16 divers.
Sea Serpent offer a range of boats, running trips throughout the year to many Red Sea dive locations each week. Prices vary depending on the boat class and itinerary, with MY Dreams being their most affordable boat option.
Sea Serpent are popular throughout continental Europe and the UK, meaning that guests onboard each trip are usually a mixture of nationalities, but predominantly European. Our trip had guests from the Netherlands, France, Switzerland, Germany and the UK and South Africa.
The liveaboard fleet has vast experience of running dive safaris in the Red Sea and they know how to deliver a good trip. Dreams runs with 10 boat crew and a tour leader so there is plenty of customer service on board. The boat is not new but is in good condition and offers great value-for-money.
Dive Facilities
The trip features 4 dives per day on each full day, including 1 night dive per day. Torches must be rented and are a paid extra on board. Anyway, having a torch for the many wreck penetrations is very useful, regardless of night diving. Briefings are very thorough with our Divemaster/Tour Leader Sayid giving TV presentations of each site including wreck history, maps, photos and what you can see underwater; I was quite impressed.
The boat has a membrane enriched air system for nitrox-certified divers, and EANx courses are encouraged and popular on board. Nitrox comes in very handy on this route since a lot of the dives are quite deep.
All guests kit up together on the dive deck, which is just large enough for the maximum quota of 16 divers. There are plenty of hangers for wetsuits and every guest is allocated a crate and space to store his/her gear. Once you've been allocated a space, you don't need to disassemble your equipment until the end of the trip. There is also a guest lavatory on the deck.
Dives on MY Dreams are usually done from the 2 motorised dinghies, though occasionally giant stride entries are done straight from the back of the liveaboard boat. The dive platform is a good size and has 1 ladder for exit from the water. The dive helper staff, from deck hands to dinghy drivers, are all very eager to assist. There is only 1 Divemaster for the whole boat which is standard protocol for dive boats in the Red Sea that carry less than 20 guests.
A note of caution: the boat does not carry spares on board so make sure to have your scuba equipment serviced before your trip. Also note that gloves are not permitted except when diving the wreck sites.
Water temperature during my safari in September was 27-28°C. I managed with a 3mm long wetsuit, hood and booties. Some other guests just wore 3 mm shorties whilst other wore 5 mm full length wetsuits; individual needs for thermal protection varies so you'll just need to find what best suits you. Also check our detailed Red Sea dive site descriptions carefully as temperatures vary through the year. Visibility reached 25m at the clearer sites but was as low as 10m on the murkier ones.
Daytime temperatures ranged from 27°C early morning to 33°C mid afternoon. On a couple of days, a stiff sea breeze blew, causing sea swells. The Red Sea can be plagued by strong winds at any time of year. This can cause itineraries to be changed at short notice, and occasionally even cancelled.
The Red Sea North & Wrecks liveaboard safari route is not an itinerary for beginners since there are many deep dives and lots of wreck penetration. Divers should have a minimum of 50 dives and/or advanced certification. I really enjoyed the itinerary and recommend it for any experienced diver that enjoys wrecks. My only suggestion to improve the itinerary would be to offer some sunset dives as an option for those that do not like night dives.
Dining Onboard
All meals on MY Dreams are served buffet style with waiter assistance in the saloon. There is breakfast, lunch, dinner and afternoon snacks. There is always quite a lot of choice at each sitting. Tea, coffee, soft drinks and drinking water are all included in the cost of the safari. Soda water, beer (€2) and Egyptian wine (€10) are available for purchase.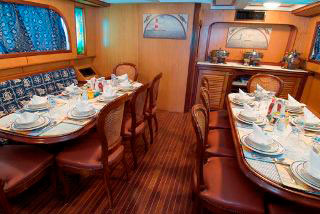 Dinners are usually an entrée, a soup, salads and dessert. Lunch is similar though lighter. Entrees included Spaghetti Bolognaise, Roast Chicken, Fried Calamari, Chicken Schnitzel, Grilled Fish, Kebab Hala. Salads are accompanied by tahina, baba ghannoush or hummus and include lentils, mixed pepper, olive, mixed, pasta, and red bean. Desserts include Cream Caramel, Pancakes, Sugar Jelly and Egyptian Pudding.
Breakfast is cooked "a la Halal" - i.e. omelette, processed chicken slices, beef sausage, camel ham, beef salami, sliced cheese, scrambled egg, toast, crepes, coffee/tea, fruit juice. Cornflakes and ful medames (fava beans) are also available for vegetarians.
Afternoon snacks included almond and raisin phyllo pastry, fried coconut, fresh fruit such as mango, water melon and guava, pizza, bread sticks, chocolate biscuits/'twinkies'.
I'm sure vegetarians would get along just fine with what the liveaboard serves. Being a vegan, my diet was a little more challenging for them but I am pleased to say that the cook tried hard and made a few dairy and egg-free snacks and desserts for me, which were gratefully consumed!
Guest Accommodation
The boat has 8 cabins in total, each with their own private bathroom. There are 2 smaller twin-bunk cabins on the upper deck which have more fresh air and windows for more natural lighting. Then there are 6 cabins on the lower deck with portholes; 4 of these have twin beds and 2 have bunk beds. The bunk bed cabins have a larger lower bunk bed for when couples wish to make use of them. All lower deck cabin beds are 2m long. There is very little noise in the cabins from the engine room.
Everyone was satisfied with the accommodation; the rooms being big enough with plenty of hot water. A couple of guests mentioned that their air-conditioning didn't work at the start of the trip but this was quickly fixed up. One feature missing from the cabins are reading lights, but the cabins have plenty of ceiling lights.
Common Areas
The main deck saloon is a good size and air-conditioned. It is divided equally into a social area with comfy seating and a bar, and a dining area with a serving hatch and counter. There is a wide screen TV and DVD player, though guests need to bring their own movies. A few fish/reef/dive books and perhaps some games would be welcome additions.
The upper deck has a large open-air area with a bar and a handy juice and water dispenser. There is a small sundeck at the bow with padded mattresses for sunbathing.
Hurghada: How Get There
The MY Dreams departs from the main harbour in Hurghada. The first and final night of the safari are spent on board the liveaboard boat at the harbour in Hurghada. This is standard procedure in the Red Sea as it allows for passengers to arrive from all parts of Europe and for the paperwork to be completed. It also allows for the necessary 18 hours "no diving before flying".
Most visitors to Egypt come from Europe and there are often direct flights into Hurghada daily which take 4-5 hours and are very affordably priced. This makes travel very simple for scuba divers based in Europe. If no direct flights are available then the usual alternative is to connect in Cairo.
I arrived from Durban in South Africa. My best choices were to either go via Johannesburg (Egypt Air or South African Airways) or Dubai (with Air Emirates) to Cairo, and then onto Hurghada. Both routes fly overnight and take the best part of a day.
A Hidden Wonder?
Feedback from the guests indicated a healthy level of satisfaction with the MY Dreams liveaboard safari. The trip scored over 7.5 out of 10 on average for value for money. For those divers keen to explore the Red Sea further offshore than the usual dive resort destinations of Sharm El Sheikh and Hurghada at a more affordable price and in smaller groups, the North and Wrecks tour with Sea Serpent's Dreams is a worthy option.
Written by Sheldon Hey, September 2012


---
CUSTOMER TESTIMONIALS OF DIVE THE WORLD
... Greeting! Thanks for this very Nice Trip! Good service was IMPRESSIVE and well DONE!! NICE! THANKS! :It was a AWESOME week with a very awesome people on board. The amazing Staff did great work. ... -- Christian Schertler, Germany. [More customer reviews]