>
Dive Trip Reports
>
Scuba Adventure
Similan Liveaboard Diving Trip
Scuba Adventure Report in Thailand
Click on an image to enlarge

"This is work" they told me "not a holiday!", but as I waited for the MV Scuba Adventure bus to arrive, I felt as excited about my 4-night/5-day liveaboard trip to the Similan Islands as I had been on my first visit there 18 months ago. It was November and the start of Thailand's diving high season and the opening weeks for the Similan Islands National Park. I was not to be disappointed.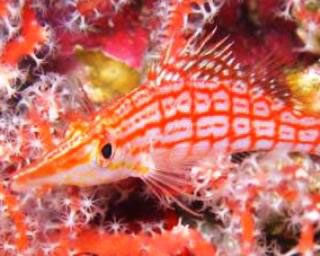 Richelieu Rock, Koh Tachai and Shark Fin Reef, were the highlight dive sites of this tour for me, offering stunning and varied topography, sometimes challenging currents and the opportunity to see exceptional marine life close up in its natural environment.
The largest fish I came face to face with was a leopard shark, happily snoozing on the sands on the South Reef of Koh Tachai. We were lucky enough to see leopard sharks on a number of occasions during this trip. The beautiful soft corals in purples, blues, greens and browns engulfed a lot of the huge rock formations, providing the ideal environment for the endless stream of anemones and clownfish, lion fish, angel fish, puffer fish, bat fish, clown triggerfish and nudibranchs to name but a few.
• Watch our Similan Islands diving video

The sea fan at the base of Richelieu Rock was home to an ornate ghost pipefish and long nosed hawkfish. I saw at least 3 octopus at separate dive sites. Moray eels were in abundance, sometimes with cleaner shrimps and if lucky, as we were at Koh Tachai, banded boxer shrimps.
But the ultimate dive of the trip was at Shark Fin Reef offering dramatic topography, presenting massive granite rock formations not unlike the Grand Canyon underwater. Such a contrast to any of our previous dives, it stood out as one of my favourites.
The Scuba Adventure Boat
The covered top deck of the liveaboard accommodates large, comfortable sofa-like benches on 3 sides of the boat with a table in the middle. This is where people hang out. There is a small uncovered area to the front of the boat, ideal for sunbathing; and to the rear of the top deck is a boat storage area and compressor.
The middle deck of the boat, has a small dive deck, with space for 14 tanks and equipment, plus hanging space for wets suits. Whilst this area is not so large, the Tour Leader works well within the space available and dive groups kit-up separately to allow maximum space for every guest. Kitting-up of the groups is done in rotation so you always get the chance to be the first or last diver into the water, whatever your preference.
The dive deck leads into a saloon, which is bordered by a u-shaped sofa-bench, and offers TV and DVD. This is also where the majority of power supplies can be found and where most people charged their cameras and batteries. Here is also the first twin cabin and 3 bathrooms (toilet and shower) which are clean, fresh and more spacious than many bathrooms I have encountered on other liveaboard boats. To the end of the middle deck are the 2 double cabins. And descending to the lower deck, there are 4 twin cabins and 1 smaller shower room.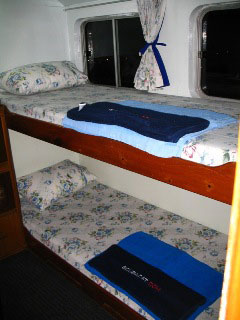 All the cabins offer sizeable beds (6 ft long) even though the space they are in is limited. The rooms are basic but functional. There is no cupboard space available in the rooms but the shelving accommodates most of your luggage. All rooms have air-conditioning, for which you have a remote control, and a fan. Each cabin has a porthole, or window if you are on the middle deck. There is 1 electricity socket in each room, which is used for the fan, although it can be unplugged should you need it. 2 towels are provided to every guest, the smaller being your dive towel and the larger being your bed sheet. I found this rather strange to begin with but the towels are very large and work well as a cover at night. I would however suggest you bring a separate towel for washing and showering.
The boat is suitable for some people with a disability, but special requirements should be discussed with your agent before booking. Overall it is a compact and experienced boat, and offers all the basic facilities that any diver requires for an enjoyable and successful liveaboard trip.
The Food
Our Tour Leader told us that we would "eat, dive, eat, relax/sleep, dive and eat again on this trip" and there was certainly a plentiful supply of good food over the course of the trip, miraculously coming from a small galley. There was an unlimited supply of drinking water, tea, coffee and toast at all times, to which you could help yourself.
Examples of food include a full breakfast offering eggs, crispy bacon, sausages, hash browns, tomatoes and toast, with tea and coffee. For those on a more sensible diet, or perhaps in addition to the cholesterol, there were pancakes and fresh fruit. Lunch offered a variety of meals including Thai curry (but not too spicy) and rice, Chinese-style dishes, meat with basil and chili, vegetables, Italian pasta with sauce, chicken and chips and salad, with fruit as dessert. A light snack after dive 3 was followed by dinner, comprising fish and meat in a variety of Thai, Chinese and Western dishes. All the food served was tasty, fresh and enjoyable, with just a hint of spice for those that wish to try some Thai cuisine.
The Diving
At 7 am, a rather civilised time, the knock at the door came to wake us up on the first morning. The sun was shining and the clear blue skies reflected perfectly on the Similan waters - we had arrived! It was a relaxed start to the day, with a light breakfast and tea/coffee, before we had the 8 am dive briefing for the first of our 14 dives.
The day's diving plan for the first 3 days was a pre-breakfast dive, a mid-morning, a mid-afternoon and a sunset/night dive. Our final day on the boat had only the first 2 dives, before the boat headed back to dock and end the tour in Patong.
For those who already have the Enriched Air Diver qualification or perhaps wish to complete the course whilst on the boat, 2 out of every 4 dives a day can be on nitrox, available free of charge and could be purchased should you wish to have it for any more.
The Crew
In my opinion, all of the staff on the boat were friendly and approachable and went out of their way to make their guests' trip, as enjoyable, relaxed and memorable as they could.
The Tour Leader and Dive Guide were both professional and informative and made it their mission to ensure everyone was always happy, relaxed and enjoying their vacation. They followed PADI safety standards whilst in the water and had a good knowledge of where to find specific marine life at each dive site. They met my specific requests with enthusiasm and professionalism, dealing with any issue promptly.
The Thai Captain of the boat was very safe and had perfect skills in manoeuvring the boat to just the right drop off or pick up point, saving you from having to swim any distance from/to the liveaboard. The 2 boat boys were very attentive to all your needs on the diving deck and ensuring you got back on the boat safely. They also had perfect throwing skills when sending out the line at the end of a dive, to assist you in getting back to the boat. And finally the Cook, who from a small galley, produced delicious food on a daily basis.
Pre-departure Meal
The bus arrived to pick me up at the agreed time of 5 pm and I was greeted by some of my fellow divers and one of the boat crew. After stopping to pick up a few more guests, we were initially taken to a restaurant in Patong. Here we dined on a pre-set Thai meal (special food requirements can be catered for but they appreciate forward notice). Drinking water was free but for other drinks there was a charge. Once we had eaten, we remained at the restaurant chatting with our fellow guests.
Our Tour Leader and Dive Guide briefly introduced themselves and completed some last minute paperwork with us, then we left the restaurant at about 7 pm. With the bright lights of Patong behind us, the bus drove us the 10 min journey to the pier, where our Similan liveaboard diving trip was truly about to start. From the pier, we took a short longtail boat ride out to where the Scuba Adventure was anchored, and we embarked the boat.
Summary
The Scuba Adventure is a definite choice for anyone on a lower budget, wishing to get as much out of their diving, as someone on one of the more lavish liveaboard boats. It offers the exceptional diving sites in the Similan Islands with knowledgeable guides. And with the smaller guest capacity on this boat, it means you get a more personalised trip experience with your fellow guests.
Written by Victoria Rolinson, November 2008


---
CUSTOMER TESTIMONIALS OF DIVE THE WORLD
... The first class service started from the moment I started communicating with you. Your strength seems to be in hiring all the right people. The organization to make it all fall into place seemed effortless because it went so smoothly every step of the way ... -- Ronda Coryell, USA. [More customer reviews]