>
Dive Trip Reports
>
Felicia
Indonesia Liveaboard Dive Trip Report
Dive Komodo and Rinca Onboard the Felicia
Click on an image to enlarge

Many myths surround the islands and waters of Komodo and Rinca in Indonesia. Komodo dragons are real and live on those 2 islands of the archipelago to be observed by the traveler in their natural habitat. I was among those that wanted to see them and what the underwater world of this region had to offer. So I packed my bags and went there on a liveaboard trip with the liveaboard Felicia to see it all for myself.
A week later and I was heading home reflecting on the sights and experiences of the last few days. Not only had I seen the legendary dragons up close but also thousands of flying foxes, wild turkeys, monkeys and dolphins. Under the waves I had encounters with turtles, sharks, manta rays, eagle rays and, one of my favourites, cuttlefish. What a wildlife destination!
Scuba Diving Highlights
As anyone who has dived Komodo will know it is a special destination. The overwhelming memory for me is the extremely colourful underwater scenes of vibrant reefs teeming with fish. Some sites we dived had the kind of current that makes Komodo a destination in which to dive sensibly and within your limits. However, we were briefed and led well and no-one encountered any problems at all. In fact the currents bring the soft corals to full bloom and encourage the fish out in big numbers, so it was ideal.
All the dives took place within the Komodo National Park so the action started with the first dive and ended with the last. Highlights included:
Aquarium: We dived this site twice. Once in good strong current where we drifted along at an impressive speed and through a valley which allowed me to indulge all my childhood Superman fantasies. The second time we encountered 3 eagle rays, a white tip reef shark, a very curious octopus and an incredible array of tropical reef fish.
Cannibal Rock: This was an incredibly colourful scene and as healthy a reef as I have ever witnessed. Peach-coloured anemones and purple gorgonians fans sit side by side with spiral corals and sea apples which are one of the signature sights of Komodo. There were more critters on this pinnacle than I could possibly list.
Special mention must also go to our manta encounters at Manta Alley and to all the fabulous creatures we saw on the island of Rinca.
• Watch our Komodo diving video

What Makes Komodo Special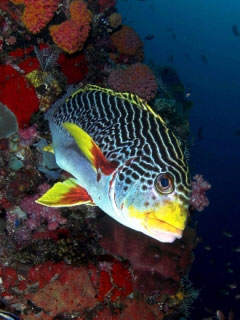 The diving is not the only thing that the Komodo National Park is famous for and we had a chance to see the Komodo dragons in their natural habitat when we went for a 2 hour land excursion on Rinca Island on the 3rd day of the cruise, including a 1 hour trail through the forest where I actually saw a lot more than just a dragon dig a nest. We also encountered wild turkey, water buffalo and monkeys. All counted, they say that there are about 1,100 - 1,200 dragons remaining on either of the 2 big islands - Komodo and Rinca - and they are not being fed anymore like in years before, but they sustain themselves on the wildlife the environment has to offer.
The same day we had a pod of dolphins play around the boat on our way to Kalong Island (Flying Fox Island) where at sunset there is the most amazing display taking place. Tens of thousands of flying foxes take off from the mangrove forest on the island and fly in a giant stream of bats towards Rinca Island. It seems the string never ends, so many are they.
After that we went to the beach where the crew of Felicia had prepared a delicious BBQ and this most amazing day ended with the moon almost full high in the sky over Rinca and my head full of memories of a truly unforgettable day.
Felicia First Impressions
We were welcomed onboard the liveaboard with a nice cool fruit juice before Jupp, the cruise director, showed us around the vessel and into our cabins. I was in a cabin with air conditioning, a double plus single bed combination, below decks. My cabin was not huge but sufficiently spaced with plenty of storage space in closets inside the cabin. Each cabin has en-suite facilities with western toilet, shower and even a mirrored closet above the hand basin.
Felicia runs 6 night diving trips to the northern and southern parts of Komodo and Rinca islands and everything in between. It is also possible to come on the boat for either a 3 night northern or 3 night southern cruise. It is only a 1½ hour ride on their speedboat MV Feli from Labuan Bajo (in Flores) to the boat. So it is a great option for those on a budget or a restricted timeframe.
Felicia carries a maximum of 12 guests. On this particular tour the boat was not full, but it is difficult to imagine that it would ever be a tight squeeze anywhere in the boat even when it is full. There was plenty of room for us on what was surely one of the best diving cruises I have ever been on, and I really look forward to going back. Felicia is a low budget option and as such I have to say think it is great value for money. Komodo National Park is a huge area with so much to offer you could probably do a different itinerary every year and still be enthralled.
The Dining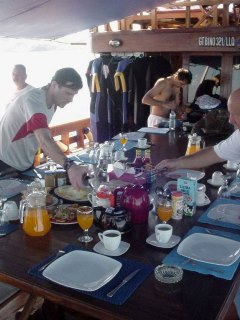 On to the food: Breakfast is muesli, fruit, cheese and bacon, with coffee or tea aplenty throughout the day. You can also order fried or scrambled eggs. Lunch is Indonesian style curries and noodles or rice dishes mixed with western dishes such as goulash.
Dinner is 2 Indonesian dishes with rice or noodles. Some examples are chicken satay, barbequed grouper or mackerel, chicken nuggets, seafood tempura, bean sprouts, always with lots of side chilli. The food onboard Felicia is outstanding for a boat in its price range and always well presented.
Soft drinks and juices are not included in the price, but are marked on an honesty list and paid for at the end of the trip. Beer is Euro 2 for a large bottle and soft drinks and juices are Euro 0.5 a pack. There are also energy drinks available. The dining can of course cater to the needs of vegetarians as well.
Dive Planning
Being a traditional sailing boat, the dive operation requires a little thought and careful planning. All the dives are made from the 2 motorised dinghies. The kitting up area is at the bow of the main deck of the liveaboard. You'll have to put your gear on and walk to the staircase that leads down to the dinghies.
There are also 2 rinse tanks on board for your salt-sensitive gear, but they are not very big so you need to time your rinsing with the refilling of the tank with fresh water, or just wait a little moment. Nitrox is not included but available at Euro 3 per tank, paid on the boat if wanted, and this is a great perk in Komodo, where most scuba divers will want to maximize their bottom time.
The dive staff attitude was relaxed and easy-going but always having regard to the safety of guests. The dive briefings are descriptive and complemented with hand-drawn maps.
Getting to Komodo and onto the Felicia
I flew into Labuan Bajo on Flores from Denpasar in Bali. There is a 10:00 a.m. flight most days of the week which will get you into Labuan Bajo around 11:25 a.m. At the airport we were met by the Indonesian divemaster Mali who took us and our luggage into an air conditioned minibus and brought us to the Komodo National Park Office, 10 minutes away. Here we had to pay our park fees (the fees vary depending on the length of your stay between US$ 25-45).
At the pier in Labuan Bajo we met Jupp, the 71 year old German owner and cruise director of Felicia. He used to be the boatswain on the finest German school ship, Gorch Fock, which explains his drive for perfection. This drive sometimes clashes with the relaxed Indonesian ways of life and the results can be hilarious. All onto the tenders of the boat, and off we went for the short ride out to Felicia which was on mooring in the harbour waiting for us.
On departure, I was transferred back to Labuan Bajo airport for my flight out, with a head full of great memories both underwater and on deck, where the crew of the Felicia had ensured a great time was had by all. I cannot wait to get another chance to dive again in the Komodo National Park.
Article written by Detlef Sarrazin, April 2009

---
CUSTOMER TESTIMONIALS OF DIVE THE WORLD
... Dive The World was very helpful in finding a live-aboard to book for our travel time line and setting up with transfers after the live-aboard. The website was great. It was easy to find all the necessary informations. Thr booking is easy and simple the way it is. Great service with quick replies to all my inquiries. ... -- Timothy Chase, USA. [More customer reviews]