>
Dive Destinations
>
Maldives
>
Ari Atoll
>
Rasdhoo
Your Guide to Diving at Rasdhoo Atoll
Hammerheads and Other Pelagics
...Highlights: hammerhead sharks, shark action, manta rays, turtles, schooling fish & big pelagics, great macro life/ marine diversity...
...Rasdhoo's diving environment: wreck dives, drift diving, walls, caverns, advanced divers...
Rasdhoo, short for Rasdhukuramathi, is a tiny inhabited island just off the north east coast of Ari Atoll and 60 km west of Male City. The outer wall lies in deep water and attracts pelagic such as trevallies, tuna and barracuda. The channels offer challenging drift dives where you can see reef sharks, surgeonfish, Napoleon wrasse and eagle rays. Elsewhere there are coral reefs that are home to abundant fish life, sting rays and turtles, pinnacles, a shallow water manta cleaning station (best time is November to April), and even a couple of wrecks where you can spot groupers, moray and ribbon eels, and macro life such as ghost pipefish, frogfish and leaffish.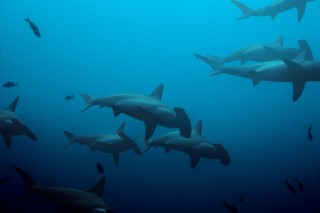 There are quite a few dive sites at Rasdhoo, but the main attraction for passing liveaboards is the opportunity to see hammerhead sharks. There is no real "season" to see hammerheads at Madivaru Corner/Hammerhead Point as they are resident here all year round. It is an early morning blue water dive off the outer wall of the atoll. Jumping into the clear inky blue water in the soft light of dawn and descending over 30 metres to hang and wait in the blue can be a special yet eerie sensation. If your luck is in, you can see schools of hammerheads, most active at this time, weaving their way through the ocean depths below. Once your bottom time is up, it's time to make your way back on to the reef, which is usually alive with large predator action.
The hammerheads of Rasdhoo Atoll are scalloped hammerhead sharks so typically they grow to 3 metres and travel in schools - sometimes small groups, other times immense groups. These iconic sharks are one of the top bucket-list sightings for scuba divers worldwide since they are rarely seen in most places yet are unmistakable when sighted. They are usually quite wary of divers so often they glide seemingly effortlessly below, but on other occasions they will cruise up to get a better look at the lucky divers hovering in the blue. Mostly they pose no threat to divers and feed in deeper water at night.
The horseshoe-shaped reef of Madivaru is another firm favourite of experienced scuba divers. It features a healthy coral reef and a wall at depths of more than 20 metres and there are plenty of overhangs, caverns and crevices to explore. There is also a sandy patch that hosts garden eels. The exposed location of the site means that it is visited by plenty of predator fish a such as jacks, barracuda, tuna, and whitetip and grey reef sharks, and eagle rays. Less common but also possible are sightings of mobula rays, silvertip sharks, dolphins, and even the occasional great hammerhead or guitar shark.
Rasdhoo Channel runs between Kuramathi and Rasdhoo Island and it can be an excellent dive under the right conditions. You can drift along in the current at 20-25 metres, admiring the reef sharks, rays, Napoleon wrasse, snappers, and turtles, before being flushed out in to the 200 metre deep water. To the north lies Rasdhoo Reef, a hard coral structure with thilas and a steep drop off. Common inhabitants include sweetlips, goatfish, turtles, and the thilas are home to mantis shrimp and honeycomb morays. Large aggregation of anthias and schools of fusiliers attract reef sharks and diamond rays.

Reef Summary: Atoll diving
Depth: 5 - >40m
Visibility: 10 - 30m
Currents: Can be very strong
Surface conditions: Generally calm
Water temperature: 26 - 29°C
Experience level: Intermediate - advanced
Number of dive sites: ~10
Diving season: All year round
Distance: Northeast Ari Atoll, 60 km (5 hrs) west of Male City
Access: Liveaboards

Useful References


---
CUSTOMER TESTIMONIALS OF DIVE THE WORLD
... The communication with Dive The World's sales personnel was effortless and e-mails were replied to in a timely fashion. Amex could be added as a payment option if possible. Very good instructions for the payment by bank transfer! ... -- Tanja Blomqvist, Finland. [More customer reviews]