>
Dive Destinations
>
Bahamas
>
Grand Bahama Island
Your Guide to Diving in Grand Bahama
Tiger Sharks, Dolphins, Wrecks and More
...Highlights: tiger sharks, hammerheads, shark action, dolphins, turtles...
...Grand Bahama's diving environment: wrecks, healthy reefs, caverns, beginner & advanced divers, very popular...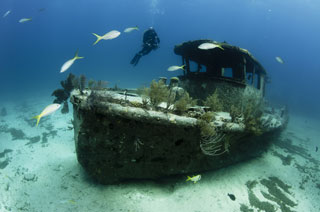 Located in the north west of the country, on the edge of the deep water oceanic Gulf Stream, Grand Bahama is the second most popular dive destination in the Bahamas and is best known for its year round encounters with several of the world's top predator sharks. It is one of the best places on the planet to dive with tiger sharks, but that isn't all. Liveaboard divers will find plenty of lemon and nurse sharks, Caribbean reef sharks, as well as regular sightings of great hammerheads and bull sharks.
The dive spots are located mainly along the southern coast and extending north out from West End. There are plenty of shallow wreck dives such as Papa Doc, Sugar Wreck, and the Sea Star, and thriving coral reefs rich in sea life such as at Rosa Garden, Treasure Reef, and Picasso's Gallery. But perhaps Grand Bahama's second most popular attraction are its friendly pods of bottlenose and Atlantic spotted dolphins. Here you have excellent chances to not only swim with, but dive with and interact with these curious wild dolphins..
Grand Bahama also has a couple of locations for swim-throughs and caverns, such as Ben's Blue Hole and Pygmy Caves. Although out of bounds to liveaboard divers, inland cave diving is also very popular with adventure sport enthusiasts. Lucayan National Park is one of the largest underwater cave systems in the world, and is one of Grand Bahama's natural treasures. So whether, you're a shark enthusiast, a reefs n wrecks fan, a cave explorer, advanced or novice, Grand Bahama is an absolute scuba diver's paradise.
Dive Site Descriptions
El Capitan
This spectacular site at Grand Bahama, with its impressive rock formations, features 2 large pinnacles. Your descent to 45 ft (13m) will bring you to the top of an underwater mound that is impressively covered with gorgonians and hard corals. This area is a highlight for macro photographers. If you choose to further explore the site, your maximum depth will be 90 ft (27m), where you will encounter schools of fish.
Hogfish Reef
While at Tiger Beach, the marine inhabitants put on a show for scuba divers. At Hog Fish you need to look under the crevices and ledges and search for small creatures. The 32-49 ft (10-15m) reef is covered with a delightful garden of hard and soft corals and is frequently visited by schools of grunts, snappers, chromis and angelfish. As you swim towards the sandy areas on the periphery of the reef, resident species of wrasse and hogfish, can be seen going about their business.
Mount Olympus
This is an underwater sea mount that rises from the depths at 1500 ft (450m) to just 60ft (18m), quite close to Tiger Beach. It is one of the few deep dives at Grand Bahama. Although the peak is coral-topped, its proximity to deep water makes it a great location for spotting hammerheads, turtles, dolphins, even an occasional manta ray. There is a large sandy plateau down one side at 95 ft (28m), and the other side just keeps dropping away down a wonderful steep wall. You could spend the entire day diving here and still not cover all of the area.
Sea Star Wreck
The Emmanuelle was built in Italy and operated as steel freighter in the North Sea for several years before moving to the Bahamas and being used as a fishing vessel. Eventually the ship was confiscated by the Bahamian government and abandoned in Freeport Harbour. A local dive operator got involved and formed a project team to repair the vessel so that it could be moved and scuttled to form a new wreck for divers to enjoy. Once the ship was readied, it was sunk in 2004 in an upright position in 90 ft (27m) of water.
The ship is approximately 180 ft (55m) long and has been heavily damaged during subsequent hurricanes. Now the stern lays on its side and the cargo area is twisted - a brutal reminder of the force of nature. The holds are open and easy to explore, and other interesting sections include a small crane on the main deck, and the opportunity for experienced divers to explore the galley, crew quarters and wheelhouse. There is plenty of fish life here such as amber jacks, snapper, barracuda, as well as arrow crabs and other crustaceans.
Shark Alley
This is one the Bahamas' famed shark feed dives and is an ideal opportunity for divers to capture that perfect "up close" shark shot as up to 25 Caribbean reef sharks swim by. The site is marked by an inverted tugboat that lies on the sea floor at 45 ft (14m). Participants must take their place here in a semi-circle with the safety divers and wait for the show to start. Usually you don't have to wait long as often some sharks are circling before you enter the water and often swim calmly between the group as they descend to the bottom.
Once the feeding commences, these 9 ft (2.5m) sharks begin to circle the feeder in ever tightening circles and at ever increasing speeds. The spectacle turns in to a frenzy and it is impossible to count the swarming sharks. Focus on just one individual and you will see the awesome spectacle of its feeding action as it rolls its eyes, flares its gills, and flexes its throat and mouth before lunging at the bait. Apart from the Caribbean reef sharks, you will see some huge groupers, batfish, schooling jacks, yellowtails, and usually a stingray or two.
Sugar Wreck
This is an ancient wreckage of a sailing ship that sank in the 1800s transporting sugar from the Caribbean. It sank in just 20 ft (6m) of water close to Tiger Beach and is packed full of sea life. The shallow clear waters make it an underwater photographers' paradise and a favorite among Grand Bahama divers. The remains of the hull are covered with schools of snappers, sweetlips, pufferfish, angelfish and parrotfish, and stingrays can often be seen resting on the sandy surrounds. Because the site is so close to Tiger Beach, lemon sharks, reef sharks and even tiger sharks can be seen here.
Theo's Wreck
Located 1.5 miles (2.5 km) offshore, west of Silver Point, Theo's is Grand Bahama's most famous wreck dive. The ship was known as M/S Logna and operated as a cargo vessel between Norway and Spain, and later between Florida USA and Bahamas. Once the decision was made to decommission the ship, a local dive operator volunteered to scuttle it in close to the shoreline on Grand Bahama to act as an artificial reef and scuba attraction. The ship was sunk in 1982 on to a sand patch at a depth of 100 ft (30m) on the edge of the Gulf Stream and rests on its port side; the shallow sections being at 60 ft (18m), so it's a site for advanced divers only. The surrounding waters turn from turquoise to deep azure to mark the location of the adjacent Gulf Stream.
The ship is 230 ft (70m) long and is home to a vast array of fish. Sweetlips, morays and soldierfish hide or peer out from the interior, while jacks, surgeonfish and snappers school around the sponge-encrusted hull. Jewfish, lobster and grouper lurk in the dark under the hull. Sea fans, cup corals, gorgonians and whips have also taken hold on the superstructure, particularly the bow anchor chain. Several entrances were cut in the vessel to allow easy access to the holds and engine room. Turtles, reef sharks and spotted dolphins are known to pay the wreck a visit on lucky days.
Undisputedly this area is 'the star attraction' for diving in Grand Bahama, as it is renowned as one of the best places to encounter tiger sharks. It is quite a large shallow area on the western edge of Little Bahamas Bank and there are several spots where divers get up close and personal with these impressive creatures. Shark Paradise and Fish Tales are 2 such sites; you will probably dive the southern site, Fish Tales, first as it is deeper than Shark Paradise.
Fish Tale's beautiful reef is awash with colorful gorgonians, yellow sea whips, sea plumes, orange spiny sea rods and sea fans. But the reef is better known for the variety and frequent sightings of sharks: lemon, Caribbean reef, bull, great hammerhead, and dozens of tiger sharks. You may even have to enter the water and descend among these apex predators as they patrol the surface. Tiger sharks are big sharks and often grow to 15 ft (4.5m) in length. They have a way of making you feel insignificant and small but it is a true thrill to share the water with them. They are intelligent and often try to approach from behind so keep your eyes on them and most often they will keep a respectful distance, to the relief of many a diver. Lemon sharks on the other hand have been known to have little regard for personal space in these waters as they are now so accustomed to the presence of scuba divers.
How to Dive Grand Bahama Island
The island is located in the northwest corner of the Bahamas, just 85 miles (140 km) off the Florida coast (West Palm Beach). The Gulf Stream flows right past the West End of Grand Bahama, giving large pelagics direct access to the island. Bimini is another Bahamas destination famed for shark encounters and lies 70 miles / 110 km to the southwest. Although divers could explore the dive sites of Grand Bahama from shore, only a liveaboard cruise would allow you to combine them with the sites at Bimini.
Grand Bahama liveaboards that include Bimini in their itinerary are 7-10 nights 'Grand Bahama and Bimini' cruises. There are also 7-10 nights 'Grand Bahama and Nassau' tours, spectacular 14 night 'The Bahamas' expeditions across all the top dive destinations of the country - Nassau, Berry Islands, Andros, the Exumas, Cat Island, Eleuthera, Abaco, Bimini and Grand Bahama, and also dedicated 5-7 nights 'Grand Bahama' only safaris. All these trips depart from Freeport on Grand Bahama where there is an international airport (code FPO). Freeport is well connected with direct flights from Miami and Fort Lauderdale in the USA, Milan in Italy, as well as Nassau (NAS).
For more travel information to visit Freeport and Grand Bahama, visit out our Bahamas liveaboard section.
The Grand Bahama Diving Season
The hottest month in Freeport is August when the air temperature is 90°F / 32°C, and coldest is in January at 76°F / 24°C. March to September sees the most sunshine with an average of 9 hours per day. June to September/October is rainy season, with June through November being the hurricane season. The sea temperature peaks at 85°F / 29°C from July through September and falls to a low of 75°F / 24°C in February and March. Visibility is superb throughout the year at 70-100 ft / 20-30m, and can be much higher. The consistently excellent conditions make Grand Bahama a year round diving destination. For more information on the climate, visit the The Weather Atlas website

.
Tiger sharks are here in greater numbers between October and January, and great hammerhead sharks are most commonly seen between December and March. The 'March of the Spiny Lobster' occurs in late October/early November

Where is Grand Bahama and How Do I Get There?
Review our map below showing the location of Bahamas in the world. Here, you will find information on how to get to Freeport in Grand Bahama,to join your preferred liveaboard cruise.
Reef Summary
Depth: 5 - 30m
Visibility: 20 - 30m
Currents: Gentle - moderate
Surface conditions: Usually calm, can be swells during rainy season
Water temperature: 75 - 85°F (24 - 29°C)
Experience level: Beginner - advanced
Number of dive sites: >30
Access: Liveaboard only
Recommended length of stay: 5 days - 2 weeks
Useful References