>
Dive Destinations
>
Bahamas
>
Eleuthera
Your Guide to Diving in Eleuthera
Wrecks, Reefs, Walls and Drifts
...Highlights: shark action, turtles, schooling fish & big pelagics...
...Eleuthera's diving environment: wrecks, wall dives, drifts, healthy reefs, beginner & advanced divers...
In many ways Eleuthera is the dream ticket for beach lovers that want to escape the drudgery of modern living to visit a simple, picture-perfect beach paradise. The rolling pink sand beaches are famous the world over, and the seas paint a fragile rhapsody in hues of blue. The sea, the sun and the sand seem as one in an unspoiled eco-system as nature intended. But Eleuthera is also gaining popularity with scuba divers that yearn for something different.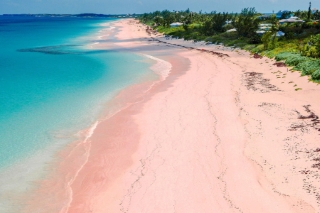 This 110 mile / 180 km long group of islands in the east of the Bahamas is mostly a very narrow strip of sandbars and cays fringed by a rugged bank of ancient coral reefs. Its western shores form part of the Great Bahama Banks, while its eastern shores face the Atlantic ocean. The land is home to a few native and endangered amphibian and reptile species, but its waters thrive with marine life including many rays, turtles and sharks species cruising around. Its sparsely populated main islands of Harbour, Windermere, Spanish Wells and Eleuthera itself are home to quaint seaside towns and settlements of just a few thousand people, seemingly lost in time.
Eleuthera is home to a huge number of wrecks - 45 documented wreck dive sites are found here. The Devil's Backbone has accounted for the greatest share of these, but wrecks dot the narrow strip of land from north to south. The islands are also home to a massive network of deep underwater caves and tunnels known as cenotes. Often this geological feature is evident along the shoreline, where you will find underwater blow holes, countless caves and caverns, and swim-throughs which form the basis of many of Eleuthera's best dive sites.
The coral reefs and walls here are healthy and colorful, with plenty of marine life. And the range of diving options, from shallow nursery sites to deep walls and rollercoaster drift dives, are attractive to both beginners and advanced divers alike.
Dive Site Descriptions
North Eleuthera
The Devil's Backbone is the most famous Eleuthera dive area. It is a large and shallow rocky reef that runs along the northern coast of Eleuthera and it is notorious for wrecking ships. More boats have sunk here than on any other reef in the Bahamas, including 3 that are layered upon each other. There are many wrecks comfortably within recreational scuba diver limits that are fantastic to explore and that are home to a wide range of marine life. You will see spotted trunkfish, snapper, angelfish, parrotfish, plus anemones, conch, nudibranchs, shrimps and crabs on the wrecked superstructures. Show more
The Cienfuegos, which sank in 1895, is one of the most famous wrecks here. It was a steam powered passenger ship operating out of New York City. Local villagers rescued all the passengers and crew and there were no fatalities. The 300 ft / 90m iron hull now lies in 35 ft / 10m of water. The remains have mostly disintegrated due to wave action but the bow, engine and boiler are still good to dive. The Vanaheim struck the Devil's Backbone in almost exactly the same spot during a storm in 1969. This was an 85 ft / 26m freighter carrying a cargo of potatoes and onions. Its rudder lies just 5 ft / 2m from the Cienfuegos.

The Carnarvon ran aground in 1916 and now rests in 25 ft / 8m of water near Preacher's Cave. She was a 185 ft / 55m steel-hulled freighter that serviced the lighthouses of the Bahamas for the British Admiralty. The steam engine, drive shaft and boiler all remain in great condition and their shallow location make for wonderful photography. In 1865 a barge was carrying a s steam locomotive train and rail cars to a sugar plantation in Cuba. Unfortunately the barge was struck by a violent storm and sank with its cargo. The littered remains, now known as the Train Wreck, lie in 15 ft / 5m and include the train wheels, trucks, boiler plates and some of the wooden structure.

The Devil's Backbone and Eleuthera also claimed a US war ship. The USS Boston was a 125 ft / 38m sloop carrying 125 men. In 1846 the ship was ordered to join the Home Squadron which operated a blockade in the Gulf of Mexico during the Mexican-American war. The ship never made it there and sank in high seas without loss of life. Its remains have never been found.
Current Island
You can well imagine what the diving will be like at a dive site called Current Cut at an island named Current. This is a high speed drift dive. When the tide rushes through the channel between the islands of North Eleuthera and Current, the flow can reach an exhilarating 10 knots! Show more
This is one site where local knowledge comes in really handy because there is a 20 minute window in which you can catch the conditions perfectly. The channel is over 1 km long yet the dive will be over in 10-12 minutes. In fact, the dive is so short that most boats will pick you up and take you back to the entry point for a second run! Make sure you monitor your buoyancy because it's important to stay with your guide. The bottom of the channel at 60 ft / 16m is hard rock, sea fans, sponges and hardy corals, as well as the remains from a hurricane devastated hotel – not great friends for new scuba gear! If you can control your buoyancy well, you can use the pot holes on the bed to rest and take in the surroundings. Eagle rays and blacktip reef sharks might be flying by, and lobsters, stingrays, angelfish and parrotfish might well join you in the holes to shelter from the current.

This is about the only dive in Eleuthera where the visibility is not great; that's because the rushing water stirs up the sediment on the bottom. It's better to make the dive on an incoming tide rather than an outgoing tide because the visibility is better then. Once you're through the narrowest section of the channel, the current slackens and then it's time to get out of the water and go back to the drop point for a re-entry. There is actually quite a lot of great macro life on the nearby reefs, but these are usually foregone in exchange for this thrilling underwater ride.
Cape Eleuthera
The southern and southwestern coastal region of Eleuthera is home to over 20 different sites at a range of depths. Typically profiles are deep drift dives along the reef wall that runs almost parallel to the coastline. The colorful wall here drops off to 2000 ft/600m, creating some exhilarating drifts. Cave Rock features several caves at 50 ft / 15m which are large enough to swim inside. The main rock at the site forms a large swim-through, often full of silversides and hunting black jacks. Further to the northeast you will find more narrower swim-throughs for experienced divers. The sunlight streaming through creates dazzling light effects as you navigate the passages. Look out for stingrays, morays and nurse sharks. The Cave Rock area is also frequented by hammerhead sharks. Show more
Cut Through City is an adventure playground for advanced divers. This is another site with a swim-through, this time much deeper and leading to a dark passageway. On a good day, rays of light will break through the fissures and light your way to a blue water exit at 90 ft / 27m. Once you exit, spin around to face the wall; then you could drop down to 130 ft / 40m to inspect a sponge-encrusted anchor embedded in the wall, or follow the wall upwards and back to shallower water, exploring the ledges for spiny lobsters. Hole In The Wall is another nearby site with a fun swim-through. You can swim inside a large entrance hole and pop back out from the exit hole 7m below.

As you descend in to the blue, 160-330 ft offshore, an eerie shape begins to form and loom in to view. At first, the murky shape looks like an alien craft or something out of a science fiction movie. As you finally reach the object you will see that it is in fact a colossal-sized anchored Cobia Cage. The SeaStation was a 32,000 sq ft collaborative educational and sustainability project for cobia farming. These days the cage floats at 70-100 ft/20-30m and attracts all sorts of marine life, including various sharks, loggerhead turtles, and large fish species, and makes for a dramatic backdrop for underwater photography. The cage itself is now covered in algae and young corals, and is home to a lot of macro life, including shrimps, neck crabs and sea slugs.

Jake's Hole is another intriguing dive site of southern Eleuthera. The spot features a large underwater tidal hole! The blow hole is at 20 ft / 6m depth and is about 30 ft / 9m in diameter. On an ebb tide, the hole sucks water inside in a powerful motion that causes the corals growing around the rim to be pulled inside. On a flow tide, the hole blows water back out, causing a thermocline as the colder interior water mixes with the sea water. Scuba divers must be cautious near the hole as it is potentially dangerous to get trapped in the hole. Another great feature of this site are the healthy corals that grow here, providing a home to all manner of critters.

Large coral bommies rise distinctly out of the 100 ft / 30m deep sandy seabed at the edge of the wall called Monolith. The bommies stand like pinnacles and extend upwards for 40 ft / 15m or so. The seabed is home to a colony of garden eels. They start at 100 ft depth and rise to 55 ft. Here you will find banded coral shrimps, nudibranchs and plenty of eels. There is a colony of garden eels in the sand next to the mounds. The wall next to the bommies is enormous and cut through with sandy slopes that cascade down.

Split Coral Head is an area used for shark feeding. When you dive here, you will no doubt spot the curious Caribbean reef sharks that swim in an excited state, obviously anticipating a free lunch. The site is named after a huge coral mound with a large fracture on its upper surface. The split forms a channel dressed in soft corals and gorgonian fans, and is a sanctuary for juvenile fish. The mound rests on the seabed at 55 ft / 16m and has grown up to 20 ft / 6m. Stingrays often hunt, rummaging in the sand, or rest on the sea floor. Nearby to the west is the island wall, which you can dive instead of the mound. Here you have a better chance to spot turtles, eagles rays and other sharks.
How to Dive Eleuthera
Eleuthera is a sprawling, narrow stretch of wild beauty over 100 miles (180 km) long, and there are recommended dive sites, both around the Cape in the deep south and at the far north. There is very little development on the islands so a liveaboard cruise is the most convenient way to experience all that diving in Eleuthera has to offer.
Liveaboard routes that include Eleuthera in their itinerary are 7-10 nights 'Nassau, Exumas & Eleuthera' trips (with longer options visiting Little San Salvador), or spectacular 14 night 'The Bahamas' expeditions across all the top dive destinations of the country – Grand Bahama, Bimini, Nassau, Berry Islands, Andros, Cat Island, Abaco, the Exumas, Eleuthera. All of these tours depart from Nassau on the island of New Providence. Nassau has an international Airport (NAS). The islands have 3 local airports for domestic flights - North Eleuthera Airport (ELH), Governor's Harbour Airport (GHB) located in the middle of the main island, and Rock Sound Airport (RSD) in the south..
For more information on your options to dive in Eleuthera, check out our Bahamas liveaboard section.
The Eleuthera Diving Season
There are some seasonal fluctuations in Eleuthera but you can dive here all year round. The water temperature varies from a high of 85°F / 29°C during the summer months from June to September, and a low of 75°F / 24°C from January to March.
The Eleuthera Diving Season
This is an all year round diving destination. The summer months of July to September have the air temperature at 88°F / 31°C, the highest sea temperature at 84°F / 29°C. The coolest months are in the winter from January to February (air temperature: 77°F / 25°C, sea temperature: 75°F / 24°C. The rainy season in Eleuthera is May to October, when thunderstorms can last for a day or two. Visibility is excellent at 80-100 ft / 25-30m (apart from at Current Cut), even in the rainy season. For more information on the climate, visit the The Weather and Climate

website.
The best time to see sharks is during the cooler winter months, although they are present all year round.

Where is Eleuthera and How Do I Get There?
Review our map below showing the location of the Bahamas in the world. Here, you will find details on how to get to Nassau on New Providence, to board your liveaboard safari to Eleuthera.
Reef Summary
Depth: 5 - >40m
Visibility: 25 - 30m
Currents: Gentle - very strong
Surface conditions: Usually calm
Water temperature: 75 - 85°F (24 - 29°C)
Experience level: Beginner - advanced
Number of dive sites: 100+
Distance: 50 miles / 80 km (3 hr) east of Nassua, and 80 miles / 130 km (5 hrs) east north of Exuma
Access: Liveaboard only
Recommended length of stay: 6 days - 2 weeks
Useful References