>
Reefs & Parks
>
Malaysia: a History of Sipadan
About Sipadan Island
A Brief History of Pulau Sipadan
1800s - On Dinawan Island, the tribal leaders celebrate (in 19th century Borneo style) the fact that they have just received from the Sultan of Sulu exclusive rights to collect and trade in sea-turtle eggs from nearby Sipadan Island.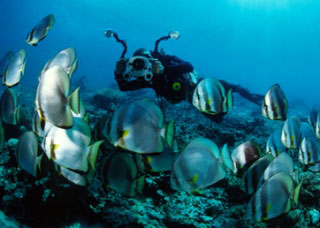 1933 - Pulau Sipadan is declared by the British as a bird sanctuary, being an important stopover for migratory birds like the greater sand plover, common sandpiper and wood sandpiper.
1964 - Sipadan becomes part of the turtle egg native reserve of Sabah - an important step in protecting the very species that would make the island famous. Although dive trips to the island were being run by Borneo Divers as early as 1983, Jacques Cousteau's film, 'Ghost of the Sea Turtles' brought international fame to Malaysia's only truly oceanic island. When the charismatic Frenchman announced, "I have seen other places like Sipadan, 45 years ago, but now no more. Now we have found an untouched piece of art", marketing bods all over the world took note and have duly been repeating the mantra ad nauseum ever since.
1990 - Now world-famous Sipadan Island, a mere half km in length and 200 metres in width has 5 resorts rubbing shoulders on its northern beaches. Its fame is bringing divers in their droves to its reefs every day, lusting to gorge themselves on the underwater smorgasbord of marine excess that are the waters of Sipadan's dive sites. But would this greed come at some expense?
1992 - Dr Elizabeth Wood, a coral reef conservation officer with Britain's Marine Conservation Society begins her constant watch and monitoring of the state of Pulau Sipadan and notes an obvious deterioration of the quality of the reefs over the years. While pronouncing the reefs generally healthy, she does sound a note of caution that they are not exactly pristine. Careless scuba and snorkelling activity is causing increasingly obvious coral damage and, where there is a lot of boat and diver traffic, silt and sediment have been stirred up, choking and suffocating coral polyps.
1996 - Sipadan is lashed by the vicious tropical storm Greg which demolishes some shallower parts of its reefs. This rubble can still be seen today - unable to recover due to further abuse by global warming and increased water temperatures (leading to the great coral bleaching phenomenon of 1998). Another sign that the writing was on the wall for the tiny island's dive resorts was the sight of nutrient-indicator algae on this rubble, proof of untreated wastes filtering into the sea from the island's sanitation activities.
1997 - Pulau Sipadan is now well recognised as not only a major tourist draw for Malaysia but also a place of outstanding natural beauty under threat. The Malaysian government announced restrictions on the number of tourists visiting the island but fail to follow up on this with any sort of enforcement or master plan and no-one takes much notice.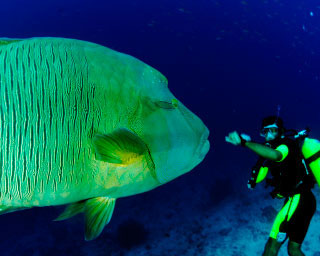 2000 - Quite a lot of people take notice of Sipadan for the wrong reasons when Abu Sayaff guerrillas raid the island and kidnap 21 dive tourists and resort staff. Most are held for a year, and then slowly ransomed off for millions of dollars. Divers stayed away in the aftermath of this event, slowly regaining confidence that they are becoming increasingly well protected by a reassuring Malaysian army and navy presence.
2002 - "Sipadan is part of Malaysia!" declares the International Court of Justice. The court awarded territorial ownership to Malaysia rather than Indonesia, based on "effective occupation".
2004 - The Government of Malaysia orders all on-site dive and resort operators of Pulau Sipadan to move their structures off the island by the 31st of December 2004, and this time they mean it! The move is declared as a victory for conservation over greed. However some operators with no alternatives are left with very little in the way of compensation. Others hurry to improve their resorts on nearby islands realising that these would now become the places to stay and from which to dive Sipadan. Many express doubts that the island will remain free of resorts for long and fear that someone with 'connections' might come from nowhere to be awarded rights to operate a dive resort on the island.
2005 - In order to continue to protect the eco-system, the Malaysian government proposes the island a part of a large marine protected area; Sipadan Island Marine Park. The MPA is instituted and managed by Sabah Parks under the authority of the National Security Council.
Now entry to dive or visit the island is subject to approval by the Sabah Park Management, which is in control of issuing entry permits. The total number of entry permits is restricted to 120 visitors per day and there is a small fee for each entry permit.
2006 - A barge carrying thousands of tonnes of building material breaches on the island, destroying a portion of shallow reef between the old pier and Barracuda Point, said to be about 372 square metres. The purpose of the building supplies (mainly concrete and gravel) was apparently for a US$ 1.3 million tourist facility including resthouse, toilets and scuba shop, said the State Minister of Tourism, Culture and Environment Tan Sri Chong Kah Kiat, but denied by the Chief Minister Datuk Seri Musa Aman. Later it was reported that it was for a Federal Government funded project.
Here are some quotes which tell the story well from some positions of varying emotion and authority:
"The damage is incalculable - one of Sipadan's most precious and beloved spots, well-known the world over, is no more" - Andrea Ferrari.
"This was perhaps one of the top 5 sites in the world and is now ruined for multiple generations to come" - Xtremediver, Detroit, Michigan posting on Wetpixel forum.
"People who are not happy with us may just exacerbate the situation and may exaggerate. Okay, but I am considering seriously of closing the island . If everyone is so concerned, let the corals rest and regenerate as this would take time, while the Sabah Parks' rangers guard the island instead of letting people dive there in excess numbers" - Deputy Chief Minister of Sabah, Tan Sri Chong Kah Kiat.
"Recent reports of total devastation to Sipadan's coral reefs are grossly exaggerated . A survey to assess the damage revealed that the area impacted was 372 sq. metres (3,984 sq. feet ), 0.10 % of Sipadan Coral Reefs" - Director of Sabah Parks to WWF Malaysia's Vice-President, Emeritus Tengku Dato' Seri Zainal Adlin
"Pulau Sipadan is a national treasure that is also highly valued by people all over the world. The minimal impact of the barge accident will probably not affect the exquisite diving", said WWF Malaysia's National Programme Director, Dr. Dionysius Sharma.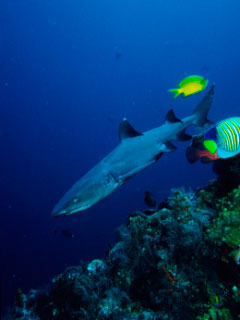 2009 - On 1st October the land area of Sipadan Island (13.5 ha) is gazetted as a Marine Protected Area. Note however that this only applies to the land of the island. The next step is 'Phase 2' which includes a sea area of 16,860 hectares. That means that the surrounding waters remain beyond the scope of any official marine protection. The Sipadan Permit Fee that visitors and divers pay goes to the government agency Sabah Parks and MKN (National Security Council) who are managing the region's security. It is not certain how much, if any, of the permit fee is used for the welfare of Sipadan Marine Park.
2011 - Officially, the promise of enforced restrictions on and around Sipadan Island has been fulfilled to date. There are still no resorts on the island and it remains illegal to stay the night there. Visitors and scuba divers must have an entry permit and only 120 are issued daily. That's the good news.
The not so good news is that there has been a considerable increase in the number and size of resorts on neighbouring Mabul Island. All signs are that this island is now suffering under the increased pressure. Water quality, waste management, garbage issues and other practical degradations are apparent. Also, low budget operators were allowed to open in Semporna and given a small number of Sipadan permits. These operators must undertake the lengthy journey to and from the island every day with their divers, increasing boat traffic and pollution.
So while the protective measures are on the face of it, being implemented, mistakes in the process have undoubtedly been made, particularly with regard to Pulau Mabul and Semporna. A proposed mega-resort in Mabul has been met with an indignant response by those already concerned at the plight of the under-pressure island.
2022 - Sabah Parks has passed new legislation, with the objective of reducing the damage on the reefs caused by scuba divers. Permits will now only be issued to divers that hold an advanced certification or higher, diving is restricted to 2 dives per day during daylight hours, and no repeat dives on the same site are allowed. Furthermore, training dives are not permitted at all.
What does the future hold in store for the island? Through it all: violent weather, thousands of visitors and several acts of human lunacy and incompetence, it remains an exceptionally rich and fascinating spot which should be protected and enjoyed for generations to come.
The long term goal is to have Pulau Sipadan recognised as a UNESCO World Heritage Site. This bid, supported by PADI and driven by a number of groups within the Malaysian government and the tourism industry, would guarantee more funding and protection for the island should it succeed. However to date, Sipadan has not yet made it on to the list of proposed World Heritage Sites. The protection of the marine environment in the greater Sipadan-Mabul area is long overdue and its continued absence should be a stain on the conscience of those in power.
So it seems that the twin issues of recreational diving and marine conservation have combined to bring this tiny, remote island well and truly to the attention of the modern world in the hope that its future could turn out to be a little less turbulent than its past.

Useful References

---
CUSTOMER TESTIMONIALS OF DIVE THE WORLD
... Easy to communicate. We received all the information we needed before trip. No problems with payments and transfers. Thank you very much for splendid vacation at Kapalai. We enjoyed it a lot. We have spent 3 days diving only at Sipadan Island and it was really fascinating ... -- Алеева Тимуровна, Russia. [More customer reviews]