>
Dive Destinations
>
Indonesia
>
Flores
Your Guide to Diving in Flores
Maumere Dive Adventures
...Highlights: great macro life/ marine diversity...
...Flores' diving environment: advanced and beginner divers, off the beaten track...
An Eastern Indonesian liveaboard trip gives you the perfect chance to sample the best of Flores scuba diving and add some new, small fish and aquatic animals to your knowledge base, since it is an area that's known for its endemic species.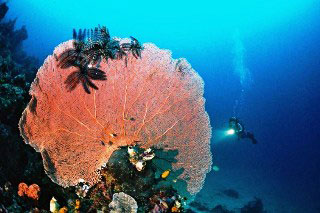 Although the combined effects of dynamite fishing and the earthquake and tsunami of 1992 caused damage to certain areas including Maumere, the regeneration of the reefs here is cause for divers to celebrate.
Space was cleared by these natural phenomena, which has allowed new corals to flourish and bring an even greater diversity to the sites. Once considered among Indonesia's finest dive regions, Maumere Bay, on the northern coast of Flores, is well on its way to a full recovery and provides some excellent and interesting diving opportunities.
Dive Site Descriptions
Adonara Island
Eastern Flores has some well known dive sites such as Magic Log where ribbon eels and frogfish are common. The very rare weedy scorpionfish (Rhinopias) has been found here, as has the wonderpus octopus. Headlands and channels dot the coastline of the island and these are gradually being explored by divers on visiting liveaboards but there is still a lot of unchartered territory to discover in this region.
Babi Island
This is a surprisingly good dive considering that this Flores island bore the brunt of the 1992 tsunami . 1,000 inhabitants were killed when the wave swept over the island but, over a decade later, the reef wall is in very healthy condition. Dropping down to a depth of about 50 metres, it is sometimes possible to see the sea floor from the surface however a more usual visibility is about 15 metres. Snappers, parrotfish, angelfish and damselfish all occupy the wall. Several species of moray eel can be found as well as ribbon eels.
There is a good covering of soft corals and sponges all along the wall and the brightly coloured crinoids like to jump off the wall to attach themselves to wetsuits of the unsuspecting scuba diver who gets too close. Numerous sea apples add splashes of blue and red colour. Testament to the reef regeneration is the high number of gorgonians along the wall, the biggest ones being found at depths of 35 metres and below. Currents can sometimes be strong here making the right conditions for an excellent drift dive.
Lambata Island
This island is also well worth diving exploration. The headland next to Lamalera Village is worth several days of your time alone. The distant shadows of reef sharks tempt you into the depths from where you can make your way back up through the boulders and coral reef slopes. Schools of fusiliers, angelfish and many different parrotish species are common. Gorgonian seafans host pygmy seahorses. Also, as Lamalera is one of the only 2 traditional whaling villages left in Flores (whatever happened to IWC protection?), the surrounding seas could also hold larger cetacean surprises.
South Pangah Balang
You may have some current to deal with as you descend over the mass of large leather corals which are present in numbers along the sloping wall that plateaus at around 28 metres. Soft corals abound here too, in impressive sizes and spectacular colours. The sight is enough to take your breath away but faces competition in this regard from the finning you may be doing to combat the current.
Just above the sandy floor, divers may catch sight of any number of sharks and eagle rays lazily hanging in the current, and garden eels easing themselves into their bottom holes as you pass above. All the while colour will surround you in the shallows where you may find mantis shrimps, several leaffish and other small interesting animals. Bumphead parrotfish a metre in length are also often seen as they storm over the reef. When air dictates you will emerge, perhaps a little drained, but certainly energised by this excellent dive site.
Wai Terang
Just off the coast of mainland Flores, divers will find this Japanese World War II freighter lying on its side from a depth of 25 metres up to about 12 metres. The coral growth on this wreck has improved considerably over the years and now the old ship plays host to a fair number of hard and soft corals harbouring small fish life.
One thing you should try to avoid is kicking up the silt here since a careless hand or leg in poor visibility could bring your skin into contact with one of the many resident lionfish, a sensation worse than a nip. Eels, cuttlefish and anthias are among the other pleasures to be had on what is a very rewarding wreck dive, if not one that allows too much penetration.
How to Dive Flores
The dive sites of the island are spread quite far apart along its long northen coastline so the only way to visit them all is by an Indonesian liveaboard.
Furthermore, these cruises visit other incredible dive destinations in Nusa Tenggara, such as its legendary neighbour Komodo Island, Sumbawa, the Alor archipelago, and the Banda Sea. This would not be possible if you were to stay at and dive from a resort in Flores.
For more information on the trip routes and durations, and all the other travel information you might need to visit Indonesia, check out our Flores liveaboard section.
The Flores Diving Season
The best conditions for diving Flores are from April to November as this usually forms the majority of the dry season. The rainy season from December to March has an increased (but by no means certain) chance of rain during your time there. The west of Flores, where there is a more mountainous region, sees more rain and more resulting run-off. Most of the diving is done off the north coast.
Sea temperatures vary very little during the year from a low of around 25°C and a high of 30°C. Diving in Maumere tends to focus on wrecks or the ocean's smaller creatures, neither of which move far from month to month. Although you may see the occasional eagle ray, Maumere is not a destination for seasonal pelagics.
HikersBay

has some useful information on the climate and water temperatures at Flores.

Where is Flores and How Do I Get There?
Review our map below of Indonesia, showing the location of Flores. Here, you will find information on how to get to the ports of departure in Indonesia, from where you will cruise to Flores.
Reef Summary
Depth: 12 - 28m
Visibility: 8 - 30m
Currents: Can be strong
Surface conditions: Can be rough
Water temperature: 25 - 30°C
Experience level: Intermediate - advanced
Number of dive sites: ~10
Distance: ~800 km east of Bali (40 hours), 350 km west of West Timor (18 hours)
Recommended length of stay: 3 - 4 days
Useful References


---
CUSTOMER TESTIMONIALS OF DIVE THE WORLD
... I found your service extremely useful, efficient and friendly ... You made it easy to find and book a trip at very short notice. I would, and probably will, recommend others to use your service ... -- Steve Robinson, Bristol, UK. [More customer reviews]