>
Dive Destinations
>
Indonesia
>
Triton Bay
Your Guide to Diving in Triton Bay
West Papua, New Guinea Island
...Highlights: whale sharks, whales, turtles, schooling fish & big pelagics, great macro life/ marine diversity...
...Triton Bay's diving environment: healthy reefs, wall dives, drift diving, advanced divers, off the beaten track...
Raja Ampat may be firmly established now as a dream dive destination but other regions around West Papua also offer fascinating scuba experiences and are attracting more liveaboards to their remote and uncrowded sites. Triton Bay is one such place and it promises rich rewards to those lucky divers who are keen to get off the most beaten tracks.
Comparisons with the diving in Raja Ampat are impossible not to make. The 2 areas form part of the same region and much of the topography and many of the species are common to both areas. In fact new species of gobies, wrasses and corals have all been identified in Triton Bay in recent years, with some experienced scuba divers viewing the 4 Kings as royalty, but Triton Bay as the home of the God of the Sea.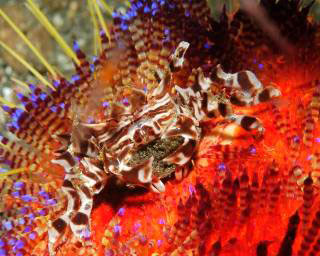 Triton Bay is known for displaying a similarly impressive level of soft coral coverage as places like Misool Island. Epaulette sharks can be seen walking over the reefs as giant groupers lurk in sheltered spots, while schools of jacks and fusiliers dart around en masse. Squadrons of bumphead parrotfish charge around chomping the coral into fine sand, watched by ever-present turtles.
Triton Bay's black coral forests are awesome in scale and never fail to impress. Above the water is also fascinating with lush green landscapes, local people whose lives are a million miles from your own, and ancient cave paintings which root the people to their ancestral land. Not many liveaboard diving charters visit this region and the pioneering spirit and sense of privilege you feel while visiting Triton Bay is palpable.
What other parts of Papua Province have over Raja Ampat could be the almost guaranteed presence of some of the larger creatures scuba divers are ever likely to encounter. Triton Bay boasts a resident pod of pilot whales, the sight of which will linger long in the memories of those who dive with them. The bay also features excellent whale shark action. These enormous fish approach the 'bagans' of fishermen at the surface, sometimes many at a time. To see so many of these majestic sharks gulping for scraps at the surface is a sight to behold! There are also areas in the Triton Bay region which promise all manner of critter appearances including frogfish, ornate ghost pipefish, wonderpus, pygmy seahorses and nudibranchs galore. Photographers are advised not to leave their macros lenses at home!
Dive Site Descriptions
Disney Land
With a name like Disney Land, it is no surprise that this site was named by the legendary American diver Larry Smith. From the surface the site appears to be a small island of rock breaking through the surface. Below the waves is a series of sloping reefs, many of which are covered by masses of black coral as far as the eye can see.
Show more
There are often a lot of sweetlips and snapper on the site. In the sometimes strong current they are most often found nestling in sheltered spots close to the reef and among the corals. This is a relatively shallow dive site as most of the fun takes place in less than 18 metres of depth.

One creature of particular interest here is the wobbegong shark. This unmistakeable bottom-dwelling, carpet shark can be seen lying with its flat body against the sand with its frilly whisker tassles protruding from around its mouth. They are very well camouflaged so keep your eyes peeled otherwise you might just swim over the top of one and miss it.
GT Rock
One of the reasons why divers love Triton Bay is that at some sites, when the conditions are just right, the volumes of fish can be extraordinary. Unusual therefore that GT Rock should take its name from a single species - the giant trevally.
Show more
When the current is flowing this can be one of those dive sites with a lot of action going on including the eponymous giant trevallies, tuna, fusiliers darting around in the blue. You might be out there too, being pushed along by the sometimes very strong current.

Closer to the reef will lurk large numbers of grunts, sweetlips and red snapper sheltering from the current. If you need a breather then it is always wise to drop in on the leeside of some pinnacle or jutting part of the wall to relax for a while.

In the absence of the current there may not be such heart-stopping action, but it is worth investigating the reef for some of the smaller creatures such as scorpionfish, hawkfish and pygmy seahorses. Also keep an eye on the sandy bed for wobbegongs and rays.
How to Dive Triton
At the time of writing, liveaboard safaris are the only viable option we recommend to dive in Triton Bay and witness its incredible mega- and macro-fauna.
Note that it is also possible to combine a visit to Cenderawasih with a visit to Raja Ampat or the Banda Sea, Forgotten Islands and the Moluccas on the same cruise. This would be ideal if you wanted to visit 2 of these world class dive destinations of Eastern Indonesia but do not have the time for 2 separate cruises.
For more information on the expedition routes and durations, and all the other travel information you might need to visit Indonesia, check out our Triton Bay liveaboard section.
The Triton Bay Diving Season
Those liveaboards that visit Triton Bay schedule their trips during the main Raja Ampat diving season, i.e. from October to April. Outside of that period the winds and rain can cause unpleasant sea conditions so some liveaboards choose to visit the more sheltered spots in the area such as Cenderawasih Bay.
West Papua experiences 2 wet seasons, namely November/December and July/August. Rain is a possibility in West Papua not only in rainy season. Water temperatures tend to remain reasonably constant: from 27°C (May to October) to 30°C (November to April). For more information on the climate and water temperature at Kaimana, visit the Weather Spark

website.

Where is Triton Bay and How Do I Get There?
Review our maps below of Indonesian Papua, showing the location of Triton, and its host country Indonesia. Here, you will find information on how to get to West Papua, from where you will cruise to Triton Bay.
Reef Summary
Depth: 5 - >40m
Visibility: 10 - 30m
Currents: Moderate to strong
Surface conditions: Normally calm
Water temperature: 27 - 30°C
Experience level: Intermediate - advanced
Number of dive sites: Unknown, but >15
Recommended length of stay: 10 - 12 days
Useful References


---
CUSTOMER TESTIMONIALS OF DIVE THE WORLD
... Excellent price and dive experience! Thanks for your help with this! You can expect additional business from me or my friends! ... -- Earl Engan, USA. [More customer reviews]