>
Dive Destinations
>
Indonesia
>
Wakatobi
Your Guide to Diving in Wakatobi
Tukang Besi Archipelago
...Highlights: great macro life/ marine diversity...
...Wakatobi's diving environment: healthy reefs, beginner and advanced divers, off the beaten track...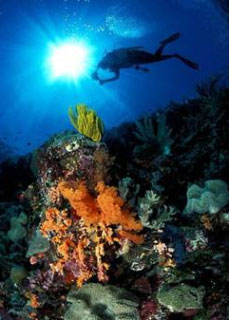 Rising from the depths of the Banda Sea, south east of the mainland of Sulawesi, the main islands of Wangi, Kaledupa, Tomea, Binongki - WaKaToBi - dish up large portions of all the world's reef types - fringing, atoll and barrier - and are served with lashings of healthy corals and dense schools of fish. Jacques Cousteau was sufficiently moved to claim this area the finest dive site in the world and the area is now regularly visited by several Indonesian liveaboards.
The reefs for Wakatobi diving are unlike any others in the region because of the drier climate and uplifted limestone. Or, in other words, these are fossilised reefs. This means there is an exceptionally clean environment due to the lack of soil erosion.
Being a national park, fishing is strictly limited and the reefs of Wakatobi are protected, meaning plenty of action for you the scuba diver. These superb reefs are supported and protected by the local fishing communities who obtain a fair share of the income generated by Wakatobi dive tourism in exchange for adopting more sustainable practices, such as leaving large stretches of reef completely untouched. Other contributions go towards education and strengthening local support for the marine park.
Word is beginning to spread about Wakatobi but it is still relatively new. Indeed there are even new sites out there waiting to be discovered, particularly in the outer atolls which are virtually untouched. Dive in and discover the animal attractions here in the Banda Sea.
Dive Site Descriptions
Coral Garden
Not a very imaginative name for what is a very interesting dive site. Drop quickly down a current-swept line to a sand ledge at 11 metres in what is really a big bowl, 40 metres across. The inside of the bowl is covered in spectacular coral. Coral Garden is one of the top Wakatobi diving sites, offering a dazzling array of mixed coral forms and formations at all depths. It's not just coral though as there are all manner of marine visitors to the garden. After the adrenalin of getting down through the current, suddenly once in the bowl, all is calm.
Watch the cleaner wrasse tend to their clients including longface emperors and slingjaw wrasse. Cruise around in the calm water knowing that above you the currents sweep past, and idle with the garden eels and goatfish keeping your eye out for any big boys who happen to be passing.
Cornucopia
Cornucopia, the 'horn of plenty'. Not named after a guy who looks good in his wetsuit, but a reference to the steady Wakatobi current that supplies a rich, planktonic menu to a dazzling array of multi-hued coral and its residents.
Show more
This dive site has a varied topography with walls, ledges and overhangs. Only when the current is very slight is there time to nose around, as usually you will drift at a reasonably leisurely pace along a great stretch of reef. Watch the changing vista of amazing hard and soft corals in oranges, yellows and purples.

All the usual coral fish suspects are here as well as the odd pelagic. Whitetips, nurse sharks, eagle rays and mobula rays are also known to swing by. There is more colour than any artist's palette - can you cope here at Cornucopia?
House Reef
A mere 20 metres from your bed, you can simply fin into the paradise that is Wakatobi's House Reef. Breakfast has never heard so much enthusiastic diver chatter as it does here, with tales abounding of the delights of what many call "The Best House Reef In The World".
Show more
First you swim along a sandy bottom of snake eels and flounders, blue-spotted rays and shrimp gobies before reaching the drop-off where, after greeting the resident school of trevallies, you can descend to 12 metres and check out the as yet unnamed species of pygmy seahorse, resident on a sea fan.

Then gently drift along the craggy wall past beautiful pristine corals and anemones housing all manner of shrimps, crabs and nudibranchs. There is so much to see here with the lionfish, scorpionfish and batfish, that if you aren't careful you might miss the sight of a few early morning turtles and eagle rays about their business in the blue.

It is little wonder that, given both the beauty and proximity of this site, many divers come back here in the evening. With your torch at the ready you can marvel at this extraordinary explosion of colour just a hop, skip and a giant stride from your bed.
Roma
In the opinion of many that have been scuba diving in Wakatobi, Roma is as good as any site in the world.
Show more
Sinking in through rays of light you will be instantly greeted by large schools of fusiliers, and red-tooth triggerfish swirling around. The centre point of the site is an extraordinary pinnacle teeming with life. Anywhere other than in Wakatobi, this pinnacle would be a dive in itself. Banded sea snakes are very common here and divers have seen them in double figures.

Aside from the pinnacle you can cruise around the other undulating mounds endowed with pristine coral and anemones. 2 of the smaller bommies are great for focusing on the macro life. One is home to several leaffish of green, white, yellow and black, sometimes perching in a pink sea fan. If you have the time and inclination you can search under reef boulders with your torch for the rare and beautifully patterned cometfish. All in all, Roma rules.
How to Dive Wakatobi
To visit Wakatobi you take a charter flight from Bali direct to the liveaboard vessels that operate there. The liveaboards can visit more remote areas not as easily accessible from a resort.
Occasionally, there are trips that depart from Alor or Flores and tour through the Banda Sea before arriving in and diving at Wakatobi. These safaris will allow scuba divers to add more pelagic fish action to the vibrant coral reef splendour that is Wakatobi.
For more information on the tour routes and durations, and all the other travel information you might need to visit Indonesia, check out our Wakatobi liveaboard section.
The Wakatobi Diving Season
Located just south of the equator, Wakatobi has an even, tropical climate with air temperatures around 32°C all year round. It is best dived between March and December - it's the high season here (most busy around April/May and September/November) during which the scuba diving is consistently good. July and August, while the water temperature may drop a little along with the visibility, is the best time for big numbers of fish as it's coral spawning season. July/August can also see some stronger winds and surface movement.
Water temperatures fluctuate between a low of 25°C in August and a high of 30°C in October. Although this is not really a destination for large animals, certain times of the year are better than others. While a manta ray or whale shark could pass through at any time, pilot whale appearances are restricted to the November to April period.
January and February normally see the wet season here but rain is not as heavy here as in other parts of Indonesia. In fact it is said to be 4 times lower than the national average. So rain does not greatly affect the Wakatobi dive sites and visibility rarely, if ever, suffers from river run-off.

Where is Wakatobi and How Do I Get There?
Review our maps below of Sulawesi, showing the location of Wakatobi, and its host country Indonesia. Here, you will find information on how to get to Wakatobi.
Reef Summary
Depth: 5 - >40m
Visibility: 15 - 80m
Currents: Gentle
Surface conditions: Calm
Water temperature: 26 - 29°C
Experience level: Beginner - advanced
Number of dive sites: >50
Recommended length of stay: 7 - 11 days
Useful References


---
CUSTOMER TESTIMONIALS OF DIVE THE WORLD
... It was very helpful to have very frequent communication on the planning stage - in order to evaluate the options and make the decision ... -- Olga Kozmiruk, Russia. [More customer reviews]