>
Dive Destinations
>
Australia
>
Holmes Reef
Your Guide to Holmes Reef
Dive Adventure in Australia's Coral Sea
...Highlights: whale sharks, shark action, turtles, great macro life/ marine diversity, schooling fish & big pelagics...
...Holmes Reef's diving environment: healthy reefs, wall dives, drift diving, caverns, advanced divers, off the beaten track...
Holmes Reef is a remote spot in the Coral Sea west of Cairns. It is much further from shore than the Outer Barrier Reef and is, along with Osprey Reef and Bougainville, among the Great Barrier Reef's most world-class dive sites. It can only be visited by Australian liveaboards that venture to the Coral Sea, and only when weather conditions permit.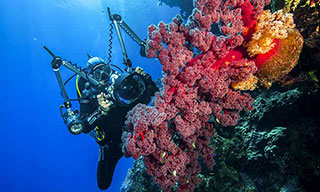 Holmes Reef is named after the young Captain Henry Holmes whose ship, the Thomasine, sank here en route to Hong Kong at a time when the reef was uncharted. Happily Holmes and most of his crew survived. They would certainly not have appreciated the splendour of the undersea world on these reefs, which would come to immortalise their struggle.
The diving in this, one of Australia's remotest reefs, is highly rated with excellent visibility and a wide range of topography. You can expect shallow reefs with silvertip sharks and grey reef sharks, wall dives, caves, drift dives, and some of the best night dives the barrier reef has to offer. Caverns are covered in bright and colourful soft corals, tall bommies are patrolled by an impressive array of sharks, and there are large archway swimthroughs.
Holmes Reef is known for its array of large pelagic life as well as small creatures including myriad crustaceans. Also despite bleaching events in the past, this Australian reef appears resilient, boasting an impressive number of both hard and soft corals.
Dive Site Descriptions
Amazing
This site has a difficult name to live up to, but as a shallow wall teeming with sharks, soft corals and swim-throughs, it somehow manages it! You can expect to see grey reef sharks, silvertips and white tips numbering in the dozens.
Show more
The wall itself is home to a number of large cavernous archways and swim-throughs between around 10 and 20m depth. Many are easily penetrated despite the thick bushy covering of soft corals. Within the caves and caverns look out for lots of lobsters and other crustaceans in the nooks and crannies, where a keen eye might also spot a stubbytail eel. Meanwhile, as you are poking around in the recesses, turtles and potato cod are always likely to put in an appearance, cruising by, casting a curious glance or two in your direction.

Where the wall gives way to the sea floor the white sands slope away to a flat bottom where innumerable garden eels crane their bodies vertically in the quest for a passing snack.
Nonki Bommie
This is a big bommie, or pinnacle, that rises from 35 m depth to 4m from the surface and has split in 2, creating a canyon between the 2 fingers. The crack is full of vibrant and huge orange and yellow sea fans and all sort of soft corals.
Show more
With your boat moored to the top of the bommie you will start this dive by sinking down to near the base and working your way back up. You can encounter big-eye trevally at both the tip and base of the bommie. Conditions are usually calm, making this one of the easier dives at Holmes Reef.

Look out for larger creatures like dogtooth tuna, turtles, grey reef sharks, silvertips and occasionally even hammerheads. Smaller delights include clownfish, nudibranchs, long-nose hawkfish, pyramid butterflyfish, blackspot angelfish and fairy basslets and damselfish particularly near the tip.
The Abyss
Unsurprisingly this Australia dive site features a deep drop-off. This steep wall plummets to mysterious dark depths of over 1km! Sticking to the sun-drenched shallows you can enjoy the myriad reef life on a very pleasant drift dive.
Show more
The Abyss is among the most popular dive sites of Holmes Reef although it can only be dived in relatively calm weather. Provided the conditions permit, you will be in for a treat, drifting along past a rich wall with hard and soft corals galore as well as giant clams in rude health.

Larger species enjoying the current and the nutrient-rich water are grey reef sharks (or grey whalers as they are often called by Aussies), white tip reef sharks, mackerel and sweetlips. There are also plenty of small things to catch your eye while drifting past, including a range of nudibranchs, seemingly oblivious to the passing current.
Cathedral
Another Holmes Reef dive site with a rather dramatic name is the impressive Cathedral. Similar in profile to The Abyss, the wall here sinks down several hundred metres to the sea floor. Impressive hard and soft corals are matched by the meaty pelagic encounters likely here.
Show more
You can expect the usual Holmes reef encounters with grey reef sharks, white tip reef sharks, and turtles as well as dog tooth tuna and potato cod. Also likely here are Napoleon wrasses, known in this part of the world as Maori wrasses. Golden anthias feature at the top of the wall, which is remarkable considering Holmes reef was the first place in Australia this species was sighted. Normally they are found in the central Pacific south of Hawaii.
Turtle
No prizes for guessing the creature that this site promises more than any other Holmes reef dive site. Different in profile to some of the other sites here, Turtle is a series of shallow bommies on the edge of a reef.
Show more
The sandy floor from which the bommies rise, is home to garden eels and resting white tip reef sharks. Potato cod and turtles are on the menu especially in the shallower sections. There is also plenty to see in terms of macro life and around the reef. Crustaceans abound in this site which is 1 of several here that make great night dives (illuminated by flashlight fish). Cleaner shrimp, Saron shrimp and Bumble Bee squat lobsters are among the more interesting residents. Excellent visibility is common here making Turtle a favourite site for underwater photographers.
How to Dive Holmes Reef
Thanks to its remote location, Holmes Reef is accessible only by Great Barrier Reef liveaboard only. Only those liveaboards that take in Osprey Reef can include Holmes Reef, particularly when the weather is fair. For more information on the cruises, duration options, and all the other travel information you might need to enter Australia, visit our Coral Sea liveaboard section.
Since visiting Holmes Reef is dependent on weather conditions, your captain will probably make the call in the early stages of your trip, so it is unlikely it can be promised in advance.
Liveaboard diving cruises to Holmes Reef and Osprey Reef are in high demand and fill up quickly. We recommend you plan to book well in advance.
The Holmes Reef Diving Season
As Holmes Reef is only visited by liveaboards that go to Osprey Reef, you should consult the diving season of Osprey Reef when considering your Great Barrier Reef vacation. Holmes Reef is subject to similar weather influences to Osprey Reef although variations do occur. As such Homes Reef is something of a fair weather destination.

Where is Holmes Reef and How Do I Get There?
Review our maps below of Great Barrier Reef, showing the location of Holmes Reef, and its host country Australia. Here, you will find information on how to get to the Great Barrier Reef.
Operators following Coral Sea itineraries leave from or return to Lizard Island, which is accessible by flight, or Cairns. The flight to Lizard island departs from Cairns and flies over the reef, an exciting scenic trip in itself!
Reef Summary
Depth: 5 - >38m
Visibility: 20 - 40m
Currents: Normally gentle, can be strong
Surface conditions: Can be choppy
Water temperature: 25 - 30°C
Experience level: Beginner - advanced
Number of dive sites: 8+
Distance: ~250 km east of Cairns
Recommended length of stay: 2 days
Useful References


---
CUSTOMER TESTIMONIALS OF DIVE THE WORLD
... Website was very easy to use. Great job. Communication was excellent. Pip did a fantastic job and we will continue to use your services. Customer service and ease of booking are your strengths. ... -- Ron Leutbecher, USA. [More customer reviews]