>
FAQs
>
Australia
Australian Scuba Diving
Frequently Asked Questions
When is the best time for a Great Barrier Reef diving holiday?
All year round offers great scuba diving at the Great Barrier Reef but the best visibility, the least rain and wind, is from August to December. Manta rays and hammerheads visit the Coral Sea from April to September. Minke whales make an appearance during June and July. Coral spawning occurs in November or December.
Do I need a visa for Australia?
Details about visas to visit Australia can be found in our tourist visa information section.
What is the difference between the Ribbon Reefs, Coral Sea and the Cairns sites?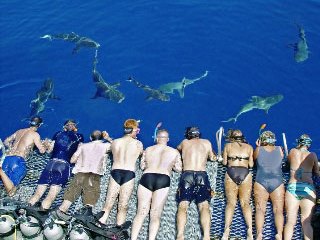 The Ribbon Reefs are located about 110-190 km from Cairns. The area stretches over 100 km and consists of 10 large reefs. With great year round visibility and 20m to 50m depths, Ribbon Reefs offer excellent diving and snorkelling for all experience levels. Here you find the famous Cod Hole where you can dive with friendly, man-sized fish. This area offer the biggest variety of marine species and coral.
Osprey Reef is 120 km beyond the Great Barrier Reef and many trips take in both Ribbon Reefs and the Coral Sea. Here you can experience 1,000m walls in strong currents with large packs of grey-, and white tip reef sharks and hammerhead sharks at certain times of the year. These diving trips are not great for snorkellers or absolute beginners who lack confidence in strong currents. If you have a few dives under your belt and are reasonably confident then you will find Ribbon Reefs and the Coral Sea much more rewarding than the Outer Barrier Reef.
The Cairns Barrier Reef is the name given to a section of reefs which start just 50 km off shore fom Cairns. Here you can find walls, swim-throughs and fields of coral. There is a diverse range of marine life from turtles to dolphins. These sites are suitable for beginners to intermediate divers and great for snorkellers. Also if you are short on time and you want to do more than the beginner level Cairns day tours, then the Cairns Outer Barrier Reef is a great option.
Why is it better to dive the Great Barrier Reef on a liveaboard cruise rather than from a resort?
Almost all of the top quality best dive sites are too far to visit on a daytrip. Absolute beginners might enjoy the Cairns daytrips but for anyone with even limited experience, it is strongly advisable to join one of the Great Barrier Reef holiday cruises and get to the sites further away from Cairns.
Also, these liveaboard tours offer multiple scuba dives per day and spectacular night dives from your floating hotel.
I have seen the news that the Great Barrier Reef is dying - Is it still worth visiting?
Yes there has been a lot of coverage of scientific studies that are rather alarming. While it is a concern that the sections tested have, like many other places in the world, indeed suffered recent damage, a liveaboard on the Barrier Reef will have no trouble bringing you site after site where the corals and marine life are in great health. One must remember that the Great Barrier Reef covers an enormous area, some 2,575 kms in length and 335,000 square kms!
Will my liveaboard dives be guided?
The practice of divemastering in Australia varies from boat to boat so please check with us if this is an issue of particular concern to you. On some Australian liveaboards there will be a member of staff in the water who acts more in a safety capacity than as a guide or leader for the dive. You may need to pay extra if you would like an in-water guide. Some Great Barrier Reef tour boats have an open deck policy so you can dive for as long as you want and even during meal times.
When can I see dwarf minke whales?
The Ribbon Reefs are the best place in the world for prolonged dwarf minke whale encounters. They are present from May to August but during June and July you are almost guaranteed to see one.
What about the unique mass coral spawning?
Strangely, the coral of the Great Barrier Reef spawns simultaneously. Timed with the full-moon of November, eggs and sperm are released in a mass coral orgy. With all this floating fish food around you can also expect some great marine action.
Is there much to do for tourists in Queensland?
Yes, there are lots of great activities and tourist attractions for holiday-makers in and around Cairns and Queensland. Cairns is known as the "Adventure capital of Australia" and Queensland is "Australia's No. 1 beach holiday destination", so you should never be short of things to do here. Find out more in our Cairns and Queensland tourist attraction pages.
I am going diving in Australia but am travelling alone. Will I have to pay a single supplement?
On liveaboard holidays at the Great Barrier Reef most single travellers are expected to share a cabin with another guest or guests. If this is not acceptable to you, you can reserve a 2-share cabin for yourself although you must expect to pay a single supplement on top of the normal price. There is quite a range in supplement prices, 70% to 100% of the published price being the level you might expect to pay. There may be some room for negotiation with the operator, so please check with us first.
Can you arrange accommodation for me in Australia?
Our affiliated hotel reservation agents hotelscombined.com have a variety of accommodations throughout Australia

. Browse the choices on their website, use their live chat to ask your questions, and then simply use your credit card to make your reservation.
From top-of-the range international holiday resorts to cheap one-star lodges, there's something to suit everyone's taste and needs in Australia. And you can be sure that whatever option you go for, it will be backed up with their 'Low Price Guarantee', so you will always get top-dollar value for money accommodation.


---
CUSTOMER TESTIMONIALS OF DIVE THE WORLD
... Good alternative reservations when we could not get on our original pick for a dive boat. Prompt responses to our emails ... -- Michael Semmens, USA. [More customer reviews]