Queensland Tourist Attractions
Australia's No. 1 Beach Holiday Destination
Situated about 1,700 km from Brisbane and 2,420 km from Sydney, Cairns is the gateway to one of northern Australia's biggest tourist attractions; it is the aspiration of many to dive the Great Barrier Reef.
Popular amongst foreign holiday-makers for its close proximity to many attractions, combined with a tropical climate, Cairns has plenty to offer between dives.
Popular attractions include Daintree National Park and Cape Tribulation for rainforest walks, Tjapukai Aboriginal Culture Park and, extending over the World Heritage rainforest, the Kuranda Skyrail Gondola Cableway. Cairns Lagoon is also well known for topless sunbathing, which is permitted.
Sightseeing and Adventure in Cairns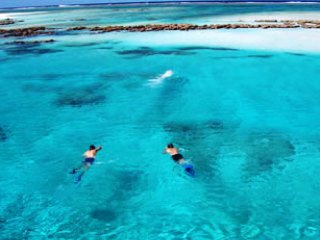 Cairns has an enormous choice of non diving activities and you'll rarely find a reason to be bored when you are not scuba diving or snorkeling on the Great Barrier Reef.
As self-proclaimed 'Adventure Capital of Australia', Cairns offers adventure activities run by professional operators with industry controlled safety regulations, ensuring pure, worry-free adrenaline for you.
Some of more popular adventure quests include abseiling, mountain biking, trekking, bungy jumping, 4 wheel driving, deep sea fishing, jet skiing, ocean kayaking, white water rafting, sailing, helicopter rides, hang gliding, parasailing, skydiving, horse riding, Harley Davidson rides, and shooting ranges.
Let's have a quick look at some of the more popular activities, of course, all secondary to the best scuba diving in Australia:
Bungy Jump in Cairns
AJ Hackett built the world's first dedicated bungy jumping tower here in 1990. More than 500,000 people have since bungy jumped, plummeting the 50m to Cairn's World Heritage Rainforest canopy below. Situated 15 km north of Cairns, a quick fix for adrenaline junkies are mere minutes away.
4-wheel-drive Safaris
Go on a 4WD safari and explore the heart of the rainforest. Restricted access ensures that you'll go where nobody else can go and experience the unspoiled Australian wild. Spot wildlife such as kangaroos, native birds, cassowaries and reptiles.
White Water Rafting
2 hours south of Cairns lies the Tully River, regarded by some as the best white water rafting in Australia and New Zealand. With Grade 3-4 rapids, the Tully River delivers a wild ride. That said, many white water rafters have no experience and indeed, with expert guides and meticulous safety precautions, the Tully River is suitable for even beginners.
If you still insist on some white water action, but prefer a slightly more sedate ride, then the Grade 1-2 rapids of the Baron River, located just outside Cairns, might be more your style.
Trekking
Trekking through the Daintree National Park in the Daintree Valley is the perfect opportunity to explore the tropical wetlands of Queensland and experience the unique wildlife found in its rivers, waterfalls and beaches. Cape Tribulation is where the rainforest meets the Great Barrier Reef, creating a unique habitat with rare creatures like saltwater crocodiles.
Skydiving
The adrenaline rush from skydiving is a high unparalleled by any other activity or substance. Skydiving operators in Cairns take off from the Cairns International Airport. It is with them that you can have yourself strapped to an experienced skydiving instruction and, beyond all reason and sense, be launched from an aircraft at 14,000 feet.
From this altitude a full minute of adrenaline soaked free fall is possible. If you're still in control of your senses, you could enjoy the views of the beautiful rainforest and the Great Barrier Reef, visible as you plummet towards them at terminal velocity.
Find more information on: the tourist attractions of Queensland.
Cairns' Beaches
Cairns itself has a swimming lagoon, waterfront boardwalks, barbeque areas and a children's water park playground. The lagoon precinct spans 4 hectares, and is capable of accommodating 1,000 swimmers at a time. It is open for free public use between 6 am and 10 pm daily.
For those who want a more natural beach experience, the collection of beachside suburbs that lie north of Cairns and stretch for over 20 km along the sunny coast, is locally referred to as the Northern Beaches. With adequate public transport from the city to these destinations, many of Cairns inhabitants choose to live near the beach.
With a range of affordable accommodation options and excellent restaurants, the Northern Beaches are also increasingly popular with tourists. The beaches include:
Machan's Beach
The first beach you find on your way out to the north of Cairns is Machan's Beach. It's only 10 minutes from the city centre, but is a laid-back residential suburb. A stretch of beach at the southern end of the bay is popular for recreational activities and afternoon strolls, although it has no netted swimming area, which makes this beach unsuitable during stinger season. For swimming, the next beach on, Holloway's Beach, is a better option.
Holloway's Beach
Holloway's Beach is long, narrow and picturesque and although being largely a residential suburb, recently won the Tourism Queensland Friendly Beach Award. With its friendly environment, picnic shelters and barbecues, the award came as no surprise. The beach is a local favourite and has netted swimming areas. Nearby wetlands and bush trails provide activities away from the beach.
Yorkey's Knob
Further along the Northern Beaches of Cairns you will find Yorkey's Knob. Separated from Holloway's Beach by a narrow channel and a sand bar, Yorkey's Knob is popular for a variety of activities. The marina and yacht club, world class golf course and the long beach with netted enclosures for safe swimming are just for starters. Although the waves are not very large, Yorkey's Knob gets its fair share of surfers.
Southerly winds that hit the shore just right, also makes Yorkey's Knob one of the top kite surfing and kite boarding locations in Australia, known the world over. Off the beach, the Skyrail and Tjapukai Aboriginal Cultural Park are big attractions. An excellent range of accommodation and numerous restaurants wraps up what Yorkey's Knob has to offer.
Trinity Beach
Trinity Beach is nestled between 2 large headlands offering a view from the beach of nothing but clear, blue Pacific Ocean. Popular with most of Cairns it seems, Trinity Beach has a plethora of take-away shops, quaint shopping centres, restaurants and myriad accommodation types. The picturesque beach itself is lined with palm trees, picnic tables and barbeques, whilst the esplanade is dedicated to resorts, restaurants and cafés.
Yet underneath it all Trinity Beach retains its laid-back village atmosphere. It offers a range of activities including diving, snorkeling, windsurfing, boogie boards, sailing and beach volley ball. Or if golf, squash or tennis is your thing, Trinity Beach has that too. Aside from safe swimming all year round thanks to netted areas, Trinity Beach is also sparkling clean, with awards like North Queensland's Cleanest Beach under its belt.
Kewarra Beach
Located about 20 minutes from Cairns is Kewarra Beach. It is pretty much a locals beach, not because it isn't up to par against the likes of Trinity Beach or because it's inaccessible, but simply because all the property are residential, leaving nothing much for tourism development. Nevertheless, the beach is clean and wide, with picnic tables, public toilets and playgrounds on this idyllic and private beach.
Clifton Beach
Like Kewarra Beach, Clifton Beach has mostly escaped tourism development, although the esplanade and surrounding streets do feature a selection of hotels and holiday apartments. But the beach, uncrowded with swaying trees as a backdrop with grassy picnic areas, is clean and deep, washed by a moderate swell courtesy of south-easterly trade winds.
Clifton is family friendly as the picnic areas are shaded and feature playgrounds, while the beach has netted enclosures for safe swimming and is attended to by a lifeguard. Some nearby attractions of Clifton Beach include the Cairns Tropical Zoo and the Opal Mine, a museum dedicated to opal mining in north Queensland.
Palm Cove Beach
Palm Cove is true to it's name as it really is a sandy beach cove fringed with coconut palm trees. Add in views of Double Island and Scouts Hat Island, activities such as water sports, netted enclosures for safe swimming patrolled year round, picnic areas with barbeque and playgrounds, and it's easy to see why Palm Cove is rated among the top 10 Australian beaches.
Various titles have also been attributed to Palm Cove, including Friendliest Beach, Queensland's Cleanest Beach and even Australia's Cleanest Beach. Nearby attractions include Cairns Tropical Zoo, the Outback Opal Mine Museum and a golf course. Palm Cove Beach is also one of the few areas close to a city where kangaroos can still be spotted in the wild.
Ellis Beach
The last of Cairns' northerly beaches is Ellis Beach, separated from Palm Cove by a rocky outcrop. If you remove the development and the hustle and bustle of Palm Cove, then Ellis Beach would be left over. The Cairns bus line doesn't reach as far as Ellis Beach and is perhaps the main reason fewer people visit here. Ellis Beach itself stretches over about 1km and is long and narrow.
The rocky outcrop and the large Double Island blocks the sea from Ellis Beach and thus swell and surf is little to non-existent. The southern end of the beach is a fishing haven, whilst the rest is beautiful for sun bathing. With a low number of residents and very little urban development, Ellis Beach is the point on the Captain Cook Highway where the drive becomes truly scenic. Nearly all the inhabitants live in caravans, trailers or boats, and otherwise Ellis Beach feature a small shop, a hotel, a caravan park with cabins, a café and nothing else more than pristine beach.
Useful Tourist Information
Where to Stay
Our affiliated hotel reservation agents hotelscombined.com have a wide variety of diver-friendly accommodations in Cairns:
Climate
Cairns has a truly tropical climate that, rather than having 4 distinct seasons, has really only 2 - a wet season with high humidity and rainfall, and a dry season with lower humidity and a cool breeze.
The wet season is in summer from about November to May, and the dry season is in winter from June to October. However, there's no vast difference in temperatures throughout the year as temperatures are fairly uniform. Cairns' typical daytime min./max. temperature ranges are 23-31°C in mid-summer and 18-26°C in mid-winter.
Water temperatures range from 23 to 29°C, making for comfortable year-round diving.
During summer, box jellyfish are prevalent in the surf, so ensure swimming only in netted areas. As jelly fish keep close to shore, the good news is that the Great Barrier Reef is jellyfish-free all year round.
Dining Out & Nightlife in Cairns
Given the choice of over 100 restaurants you will not be going hungry in Cairns. An abundance of fresh seafood, exotic tropical fruits and the piquant flavours of native Australian cuisine, dining out is always a great experience.
Cairns has a nightlife that caters to everyone, from partying single travelers to families seeking a peaceful retreat. Nightclubs, sophisticated dining, or just sitting back on the Esplanade and admiring the view of the Trinity Inlet are just some of the popular options in Cairns city.
Famous nightlife in Cairns include a foam party where inebriated backpackers and their admirers get wet and soapy together.
Shopping
Cairns runs the gamut of shopping experiences, from glitzy shopping arcades to small souvenir shops, sprawling markets and department stores. In general, Australian consumer confidence is high, because virtually any purchase is regarded as good value for money. Perhaps more so when coming from a country with a stronger currency, as the exchange rate is quite favourable.
If you're looking for bargains, the city's souvenir shops and markets is your hunting ground, whereas if you're looking for designer labels and famous brands, you would stick to the shopping centres and arcades.
As in most locations, shopping around will yield the best deals and variety, especially at aboriginal, souvenir and opal shops. In most such shops prices can be negotiated. In shopping centres and places where the prices are fixed, the shop assistant will certainly inform you.
Shops are usually open until 8pm and operate 7 days a week. Most outlets will accept credit cards, with some also accepting travelers cheques and even foreign currency. Double check the details for your intended shopping destination before you set off.
Due to Cairns' popularity with tourists the world over, bilingual shop assistants are commonly found. Signs outside shops will inform you about the languages the shop is able to serve you in.
There are 5 shopping centres of note in Cairns city.
Cairns Central is the largest shopping centre in far North Queensland and boasts over 180 shops. It features cinemas, supermarkets, variety stores, a food court and various other speciality and general shops. The official centre hours are 9am to 5.30 pm, however individual stores stay open as late at 9 pm on some days.
The Pier features about 100 shops and incorporates the Radisson Plaza Hotel. A food court, cafes and bars will satisfy your hunger and thirst, and it's conveniently located near the Marlin Marina from where cruise boat tours depart for the Great Barrier Reef.
Stockland Shopping Centre is about 10 minutes from Cairns city, perched between the Great Barrier Reef and the rainforest and is serviced by a regular bus route with buses running hourly. It features 125 shops, a large food court and it's claim to fame, The BIG Marlin, a 10m long, 4 tonne replica that fronts the centre.
About 3 km west of the city centre you'll find Westcourt Plaza, which offers a generous amount of shops, supermarkets (including K Mart) and a food court.
Towards the North Beaches of Cairns, about 15 minutes from the city centre is Smithfield Shopping Centre. A modern shopping complex, it features specialty stores, supermarkets, cafes and a nearby bistro.
Getting Around
Cairns has a well developed transport system.
A bus route, originating at the transit hub in City Place in the CBD, services the whole of Cairns, including the popular Northern Beaches.
The main taxi company, Cairns Taxis, services the Cairns region. Several fair structures apply. Refer to the Cairns Taxis website

for fares.
Car hire companies in Cairns are readily available, although some require a minimum age of 25. Other companies require a minimum age of 21 and an international driver's license is the only requirement to drive on Australian roads.
Similarly, scooters or a motorbikes under 50 cc can be rented with only a driver's license. Ideal for city jaunts, these relatively limited-in-speed modes of transport are not recommended for the highway.
Cairns is a bicycle friendly city with bike rental available from car rental agencies. Bike lanes are clearly marked. You are required by law to wear a helmet while cycling.
Cairns' History
Cairns is situated on the tribal lands of indigenous Australian people the Irukandji, believed to have settled in Cairns around 40,000 years ago. Today it is Australia's 14th largest city by population, according to the Australian Bureau of Statistics.
Captain James Cook become the first European to visit the area in 1770, but only 100 years and several official expeditions later was the potential for development into a port recognised.
A gold rush and consequent growth of population, society and industry, lead to Cairns being founded in 1876. In a survey undertaken by Captain Owen Stanley in 1848, the future site of Cairns was marked as shoal and mangroves. These were gradually cleared by labourers and sand ridges were filled with a variety of materials, including ballast from an Edge Hill quarry, sawdust from several local mills, dried mud and debris from railway construction.
The railway, which played an important role in the success of agriculture, helped Cairns to be recognised as an important port and assured it's future with the creation of a harbour board in 1906. In 1923 Cairns was officially recognised as a city.
After occupation by Allied Forces during World War II, Cairns remarketed itself as tourism centre. The opening of Cairns International Airport in 1984 added allure and the International Convention Centre, which opened in 1996, firmly established Cairns as major destination for holiday makers and the lucrative M.I.C.E. market.
Today, with major attractions such at the Great Barrier Reef, World Heritage rainforests and cultural heritage, Cairns is a favourite holiday destination and visited by throngs of tourists from all over the world.


---
CUSTOMER TESTIMONIALS OF DIVE THE WORLD
... Dive The World staff before and after the dive trip were very responsive, helpful and great at helping us plan a trip that was within our dive experience. Very friendly, helpful, bilingual in English - excellent staff! ... -- Trish Redman, USA. [More customer reviews]