>
Dive Resorts
>
Malaysia
>
Sabah Tourist Activities
Malaysia Tourism - Things to Do in Sabah
Borneo Adventure Tours!
Located at the meeting point of the South China Sea, the Sulu Sea and the Celebes Sea, Malaysia's most eastern state of Sabah sits at the northern tip of Borneo, the world's third largest island, and provides you with 1,440 km of coastline and 74,500 km² of tropical jungle to explore.
Borneo may be famous among scuba divers thanks to its incredibly rich and diverse seas but there are plenty of things to do above water too. Adventure opportunities are endless here - from climbing the spectacular Mount Kinabalu to whitewater rafting, to visiting orangutans, or sea kayaking around the islands.
This destination has everything that you could possibly want on vacation: beautiful beaches, the finest resort hotels, water sports, international and richly varied local cuisine, mountains, forests, temples, coral reefs, turquoise seas, and tropical sunshine - all in plentiful proportions.
Many of these exciting activities are available as day trips or overnight stays from Kota Kinabalu, the provincial capital city of Sabah. Other tours are further afield and can be included in your Borneo travel itinerary. Whether you are looking for a quiet corner to enjoy a romantic retreat or an action-packed time with plenty of outdoor activity, Borneo has it all.
Here are some ideas for things to do when visiting Sabah…
• View a map of Sabah

Tours available from Kota Kinabalu include: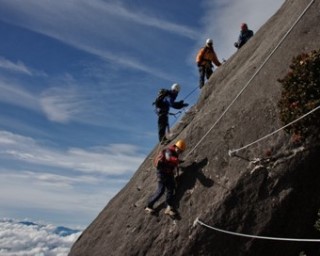 Full information on all these Borneo adventure tours below ...
Sepilok Orangutan Sanctuary and Resort
Sepilok Orang Utan Rehabilitation Centre is the world's largest orang utan sanctuary located about 15 minutes drive (8 km) from the town of Sandakan. Here, you'll get up close and personal with orang utan (wild man of Borneo) formerly in captivity which are now being rehabilitated before their return to the wild.
You can book a stay at Sepilok directly with Dive The World. For more information on orang-utans, please see our orangutan feature.
Climbing Mount Kinabalu
Standard Mt. Kinabalu Climb
Duration: 2 days / 1 night
Mount Kinabalu rising to 4,101 metres, is the highest peak in Southeast Asia. Challenge yourself and attempt the summit of Borneo in Malaysia's first World Heritage Site, a reserve covering 754 km². The climb takes you through varying vegetation zones offering breathtaking scenery and the chance to see some endemic plants including the rafflesia - the largest flower in the world, the Nepenthes Rajah - the world's largest pitcher plant, and more than 1,000 species of orchid.
Overnight in the the comfortable high altitude Laban Rata accommodation zone. The next day's early morning summit ascent starts at 3 am, so you will have to be up by 2 am in the morning! You should reach the summit plateau for the sunrise. If you are lucky enough to have a clear morning sky, the views of Sabah from the summit are unforgettable and manna from heaven for photographers. Grannies can do it so, although there may be moments of pain, you can too.
Add-On 1: Via Ferrata Walk The Torq
An introduction to the world of Via Ferrata - a permanent network of iron rungs, rails and cables attached to the rock. Suitable for beginners, this activity takes you on the world's highest Via Ferrata and across a 6m Monkey Bridge. You will also attempt a 430m rock traverse and ascend.
Add-On 1: Via Ferrata Low's Peak Circuit
This activity is carried out on your descent from Low's Peak. The Via Ferrata detour will allow you to see stunning views and explore places off the beaten track. Best suited for those with an above average level of fitness, the program not only includes the 6m Monkey bridge and 430m rock traverse but also a 763m long Via Ferrata.
Kinabatangan River Safaris
Sungai Kinabatangan is Sabah's longest river, measuring 560 km from its headwaters in the southwest of the state to its mouth in the Sulu Sea, east of Sandakan.
For nature lovers, these safaris are the highlight of a stay in Sabah. The incredible bio diversity of the region is on display as you drift along the river and take walks in the jungle. You may see macaques, proboscis monkeys, orang utans, Bornean pygmy elephants, crocodiles, hornbills, snakes and much more.
Kinabatangan River Adventure 1
Duration: 2 days / 1 night
The program includes a visit to the Sepilok Orang Utan Sanctuary, Gomantong Cave and an overnight stay in the Bilit Rainforest Lodge. You will also partake on an afternoon river cruise in search of wildlife. On Day 2 you will visit the Oxbow lakes for bird-watching before returning to Sandakan for your onward flight. If time permits, you will stopover at the Australian War Memorial.
Kinabatangan River Adventure 2
Duration: 3 days / 2 nights
Sepilok Orang Utan Sanctuary, the Rainforest Discovery Centre and Gomantong Caves are the first stop in this program giving you an introduction and insight to the wonders of Borneo. On the evening of Day 1 you will be taken on a night cruise for nocturnal animal spotting. Day 2 involves a visit to the Oxbow Lake and an afternoon cruise in search of wildlife. If you are lucky you may be able to spot wild orangutan, elephants, deer, numerous encounters with birdlife and many other animals. Your last day involves another early morning cruise before returning to Sandakan for your onward flight. If time permits you will stopover at the Australian War Memorial.
Klias River Proboscis Monkey Cruise
Duration: 1 day trip
Found only in Borneo, the rare proboscis monkey, with its huge nose, is one of Malaysia's most bizarre sights. Take a relaxing cruise and watch the monkeys play. Sightings guaranteed!
The Klias River is located in the southern part of Sabah very close to Beaufort. One of the few remaining wetlands, this area is home to many types of wildlife but none more elusive than the proboscis monkey. Also known as the long-nosed monkey or the Dutch-man monkey, this trip starts in the afternoon and ends in the evening after dinner. Apart from the proboscis monkeys, you can also expect to see macaques, silver leaf monkeys, bats and sometimes crocodiles. During certain times of the month you even see fireflies.
Mulu Caves
Standard Mulu Caves Tour
Duration: 2 days / 1 night
Home to Malaysia's second UNESCO World Heritage Site, this trip introduces you to the 4 magnificent show caves of Mulu. Your trip to Mulu arrives in the afternoon where you proceed immediately to Deer & Lang Cave for an afternoon's exploration and the awesome bat exodus at dusk. You spend the night at the Royal Mulu Resort. Day 2 of your program includes a boat ride to Clear Water & Wind Caves followed by a picnic lunch. You return to hotel for your check out and transfer to the airport for your onward flight.
Mulu Caves & Pinnacles Tour
Duration: 4 days / 3 nights
This 4 day program entails a lot of trekking. It starts on day 1 with your afternoon arrival in Mulu followed by a trip to Deer & Lang Cave. You will spend the night in a local homestay. On Day 2 your trip continues with a boat ride to Clear Water & Wind Cave followed by trekking to Camp 5 where you will stay the night. On Day 3 you will spend the day trekking and exploring the route to the Pinnacles. That night you will also stay in Camp 5. Day 4 sees you trekking back to Mulu for your onward flight.
Danum Valley Rainforest Tours
Duration: 3 days / 2 nights
Trek in the Danum Valley, a conservation area well known for its rich diversity of flora and fauna. The Danum Valley Conservation Area covers more than 100,000 acres of virgin forest. It is widely considered to be one of the most important ecosystems in the world.
The scheduled transfer in the morning from Lahad Datu takes you over 97 km to the Danum Valley Conservation area where you will stay the night in the newly refurbished Borneo Rainforest Lodge. The activities on your first day include a visit to the Canopy Bridge and an introductory trail. Day 2 sees you trekking to View Point and Coffin Cliff in the day. In the evening you will be taken for a night walk. Danum Valley is home to many of Borneo's major wildlife attractions - the orang utan, Bornean gibbon, leaf monkeys, elephants, deer, wild boar, and even the rare rhinoceros including. Return to Lahad Datu after lunch on day 3 for your onward flight.
White Water Rafting Tours
Try whitewater rafting on the rivers of Borneo, which offer thrilling rides which will get your adrenaline pumping. Quite a change from the underwater world, you may be in for a bumpy ride! Kiulu has Grade I - II rapids and is an ideal choice for first time rafters and weak swimmers. Padas River is for the more experienced rafters with Grade III - IV rapids. Note: you must be able to swim and your active participation is required throughout the trips.
Padas White Water Rafting
Duration: 1 day trip
Your trip starts from Kota Kinabalu at about 07:30 hrs on a 2½ hour overland journey to Tenom. In Tenom you will board the train to Rayoh where you start your white water rafting activity. Padas River is considered to be a Grade 4 white water river. This means you can expect medium-sized waves, rocks and drops. After heavy rain this can be quite an adrenalin ride! This also means that the briefing covers a wide range of rafting skills and techniques you will need to battle the rapids.
Liwagu White Water Rafting
Duration: 1 day trip
The Liwagu River is located in the Ranau district and consists of 25 Class 2 and Class 3 rapids. Overall you can consider the river to be a Grade 3 experience with small waves and drops. The river ride also allows one to be closer to nature.
Kiulu White Water Rafting
Duration: 1 day trip
The Kiulu River is the most suitable river for corporate groups, families with children and anyone whom has never experienced white water rafting. The easiest river to access also means that the trip is not a full day affair leaving you with much of your afternoon free. A Grade 2 level also means you really only need to know basic paddling skills.
Other Tourist Activities
Visit the Monsopiad Cultural Village. You'll get a glimpse into the rich cultural legacy of the various tribes of Borneo, from the Bajau community known as sea gypsies because of their love for adventure in the high seas to the more peaceful Rungus with their thatched communal longhouses. Here you can learn about local tribal cooking and social practices, and visit the house of the warrior Monsopiad decorated with the skulls of his victims. The (more peaceful) practices of the tribe descended from Monsopiad will sadly die with the last remaining practitioners who are in the autumn of their lives. For those looking for a rewarding cultural experience, a visit to this village is a must.
Spend a day at the Poring Hot Spring, natural sulphur baths within beautifully landscaped gardens. Initially developed by the Japanese during World War II as a way for them to unwind after a hard day playing invaders, it has developed into a major attraction for natural spa lovers. Often people come here to relax their aching limbs after having climbed Mount Kinabalu.
Take a leisurely train ride on an old fashioned steam train run by the North Borneo Railway. The train ride will take you through the surrounding countryside to the heart of northern Sabah and is an excellent way to see what this part of the province has to offer.
Think you are fit? Try mountain biking around the jungle trails of Borneo with the local ironman who will go at your pace, if he can keep up! A great way to see the place and get about, and burn off some calories from the delicious range of cuisines you'll find in this part of the world.
With all this choice in addition to the amazing Sabah dive activities in Sipadan and elsewhere, it is little wonder that those in the know reckon that you should give Borneo as long a period of time as you can. Most leave regretting that they didn't do one more thing or another. Visit the Endemic Guides website

for more ideas.
The Beaches of Borneo
With so much to offer in terms of outdoor adventure and natural wonder, Sabah's beaches often don't even get a mention, but that's not to say there aren't some very nice ones for those determined to do very little.
The main beaches can be found at:
Tanjung Aru
A mere 15 minute (6 kilometres) ride from Kota Kinabalu lies Tanjung Aru Beach, one of Sabah's most popular and frequented beaches. The beach gets its name from the picturesque lines of casuarina trees (aru in Malay) found along its long stretch.
Along it, you'll find a number of plush resorts, the Kinabalu Yacht Club and the Prince Phillip Park. While a portion of the beach is fronted by the hotels and clubs, there are other portions which are open to the public.
If you'd like to catch some spectacular sunsets, head down there by 6 pm. A good way to enjoy it would be to laze on the beach or to head to the chilled out BB Café Beach Bar or to a bar at any one of the resorts for some sundowners.
Kudat Peninsula
The best beaches in Sabah can be found at the Kudat Peninsula. Bak Bak, some 30 minutes (11 km) away from Kudat Town, is the most accessible of these beaches (you can hire a taxi from Kudat Town). The crystal clear water here is shallow and safe for paddling. It also has picnic areas and food stalls on weekends.
Other beaches, which need some effort to get to, but which are well worth it are Bangau and Kelambu Beach, both of which offer excellent retreats far from the madding crowds.
Tunku Abdul Rahman Marine Park
The Tunku Abdul Rahman Marine Park is a group of 5 islands within a 30 minute (10 kilometres) speedboat ride from Kota Kinabalu. Gazetted as a park in 1974, all the islands have white beaches surrounded by clear waters within which you'll find healthy coral reefs. The diving here tends to be sheltered and shallow making it a good place to learn or take a course and still enjoy all the benefits of staying in the small city of KK.
The islands of Pulau Manukan, Pulau Gaya, Pulau Sapi, Pulau Mamutik and Pulau Sulug are all fairly small and in total consist of only 49 km². There are good beaches and lush rainforests. You'll have to pay a park entry fee of approx. US$ 13 if you're scuba diving and a minimal charge if you're not.
Pulau Tiga Park
Pulau Tiga shot to international fame when it was used as a location for the filming hit TV series Survivor. So if you want to imagine the excitement of Tribal Council or the thrill of winning an Immunity Challenge, drop in for a day. It is not the easiest group of islands to get to and you'll have to find you way there by making travel arrangements from Kota Kinabalu or Labuan.
Located about 45 minutes (15 km) by speedboat southwest of Kota Kinabalu, the Pulau Tiga Park consists of 3 islands all famous for their rich ecological heritage. It consists of Pulau Tiga, Pulau Kalampunian Besar and Pulau Kalampunian Damit (also known as Snake Island).
On the island, you'll find the National Park cabins which can take up to 20 guests. It has sandy white beaches, a thick, dense rainforest and 11 km of hiking trails through unique flora.
Useful Tourist Information
Dining Out, Shopping & Nightlife
Kota Kinabalu offers the widest range of dining choices of all locations in Sabah. Here, you'll find a variety of food, from local favourites at cheap hawker stalls to slightly more expensive (though not much more) Chinese, Indian, Malay and Vietnamese eateries. There are also a good selection of more classy Italian, European and Japanese restaurants.
If you're looking for something special, head out to the new snazzy development along the waterfront. Here, there is a long seafront boardwalk that hosts various types of restaurants including seafood and sushi. This is the place to head to if you're in the mood for a stroll along the promenade for dining while watching the sun set (often spectacularly) behind the islands of the Tunku Abdul Rahman National Park. You can also expect the usual fast food giants like McDonald's, Burger King and KFC.
Other urban areas do not have as much variety as Kota Kinabalu, but still offer some outstanding Indian, Malay, Chinese, Western and Filipino fare, although of the no-frills variety.
The main entertainment hub in Sabah is Kota Kinabalu. There are a few bars around the centre of KK, as it is known locally. Around the area known as BB Plaza, you can buy a bucket of beer in ice for a reasonable cost and enjoy it while sitting outside in the square. The square is the venue for all sorts of performances including local dance, fashion shows and live bands. If you are there for a few days you will surely see something going on.
If you want to shake your booty or sup a few late ones in the company of Sabah's young and beautiful, then head for The Bed, a big cavernous bar/disco on the waterfront. Inside there are huge screens for sport and pool tables. On Saturday nights, western DJs and dancers on podiums are the main attraction. For those who prefer to hear themselves think, you can bask in the evening warmth and neck a few cold ones on picnic tables outside with a sea view.
The waterfront also boasts a few new bars including the ubiquitous Irish bar, The Shamrock, where you can amuse yourself by seeing the blank expressions on the faces of the staff when you ask them what a shamrock is.
In all the coastal cities and towns, you can look forward to some of the freshest and cheapest seafood you'll find. Lobster here is a fraction of its price in Kuala Lumpur, so if you have a craving for this speciality, dig in.
Because of its proximity to the Philippines, Sabah is actually home to a fairly sizeable population of Filipinos (mostly illegal immigrants). They can be found selling some fine (and cheap) Filipino crafts in the market on the waterfront in Kota Kinabalu. KK also has several shopping malls that sell authentic, brand name items.
Getting Around
Sabah is just a 2 hour flight east of Kuala Lumpur in Peninsular Malaysia. Travel by road is often arduous and much of the interior can only be reached by river. Because of its size and general difficulty with regard to road and rail travel, air travel is a popular option within Sabah. As a result, there are a number of domestic and rural airports here. Domestic airports are found at Sandakan, Lahad Datu, Tawau, Labuan and Layang Layang while rural airports are found in Kudat, Keningau and Long Pasia.
Taxis are plentiful in Kota Kinabalu and can also be found in other major centres. Express buses, minivans and minibuses run between Kota Kinabalu and most major centres, including Mount Kinabalu. All the express buses are air-conditioned while the older minibuses and minivans may not be.
There is a railway system which runs between Kota Kinabalu and Tenom via Papar and Beaufort. It is known locally as the slowest train in the world and is more of a tourist attraction in itself than a genuine option for tourist travel.
The Local People
A veritable melting pot of cultures, Sabah has a population of about 2,000,000 people who come from 32 different ethnic communities who speak over 80 different dialects. The 3 major indigenous groups are the Kadazan-Dusun, the Murut and the Bajau.
The Kadazan-Dusun are mostly paddy farmers living in the interior plains, while the Murut are longhouse living agriculturalists and hunters. The Bajau, can be broken down to the west coast Bajau also dubbed the 'Cowboys of the East' who are famed for their skilled horsemanship and the east coast Bajau, known as the 'Sea Gypsies', living mostly at sea, and only returning to land to bury their dead.
Other smaller groups are the Rungus, Lotud, Brunei, Orang Sungei, Kadayan and Bisaya. There are also Malays, Chinese and Indians, with the Chinese forming the largest of these 3 communities.
Sabah's History
Historical records show that as early as the ninth century A.D., Sabah, then under the rule of various chieftains, was already a trading partner with the Chinese. Later on, it also established trade routes with the Spanish and the Portuguese.
In the 15th century, Sabah fell into the realm of the Brunei Sultanate. Possession of the state changed hands a few more times before the British North Borneo Company gained control of it. The control was handed over to the British Government after World War II. Peninsular Malaysia or Malaya as it was known then gained independence from the British in 1957. In 1963, Sabah (along with Sarawak) gained independence from the British and decided to merge with the Peninsula, an entity that was christened Malaysia.


---
CUSTOMER TESTIMONIALS OF DIVE THE WORLD
... I had such a great time on Sipadan, and I blame you for the recommendation of (resort operator / Sabah) and for the flawless local arrangements ... What a wonderful place ... -- ST Pope, Santa Barbara, USA. [More customer reviews]