Accidentally drop something in the water? Looking for lost treasure? Learn effective ways to locate objects underwater with PADI's Search & Recovery dive training programme!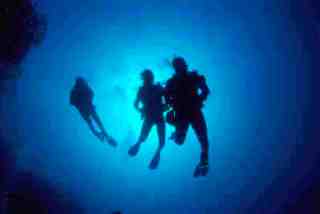 At a typical 'Reef Clean-up Day', the organisers announce a treasure hunt as motivation for the clean up dive. They've hidden 3 markers underwater, and each can be redeemed for a prize if you bring them back together with your bag full of rubbish.
Needless to say, there is a rush for the dive platform when the next dive starts. Rather than joining the clamor of 20 or so other scuba divers hustling to get in, you and your buddy huddle together and plan your search.
Your team is one of the last to splash, but just over an hour later, you surface with ALL the markers. Furthermore, you found all 3 in about 15 minutes and stayed down to collect the most rubbish off the reef too.
What you did makes a strong point: when you're looking for something underwater, knowing what you're doing makes all the difference. Whether it's a lost piece of dive gear, helping clean debris during a Project AWARE beach cleanup or scoring prizes at a fundraiser treasure hunt, you're more likely to come up with what you went in for when you know which search pattern to use and how to use it.
During your this programme you'll go on 4 open water dives, which are conducted over at least a 2 day period, with time being equally divided between academic and actual open water scuba training sessions.
Topics covered include:
The planning, organisation, procedures, problems, and hazards of search and recovery diving;
Limited-visibility diving and underwater navigation techniques;
Proper techniques and safety considerations for object location including the use of various search patterns, lines and reels;
Proper techniques and safety considerations for recovery of objects using various lifting devices.
Another point about search and recovery is that it is directly and indirectly rewarding. It's directly rewarding because it's a fun challenge and something different to do underwater, like a treasure hunt or beach clean up. It's indirectly rewarding when your search has a specific purpose, such as retrieving an elderly person's lost prescription sunglasses or the brand new wide angle camera lens accidentally dropped over the side. And, it goes without saying that if you dive for long enough, you'll have to search for something that you or a fellow diver accidentally drops in the deep.
Besides learning how to search, if the object is too big to swim topside, you also need to learn ways to safely raise it to the surface. You learn both search patterns and how to recover objects in the PADI Search and Recovery Diver course. You will use what you learn not just once, but many times over.
The elective search and recovery dive conducted during the Adventures in Diving programme may count toward this specialty.
Course Details
Number of Dives: 4
Duration: 2 days
Price: Courses price list
Location: This programme is available at our 5 Star Dive Centre in Phuket, Thailand; as well as Mabul and Kota Kinabalu in Malaysia; Bali and Manado in Indonesia; and Taveuni in Fiji.