>
PADI Courses
>
Emergency First Response
PADI Training
PADI Emergency First Response Course
Your sister cuts a finger in the kitchen. A fellow guest collapses from heat exhaustion on your liveaboard dive boat. Whilst on your way to your SCUBA club you see 2 cars collide, seriously injuring the occupants. Want to help? Then this programme is for you!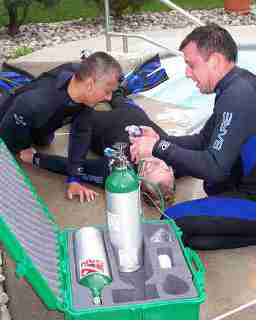 Accidents and illnesses happen all the time. Sometimes the victims just need a friendly helpful hand, but others may suffer serious injury without your assistance. Whether you're diving or not, Emergency First Response training prepares you to effectively handle potentially life-threatening situations.
This comprehensive programme is composed of 2 core modules that can be taught in tandem or as stand-alone courses:
Primary Care (Cardio Pulmonary Resuscitation - CPR), and
Secondary Care (first aid)
In tandem, these training courses provide extensive instruction in CPR and first aid, as well as providing optional (yet recommended) Automated External Defibrillator (AED) and emergency oxygen modules.
The programme is designed meet the CPR and first aid pre-requisite training requirements for completing the PADI Rescue Diver course.
Course Details
Number of Dives: 0
Duration: 1 day
Price: Courses price list
Location: This class is available at our 5 Star Dive Centre in Phuket; as well as Phi Phi Islands and Krabi in Thailand; Mabul and Kota Kinabalu in Malaysia; Bali and Manado in Indonesia; and Taveuni in Fiji.


---
CUSTOMER TESTIMONIALS OF DIVE THE WORLD
... I liked how the information was presented, it was very clear and easy to understand. I also appreciated the prices were displayed and that you could book and make inquiries over the internet. I booked the whole trip (within a week of doing the diving course) and I was very impressed with how quickly Dive The World got back to me with answers to my questions and booking confirmation ... -- Karyn Richter, Australia. [More customer reviews]