>
PADI Courses
>
Rescue Diver
Scuba Diving Training
PADI Rescue Diver Course
How do you take a subject like accident prevention and management and turn it into recreational diving fun? Call it the PADI Rescue Diver training programme!
The PADI Rescue course develops your dive knowledge and skills so you can effectively perform basic diver assists and more complex rescues, manage diving accident situations and render first aid.
This scuba diving training programme is an important step in expanding your knowledge and experience as a diver. PADI Rescue Diver certification is also a pre-requisite for all PADI leadership programmes.
The programme covers: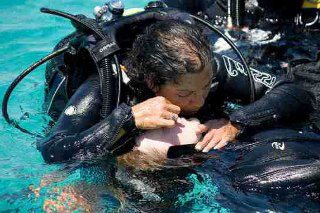 Self-rescue and diver stress
Diving first aid
Swimming and non-swimming assists
Egress (exits)
Surfacing the unconscious diver
Underwater problems
Missing diver procedures
Panicked diver response
In-water artificial respiration
Dive accident scenarios
First aid procedures for pressure related accidents
Emergency management and equipment considerations
To get into the rescue programme, you'll need to be certified as an Advanced Open Water Diver. You'll also need to have successfully completed the PADI Emergency First Response ® programme or a sanctioned programme in CPR within the past 24 months.
After successfully completing the programme, you'll receive the internationally recognised PADI Rescue Diver certification card.
Course Details
Number of Dives: 4+
Duration: 2 - 4 days
Price: Courses price list
Location: Available at our 5 Star Dive Centre in Phuket; as well as Phi Phi Islands and Krabi in Thailand; Cairns' Great Barrier Reef in Australia; Mabul and Kota Kinabalu in Malaysia; Bali and Manado in Indonesia; and Taveuni and Viti Levu in Fiji .


---
CUSTOMER TESTIMONIALS OF DIVE THE WORLD
... Dive The World linked me into [the dive school] in a very efficient way. I booked my diving only 1 week in advance of the trip. [Your sales staff] was able to confirm all bookings and pricing within a couple of days ... -- Nick Whittle, UK. [More customer reviews]