The PADI Boat Diver programme makes scuba diving easy - just take a giant step off the back of the boat and you're in the water!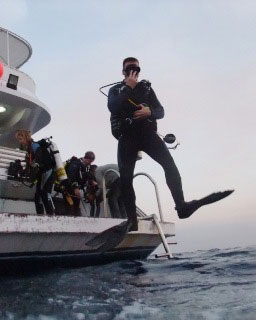 Boats and diving obviously fit together like hands in gloves. You can only reach some of the best dive sites by boat, and this is true of most places in the world. Diving from boats is also more convenient and easier than from shore in many ways, and it's great fun to spend time out on the water with your friends between dives.
While diving from a boat isn't difficult, there are some special procedures that make boat diving more fun, such as the lines you use when diving in currents. Using current lines effectively may make the difference between an easy and exciting dive, and a tiring and not-much-fun undertaking. On most dive boats, the trip leader usually explains the procedures you'll be using, but a great way to learn more is in the PADI Boat Diver Specialty Course.
The Boat Diver specialty shows you the broad, basic procedures used when diving from boats. You learn about using current lines, different entry and exit procedures, and the organisation of getting kitted up for the dive. Besides these procedures, you also learn useful information like how to pack for boat diving, avoiding seasickness, boating basics and boating emergencies.
During the programme you'll go on 2 open water dives, which must be (you got it) conducted from a boat. Both dives may be conducted in 1 day. It's a good idea, but not required, that you enrol in this programme to learn the techniques and procedures for scuba diving from different types of boats (inflatable boats, hard-hulled day boats, cabin cruisers, liveaboards, sailboats, etc). That's a good thing - the more boats you dive from, the more diving you do too!
And the elective Boat Dive from the Adventures in Diving counts toward certification requirements for this specialty at the discretion of the instructor. To start the course you'll need at least your Open Water Diver certification.
Course Details
Number of Dives: 2
Duration: 1 day
Price: Courses price list
Location: This course is available at our 5 Star Dive Centre in Phuket, Thailand; as well as Mabul and Kota Kinabalu in Malaysia; Bali and Manado in Indonesia; and Taveuni in Fiji.