Want to explore sunken ships, crashed planes and lost treasures beneath the surface? Then the PADI Wreck Diver programme is just want you want.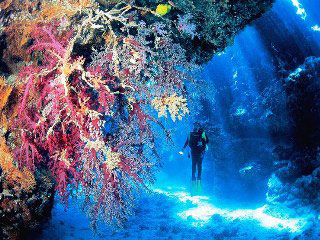 It's one of those rare days with sapphire blue clear, warm water, no surface swell and almost no current. The ship wreck sits in about 30 metres of water, but you can see her upper deck from the surface. You drop down the buoy line at the stern to about 18 metres, and tour down the port side of the middle deck where cars were once housed. Diving down a little further, you take a look at the propeller, then come up a bit and continue along the port side, finally exploring the captain's cabin before moving over to the mooring line.
Rabbitfish and yellowtail barracuda swirl around the wreck during the entire dive, and, as you come up to the captain's cabin, you see the biggest lionfish you're ever likely to see, proudly displaying its venomous spines. You surface in the warm sun after about 40 minutes diving time.
Artificial reefs such as shipwrecks create new environments for aquatic life, and they help lessen the crowding at the other dive sites during busy months. Some are intentionally sunk, at depths and locations well suited to scuba, so you can dive them reliably without being a tec diver.
No matter which dive destination you choose today, chances are you can wreck dive there. If your primary underwater interests involve photography or aquatic life, you certainly don't want to miss the opportunities that wrecks offer. So no matter where you travels take you, ask about the wrecks as well as the reefs.
During your wreck diving course you'll go on 4 open water dives, which may be conducted over at least 2 days. This is where you'll put in to practice the information you gained from listening to your instructor and from the PADI Wreck Diving Manual and video. Topics covered include:
The planning, organisation, procedures, techniques, problems and hazards of wreck diving;
The preparation and use of lights, air supplies, special equipment, penetration lines and reels;
Limited-visibility diving techniques and emergency procedures.
The elective wreck dive conducted during the programme may count toward this specialty.
* Wreck penetration-training dives are limited to within the light zone and within 40 metres from the surface, vertical and horizontal distance included. If the wreck used for training is located in deep water (over 18 metres), the Deep Diver rating is recommended as a pre-requisite for the Wreck Diver programme.
Course Details
Number of Dives: 4+
Duration: 2+ days
Price: Courses price list
Location: This training programme is available at our 5 Star Dive Centre in Phuket, Thailand; as well as Bali in Indonesia.