>
PADI Courses
>
Multilevel and Dive Computer
Scuba Diving Courses
PADI Multilevel and Dive Computer Specialty Course
There's so much to see when you go diving that you'll want to make the most of your stay underwater. So, to maximise your underwater adventure, you should learn how to plan and carry out multilevel recreational dives.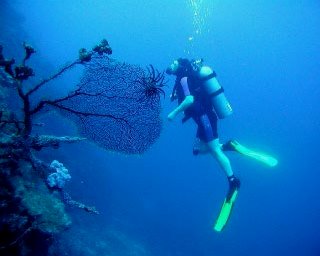 During your Multilevel Diver programme, you'll go on 2 open water dives, both of which may be conducted on the same day. You'll also be exposed to a variety of different types of multilevel dive profile calculators (the Wheel and various types of dive computers).
Topics covered include:
The planning, organisation, procedures, techniques, problems and hazards of multilevel diving;
Definition and advantages of multilevel profiles;
Methods of calculating multilevel profiles ('The Wheel' recreational dive planner and/or dive computers);
Review of decompression sickness theory and emergency decompression procedures;
Review of PADI's S.A.F.E. diver campaign;
Procedures for flying after diving;
Care and maintenance of dive computers.
We advise you to take this course on board a liveaboard or at a dive resort. You'll have plenty of time to learn the theory and the programme will integrate seamlessly with your diving vacation. What's more, the skills you learn you can apply immediately to the remainder of your trip, so you get more bottom time and enjoyment on your dives.
The elective Multilevel Dive from the PADI Advanced Open Water or Adventures in Diving may count toward the certification requirements for this specialty.
Course Details
Number of Dives: 2
Duration: 1 day
Price: Courses price list
Location: This class is available at our 5 Star Dive Centre in Phuket, Thailand; as well as Mabul and Kota Kinabalu in Malaysia; Bali and Manado in Indonesia; and Taveuni in Fiji.


---
CUSTOMER TESTIMONIALS OF DIVE THE WORLD
... I did my booking last minute via email and the responses were prompt, allowing me to feel good that I had secured my dive trip just less than 1 day before I flew out ... -- Dan Mulleary, United States. [More customer reviews]