>
PADI Courses
>
Underwater Photography
Scuba Diving Courses
PADI Underwater Photographer Specialty Course
Photographs create memories for life that you can share. Capture those special diving moments! No photo experience required! That's what this programme is for - showing you how to take award winning pictures ... underwater.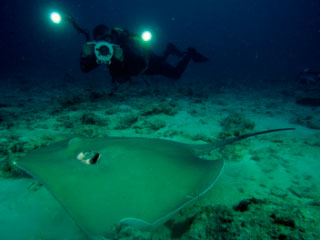 Digital photography is one of the biggest booms in consumer history. It's been going on for several years at all levels from the casual snapshooter to the highest end commercial pro photographers.
Digital cameras are changing underwater photography. Today you can return to the boat and not only look at your photos immediately (after you already saw them underwater), but with a computer or laptop CD or DVD writer, you can give your buddies copies before the second dive. When you get back home or to your hotel room, you can upload your good shots and share your travel adventures with friends and family around the world.
Digital's made underwater shooting more versatile by allowing you better colour control, a way to check your results as you dive; and you're no longer limited to a short roll of film - with today's high capacity memory cards, you have room for far more shots than you have air in your cylinder.
During your PADI Underwater Photographer course you'll go on 2 open water dives, which may be conducted in 1 day. This is where you'll put in to practice the tips and techniques you learned from your instructor and the Underwater Photogragher Manual and video.
If you're a bit intimidated by the idea of underwater photography, don't be. The Digital Underwater Photographer course is designed for those who've never touched a camera before, as well as for people who shoot topside. Whether you're interested in simple snaps to share with friends or interested in pursuing photography as a dedicated enthusiast, the PADI Digital Underwater Photographer programme guides you to good results quickly by taking full advantage of digital technology benefits.
Your elective Underwater Photography dive conducted during the Adventures in Diving programme may count toward this specialty.
Course Details
Number of Dives: 2
Duration: 1 day
Price: Courses price list
Location: This programme is available at our 5 Star Dive Centre in Phuket, Thailand; as well as Mabul and Kota Kinabalu in Malaysia; Bali and Manado in Indonesia; and Taveuni in Fiji; Raa Atoll in the Maldives


---
CUSTOMER TESTIMONIALS OF DIVE THE WORLD
... Competent instructor with experiences. Very well organized learning system, such as modules, DVD, and even the webpage. Well organized online reservation system ... -- Olivia Suriyanto, Indonesia. [More customer reviews]