>
PADI Courses
>
Adventure Diver
PADI Adventure Diver Course
Scuba Diving Classes
Are you ready to take your diving to the next level? Well, don't doubt it any more!
Become a PADI Adventure Diver today and start experiencing the exciting adventures that the world of scuba has to offer.
The Adventure Diver programme is the perfect opportunity to gain additional experience and skills under the guidance of a PADI professional. To become a PADI Adventure Diver you need your PADI Open Water certification (or equivalent) and the desire to experience thrilling scuba adventures.
This in-water performance-based programme includes a total of 3 dives. No class room time is necessary on this PADI course.
The following is a list of adventure dives that you can choose as part of the course. You can choose any 3 of these elective dives as there are no compulsory subjects: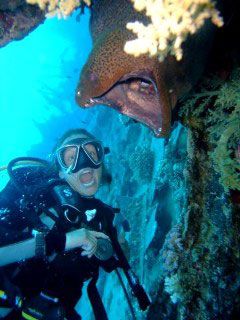 AWARE-Fish Identification
Altitude
Underwater Naturalist
Boat
Enriched Air Nitrox
Underwater Navigator
Peak Performance Buoyancy
Underwater Photography
Multilevel and Dive Computer
Deep
Night
Dive Propulsion Vehicle (DPV) - underwater scooter
Search and Recovery
Drift
Underwater Videography
Wreck
If you're an Open Water Diver, then you're ready for the PADI Adventure Diver programme.
After successfully completing the programme, you'll receive the PADI Adventure Diver certification. Now, take the next step! Complete 2 more adventure dives (must include deep and navigation) and become a PADI Advanced Open Water Diver.
Course Details
Number of Dives: 3
Duration: 1 day
Price: Courses price list
Location: This course is available at our 5 Star Dive Centre in Phuket; as well as Phi Phi Islands and Krabi in Thailand; and Hurghada, Sharm El Sheikh and Marsa Alam in Egypt .


---
CUSTOMER TESTIMONIALS OF DIVE THE WORLD
... My experience with Dive The World had been excellent. The website is well laid out and very nicely structured. It is very informative and very easy to navigate to find what you want to know. Whatever information given is true to words ... as I have had the opportunity to experience it myself personally when I undertook the Open Water certification course with Dive The World. Any enquiry, whether entered via the website or emailed, was treated with priority, attention and speed. The co-ordinators and the instructors are all very knowledgeable and responsive and they provide invaluable advice. I would certainly want to further my PADI education and adventures thru Dive The World and I would not hesitate to recommend anyone to engage their services. I highly recommend Dive The World and I am already planning my next diving vacation cum course ... and it will definitely be with Dive The World ... -- Clement Loh, Singapore. [More customer reviews]