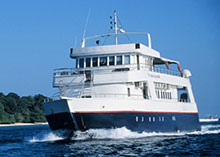 Doing lots of dives around Sipadan without the hassle of daily speed-boat rides just got cheaper. Rough and ready liveaboard, the Celebes Explorer is now available for you for less.
Sipadan, situated on the east cost of Sabah has been on every diver's "must-do" list since receiving the thumbs up from Jacques Cousteau. If you are crazy about diving as much as possible without long boat rides in between your forays breathing under water, then liveaboards are the best option for you. So it made sense to add the Celebes Explorer to our repertoire. The best part of the deal is that your Sipadan diving permits are guaranteed!
Diving at Sipadan from the only liveaboard in the area alongside other divers who were boated in from surrounding resorts gices a clear picture of the advantages and disadvantages of cruising Sipadan aboard MV Celebes Explorer.
So get off that couch and act now to take advantage of these great discounts. For departures: 06 September – 10 October 2015
Standard twin/double bed cabin:
3 Nights: Was US$ 917 (MYR 3838) Now US$ 744 (MYR 3117)
4 Nights: Was US$ 1,167 (MYR 4887) Now US$ 948 (MYR 3970)
7 Nights: Was US$ 1,648 (MYR 6895) Now US$ 1,339 (MYR 5601)
Save up to US$ 618 per couple!
If you are the type of diver that cares more about time spent underwater seeing sharks, turtles, barracuda and bumpheads than you do about details like fluffy-pillowed, sweet-perfumed cabins and fine dining waiter-service then this could be for you.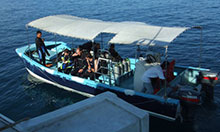 Not everyone is content with the Celebes Explorer. Don't expect it to be as polished or comfortable as previous liveaboards you have been on. However you can expect it to be a better bet for diving more of Sipadan during your time there, than any other land-based option.
Find out whether boat trips lasting seconds rather than minutes actually can make a difference to your diving holiday. Do the service, food and accommodation measure up to resorts in the area – and does that even matter if diving is your top priority? Read the full trip report to see for yourself:
Cruise price per person includes: Cabin accommodation, breakfast, lunch, dinner, snacks, drinking water, hot drinks, Tawau Airport – boat return transfers, dives (as detailed in the trips above), experienced English-speaking divemaster(s), tanks, weights and weightbelts.
Cruise price per person excludes (mandatory, unless customer provides own): Equipment rental, dive insurance, marine park fees of MYR 43 (approx. US$ 14 per person per day) to be paid in advance, Semporna jetty fees of MYR 11 (approx US$ 3) per tour booking to be paid in advance. There is a transfer charge of US$ 150 per car (max. 5 people) for transfers outside the recommended flights, to be paid in advance. Unless otherwise stated, all the listed items need to be paid on arrival (cash only).
Optional extras: Soft drinks, alcoholic drinks, nitrox fills for enriched air certified divers (MYR 53, approx. US$ 17 per fill) to be paid in advance, 2 extra dives on day 1 (7 night trip only, MYR 492 (approx. US$ 138), payable in advance). Unless otherwise stated, all the listed items need to be paid on arrival.
Contact Dive The World right away on +66 (0)94 582 7973 / (0)83 505 7794 or send us an email.
Note: All prices quoted are per diver sharing and are subject to availability and currency fluctuations. Currency rate is correct at time of publishing.