Hot on the heels after the arrest of 20 illegal Chinese crew in Ecuador, 35 suspects have been arrested in the Chinese province of Guangdong.
These arrests are welcome news for those fighting to put a stop to illegal shark-finners. However, these events over the last two months, have highlighted the heavy toll illegal fishing has on our oceans' dwindling shark populations.
Ecuador jails 20 Chinese vessel crew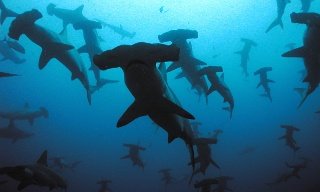 In mid August, marine ecologist Pelayo Salinas (who works with the Charles Darwin Foundation), was returning from a 12-day research mission on a Galápagos National Park patrol ship.
The ship's captain saw another vessel on the radar in the restricted waters of the marine reserve. The crew and an Ecuadorian Navy officer initially radioed the vessel to ask why they were in the park. When there was no response after several attempts, they informed them that they are required by law to respond. The radio remained silent… Salinas and three crew members took chase in a 13 foot (4m) inflatable boat. They were able to identify the vessel as Chinese, and strongly suspected it was involved in illegal fishing. Unable to keep up with the 300 foot vessel in their small boat they returned to park headquarters to report the sighting.
The marine park authorities and Ecuadorian navy identified the vessel as the Fu Yan Leng 999 via their electronic surveillance system. A navy helicopter and coast guard boat where immediately dispatched to intercept it. What they found stunned them. The vessel's 6 holds contained 300 tonnes of near-extinct or endangered species. 6,600 sharks of different varieties were identified, including endangered hammerheads.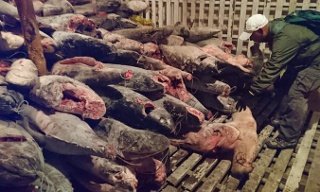 The vessel was obviously a transport ship as opposed to a fishing vessel. (It did not have the necessary tens of thousands of meters of fishing line, large motorised winches or hooks the size of an adult finger to catch sharks in these quantities.) Merely being in the protected marine waters and transporting endangered animals without a "non-detriment finding" (NDF), (a permit for exporting species that the Convention on International Trade in Endangered Species lists as being threatened), meant that their presence was illegal.
Under Ecuadorian law, hunting, fishing or transporting an animal in danger of extinction carries a 3 year sentence. The 20 crew have subsequently received sentencing of 1-3 years imprisonment, the captain 4 years and a fine of US$ 5.9 million was levied! "Ecuador was the first country in the world that declared not only human rights, but nature rights, since 2008, in our constitution. So we are obligated to protect the lives of these fish" said Walter Bustos, Director of the Galápagos National Park.
35 members of Chinese shark syndicate arrested
On the 10th of September, Jiangmen Customs Anti-Smuggling Bureau, confiscated 50 tonnes of shark-fin, fish swim bladders, sea-cucumbers and abalones estimated to be worth US$ 108 million! 35 suspects were arrested in the Guangdong cities of Jiangmen, Guangzhou and Maoming and in the Yunnan province, according to China Daily. The arrests were the result of a 10 month long operation by customs officers who had been tracking major smuggling rings' activities.
The seafood is thought to have originated from Africa, South America and Southeast Asia. The case remains under investigation.
How can you contribute to saving our marine animals?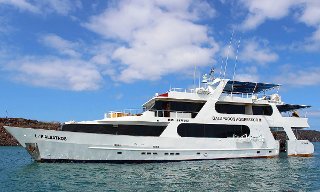 Book a diving liveaboard cruise to the Galápagos: Your Galápagos National Park entrance fees contribute to protecting the the park.
Purchase only sustainable seafood
Contribute to fundraising projects: The world renowned destination, Galápagos, has the greatest abundance of sharks in the world, but does not have sufficient resources to completely protect it. Salinas has started a crowdfunding page to raise money for two speed boats for the park.
Contact Dive The World right away on +66 (0)94 582 7973 / (0)83 505 7794 or send us an email.