Bounded to the north by Mexico and to the south by Colombia. Central America is the strip of land the joins north and South America and consists of 7 countries: Belize, Guatemala, Honduras, El Salvador, Nicaragua, Costa Rica, and Panama. It is a region full of natural beauty, diversity and anthropological history. Its 2 coasts run along the Pacific Ocean, with its attractive beaches, and Caribbean Sea. 
Belize has the planet's second largest barrier reef, several offshore atolls and the world famous Great Blue Hole. Honduras is world famous for its whale shark migrations. Costa Rica has some amazing national parks for encountering wildlife, plus some great surf, and scuba diving with whales and hammerhead sharks. Panama is a Mecca for backpacker tourism in the picturesque island getaway known as Bocas del Toro. Then there are countless ancient Mayan ruins to explore in this tropical wonderland.
Recent Central America Articles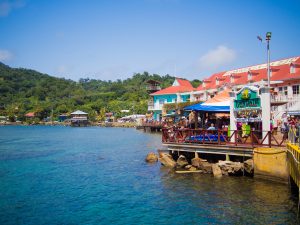 The Central American country of Honduras is bordered to the south by Nicaragua, to the west by Guatemala, and to the southwest by El Salvador. Yet its entire northern shoreline lies on the warm Caribbean Sea. It is off this northern coast where the Bay Islands lie –...
read more