Simply hearing the name of the Maldives creates visions in the mind of beautiful, soft sand beaches lined with tall coconut trees overlooking idyllic turquoise lagoons. Tourism is the number 1 economic activity in this Indian Ocean chain of atolls. 
The Maldives attracts couples looking for romantic luxury vacations, families on beach holidays, and scuba divers seeking to explore the extraordinary underwater world and its myriad inhabitants. The currents flowing through the channels bring the food that explains the profusion of life with vast schools of fish, sharks and rays.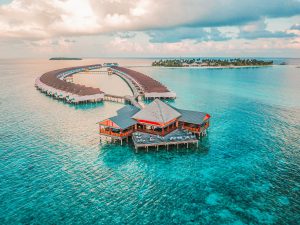 Located to the southwest of India in the Indian Ocean, this gorgeous string of atolls is world famous as a romantic getaway. The countless pretty sandbars and atoll lagoons with amazing deserted beaches form the postcard-perfect scenery for which the Maldives is ever...
read more